Publié le par Bernard Duyck
Four hundred fossil footprints, dated to the late Pleistocene, and found north of Ol Doinyo Lengai, in nearby mudflats of Engare Sero, reveal today the activity and human behavior in this region of rift.

The site was found by a villager before 2006, but did not attract the attention of scientists until 2008, when Jim Brett divulged in the pictures.

National Geographic Video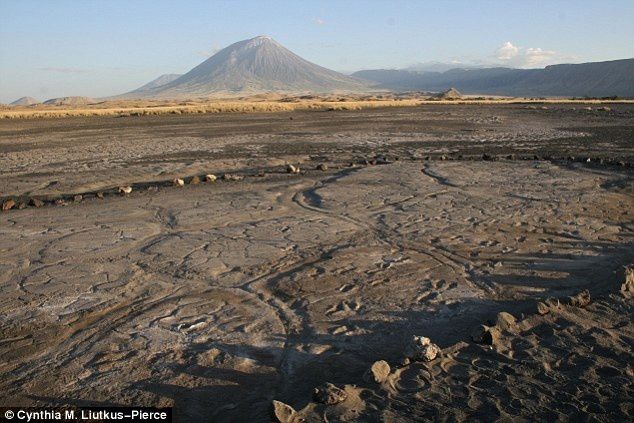 The collection of fossil footprints in the mud flat Engare Sero, with in the background, Lengai volcano - photo C.M. Liutkus-Pierce / Daily Mail
The preservation of the footprints against erosion, when printed in the mud and dried, is due to the fact that they were covered quickly by debris flows and ash from the volcano there are between 19,000 and 10,000 years ago , according to Dr. Cynthia Liutkus-Pierce, a geologist at Appalachian State University and National Geographic.

The dating has recently been reviewed by the discovery of a shell above the footprints.

The site is interesting with the abundance and diversity of footprints; it is the largest African site of Homo Sapiens footprints, but remains difficult to decipher ... researchers were able to identify at least 24 tracks, revealing that the footprints were made by people jogging ; a complex area has also been named "the dance hall" as there are many footprints in one place.

Meanwhile the serious protection of the site, researchers have scanned this in 3D in collaboration with the Smithsonian institute.
Sources :
- Radioisotopic age, formation, and preservation of Late Pleistocene human footprints at Engare Sero, Tanzania – by C.M. Liutkus-Pierce & al. - link
- National Geographic - Treasure Trove of Ancient Human Footprints Found Near Volcano- link
- Mail on line - The 19,000-year-old meeting place: 400 ancient human footprints are found near a sacred African volcano - link