Publié le par Bernard Duyck
The Natural Resources Canada (NRCAN) made a report to the Canadian local authorities on September 19, with notice to avoid the area of ​​Glacier Job / Mt Meager after that, during the summer, smells of sulfur and fumaroles issued by the vents of 15 to 20 meters deep and with a diameter of 20-30 meters, are reported.

In August, an inspection was made, which shows that no sulfur dioxide or carbon monoxide, magma presence indicators, are present. Seismicity remains at a low level.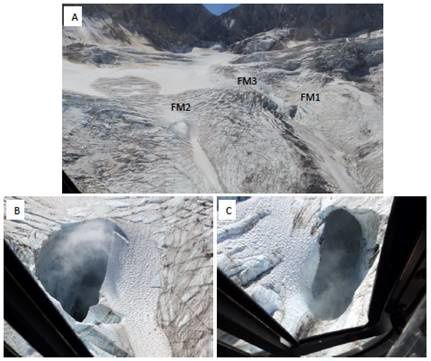 Mt Meager - fumaroles on Job Glacier, during an inspection on August 20, 2016 - courtesy Dr. Russell / NRCAN
The Mount Meager volcanic complex is a stratovolcano andesitic to rhyodacitic, with many lava domes eroded and necks, forming a mass at jagged peaks.

This complex is part of the Garibaldi volcanic field, located further north of the Cascade volcanic arc ; it is dated from the Pliocene to the Holocene, and his last activity dates back to the year 410 BC, marked by a large explosive eruption of VEI 5, and lava flows, blocks, and ash from a vent located on the northeast flank of Plinth Peak.
Two areas of hot springs, prospected for them geothermal potential and the fumerollien field mentionned, and existing-apparently since forty years, are the only signs of its volcanic past.

The current activity does not pose safety problems, except for the curious, that would endanger wanting to land in the area by helicopter, or making a trek on the glacier.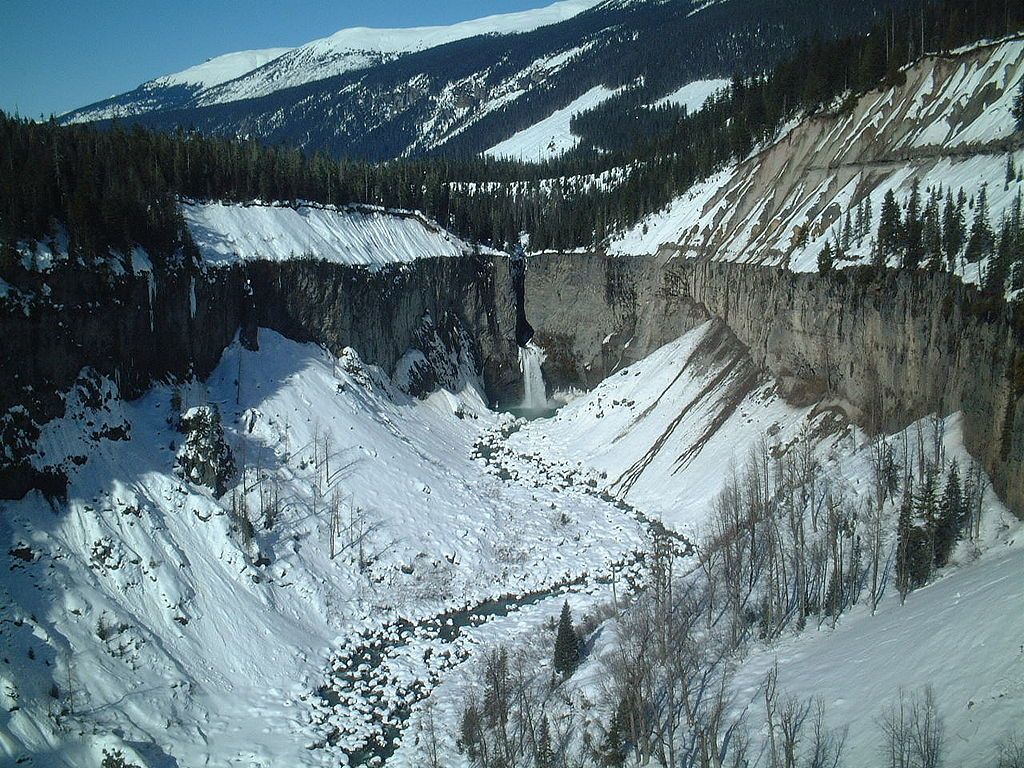 Mt Meager - View of Keyhole Falls, a waterfall on the Lillooet River precipitated from the top of the layer of pyroclastic deposits from the last eruption of Mount Meager. - Photo Dave Steers Flickr
Sources :
- CBC News British Columbia - Dormant B.C. volcano sparks with activity
- Whistler Question – Volcanic activity detected at Meager – Volcanolgist warns public to stay off Job Glacier after fumarole field discovered
- Squamish-Lillooet Regional district – Recent low level volcanic activity on Mt Meager to be studied further. 28.09.2016
- Volcans et glaciers – Claude Grandpey – Réveil du Mont Meager ? (Canada)
- Government of Canada - Preliminary drilling results from the Pemberton Valley, British Columbia