Publié le par Bernard Duyck
At Colima, the exhalations of the volcano are accompanied by a plume rising to 1,200 meters above the crater and exit of incandescent materials on the east flank.

Source: WebcamsdeMexico
In Guatemala, the Fuego saw an increase in its energy level from November 13, with an incandescence at a height of 150-200 m. above the crater and moderate avalanches of blocks towards the Barranca Las Lajas.
On 15 November, the seismic network recorded low to moderate explosions, accompanied by columns of ash rising to 1,300-4800 meters asl. before diverging to the west and south-west over 15 km.

Source: Insivumeh & Conred
Sabancaya - 14.11.2016 / 6:25 and 3:08 thermal - The thermal image allows to know the duration and intensity of night courses in emissions - a click to enlarge - Doc. OVI-INGEMMET
In Peru, the two volcanoes are still active.
The Sabancaya continues to emit ashes on the Colca Valley.
The scattering of ashes is predicted towards the northeast and east of the province of Caylloma and affects areas of Cajamarcana, Sallalli, Parjo, Lari, Pinchollo, Yanque, Chivay, Coporaque, Ichupampa, Achoma, Tuti, Callalli, Sibayo , Tocra and Canocota.

Regarding the Ubinas, increasing of hybrid and volcano-tectonic earthquakes reveals magma ascent. All the energy was not released by the 8 November explosions; Small nocturnal explosions are accompanied by plumes of ash reaching up to 1,500 m of height. The volcano is surmounted by a column of magmatic gases rising about 1,000 meters above the crater

Sources: OVI-Ingemmet and I.G.Peru: RPP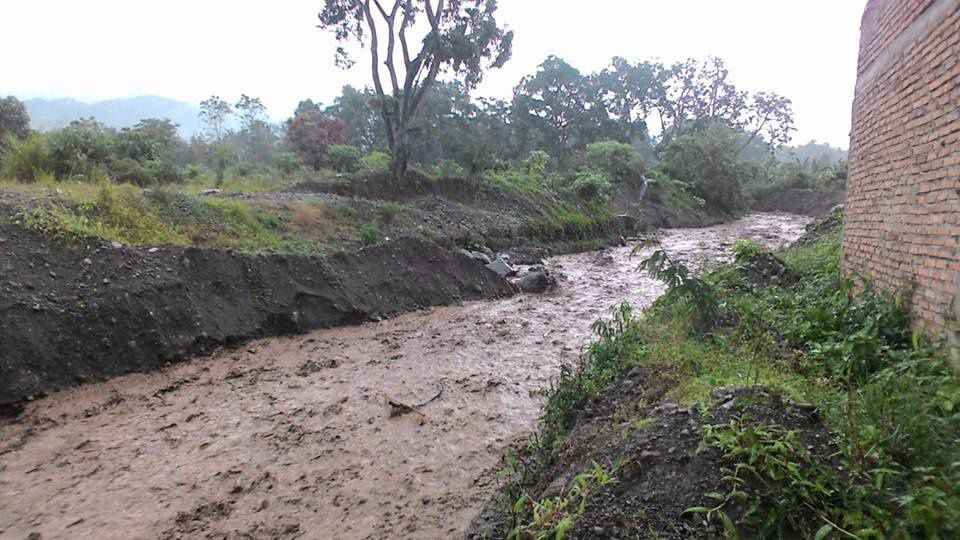 Sinabung - lahar from 11.16.2016 / 15h in the village of Bekerah - photo Tenger Tiganderket via Beidar Sinabung
In Sinabung, explosions followed one another with small vertcal plumes of ash. Incandescence is perceptible at night at the level of the new dome.

Note: a lahar with a height of 50 cm carries its brown waters in the village of Bekerah this 16 November.

Sources: photographers and Beidar Sinabung
In Kamchatka, the explosive-extrusive activity continues at Sheveluch with on November 15, an ash plume rising to 6,000 m. Asl. before drifting east of the volcano. The aviation alert level is orange.

Sources: KVERT & Volkstat.