Publié le par Bernard Duyck
After a major ash emission at Sabancaya on 8 November, the activity of the volcano has not diminished.
On November 10, the OVI reported a continuous ash emission to the valley of Colca, accompanied by a plume of 2,000 meters of height above the crater, with a dispersion over 30-35 km. reaching the villages of Parjo, Cajamarcana, Sallalli, Pampasepina, Hornillo, Patamapa, Yanque, Coporaque, Ichupampa, Achoma and Chivay.
On 11 November an explosion at 10.04 local time generated an ash plume about 3,000 meters above the top of the volcano, spreading to 40 km east and northeast, and affecting 16 villages in the valley of Colca.
Video of the explosion of 11.11.2016 - doc. OVI Ingemmet
To point out that for the first time in its history; Peru has simultaneously two erupting volcanoes; In fact, Ubinas presented on 9 November several explosions with releases of an energy estimated at 35 megajoules, at 09:26 p.m., 09:27 and 09:49 p.m., and emissions of ash; The plume rose to 1,500 meters above the edge of the crater. The alert is maintained to yellow, as we continue to record parameters related to the ascent of the magma.
Sources: OVS & OVI Ingemmet
The passive eruption of gases, aerosols and ashes continues in Turrialba, sometimes interrupted by intervals of rest, and marked by a tremor of amplitude fluctuating at the same rate.
The atmospheric conditions prevented a good observation of the plumes emitted, which do not however exceed the 400 meters of height above the summit. The winds scatter the ash to a western area, affecting agricultural areas adjacent to the volcano, as well as parts of San José, Heredia and Cartago.

Sources: Ovsicori & RSN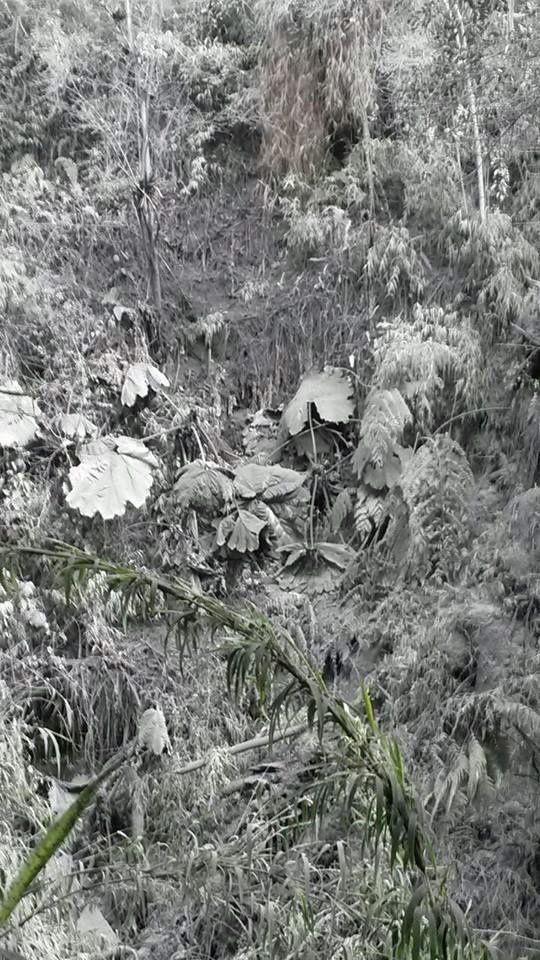 Turrialba - Vegetation in gray and white on the slopes of the volcano - photo Volcan Turrialba Lodge
At the Sinabung, explosions continue, this November 12, only accompanied by emissions of an eruptive plume and a few falls of blocks ... sign of the opening of the conduit, presumed to the view of the pictures of the top put online yesterday.
The situation will not last, since the last photo shows us a new dome in formation, and new pyroclastic flows in the middle of the morning.

Sources: Endro Lewa, Sadrah Peranginangin, and David H. Ginting