Publié le par Bernard Duyck
Descending to the south of the Reykjanes peninsula, we find to Sandvik a "bridge between two continents": this ugly little pedestrian bridge spans a fine fissure that marks the (theoretical) boundary between the American and Eurasian tectonic plates, and the place where they deviate. Lava walls are separated by a zone of depressed volcanic black sand.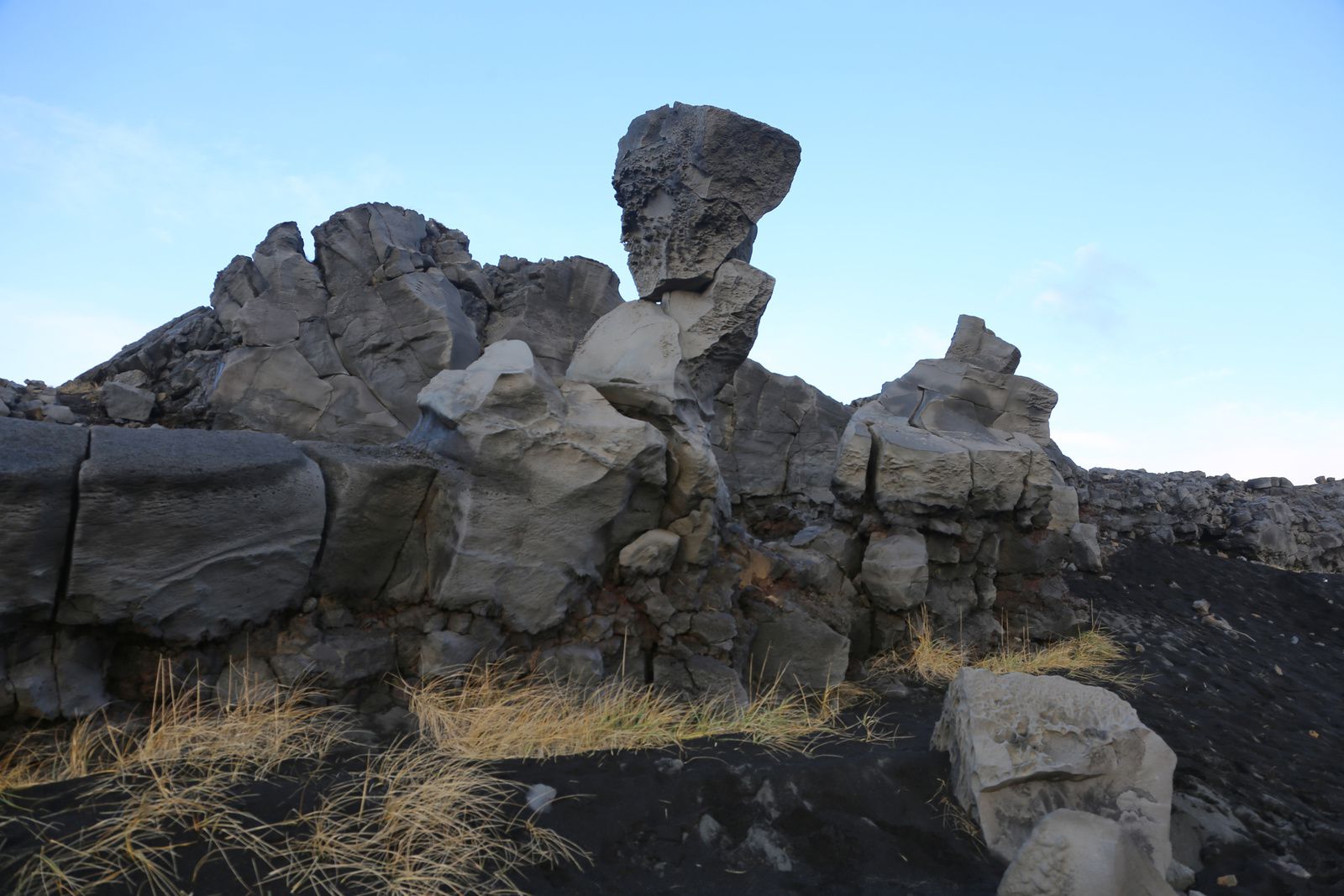 Sandvik - an unstable block that will soon choose to transit to another continent - photo © Bernard Duyck 10.2016
Continue to Valahnúkur and Reykjanesviti.

At the tip of the peninsula, the first Icelandic lighthouse, Reykjanesviti, was built there in 1878. Earthquakes in 1905 and the waves of the Atlantic will weaken it; A new lighthouse was built in 1907-1908 on the Baerjarfell hill, 26 meters high, emitting at 69 meters above sea level two flashes every 30 seconds.
Near the lighthouse, the cliffs of Valahnúkur face a sea often unleashed.
This landscape was formed by underwater eruptions of Surtseyen type at the end of the Weicheselian (or Vistula) glaciation.
Surrounding Valahnúkur, the young lava Stampar cover 4.2 km²; They date from a volcano-tectonic episode, called "the Reykjanes fires" dated 1211-1240, which left a group of craters and pahoehoe flows, staggered over 4 km on a NE-SW axis.
Near the cliffs, surtsey eruptions produced the Vatnsfell cone, then the Karl cone; These two tuff cones overlap and are still visible 300 meters from the shore.
15 km off Valahnúkur, Eldey, a 77-meter high basaltic hyaloclastite rock, and a seabird paradise, is the most representative of islets located on a small submarine ridge called Fuglasker or Eldeyjar. One of these islands sheltered the last colonies of great Penguin (Pinguinus impennis). The great penguin was considered extinct in 1844, the last bird shot by hunters on Eldey. A bronze of this giant unable to fly, realized by the American artist Tood McGrain, is placed in Valahnúkur and looks towards Eldey.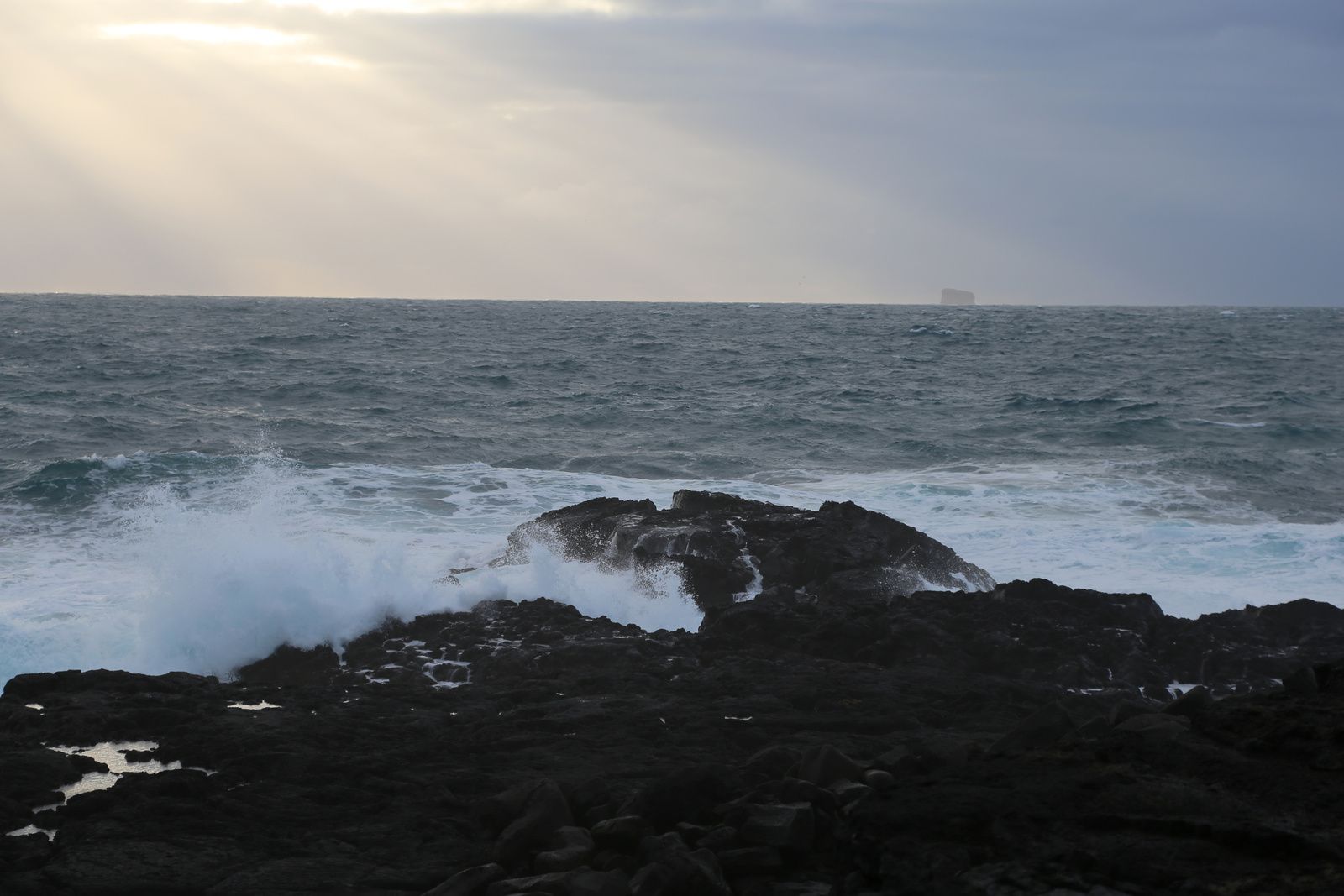 On the horizon, on the right, the silhouette of Eldey, a paradise for birds - photo © Bernard Duyck 10.2016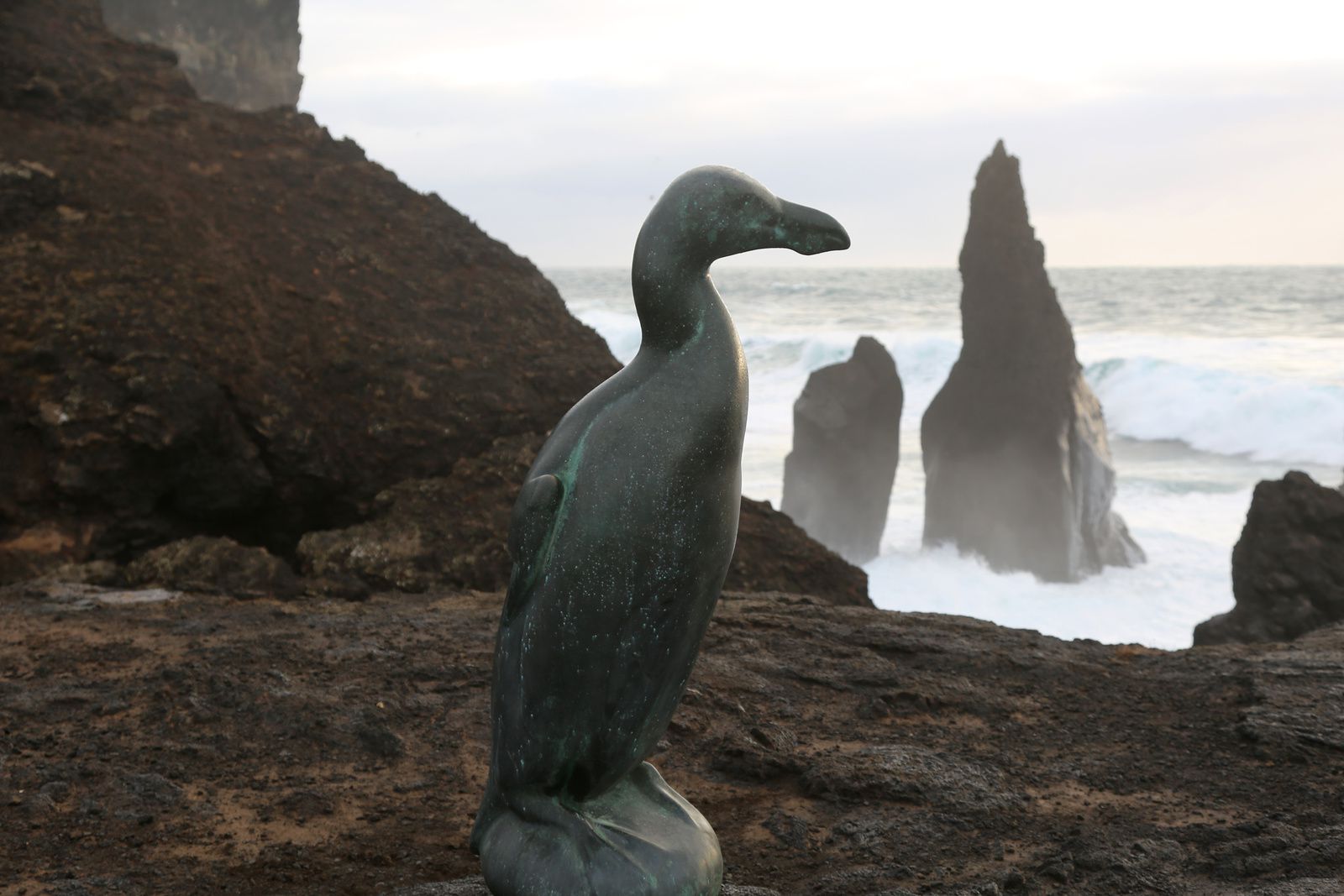 The statue of the Great Penguin contemplating the place of its disappearance, Eldey - photo © Bernard Duyck 10.2016
To follow: Gunnuhver and the IDDP project

Sources:
- Geomorphology - Elaboration of a typology of the deposits of supratidal blocks of cliff tops of the Reykjanes peninsula (Iceland) - R.Autret et al.
- Reykjanes UNESCO Global Geopark - link
- Geometry, formation and development of tectonic fractures on the Reykjanes Peninsula, southwest Iceland - A.Gudmundsson & al.