Publié le par Bernard Duyck
We will go, for waste of time, only to part of the Ísafjarðardjúp.
Ísafjarðardjúp means in English "the deep frozen fjord"; It extends 120 km inland, and branches off in many smaller fjords on its southwestern shore.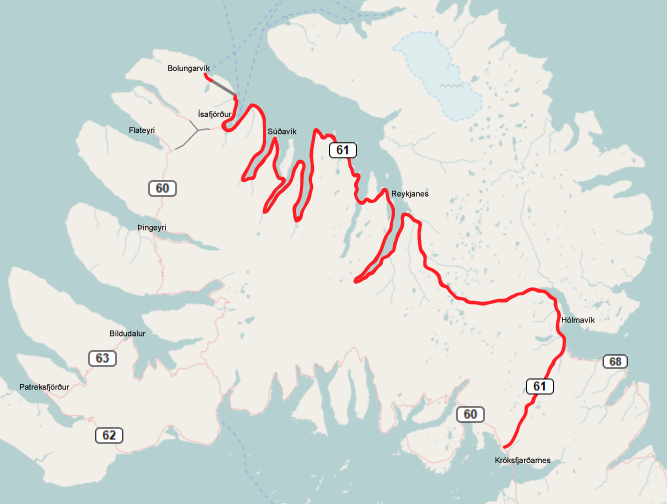 The Road 61 in Iceland marked in red, with tunnels in grey. This map was created from OpenStreetMap project data, collected by the community.
On the opposite side, the only great glacier in this region, the Drangajökull dominates the landscape. It is characterized by its low average altitude of only 635 meters ... what compensates his location : approximately 66 ° north.
The present glacier is the rest of an enormous group which covered during the dryas (18,000 to 11,700 years before our era) all this peninsula and the Glama plateau.
A progressive deglaciation of the plateaus and heights, starting from about 26,000 years ago, then led to rock slides on the western peripheries of the peninsula.
At the tip of Isafjördur, near Reykjanes (the village, not the peninsula much to the south), the road intersects the plateau and reveals different layers more or less rich in iron oxides.
The low density of the habitat is beneficial to wildlife: the waters of these fjords are home to many common eiders, crested mergansers, singing swans, and seal colonies (Phoca vitulina), as in the Skötufjördur.
This same fjord gratifies us with small photogenic falls that cascade on strange blistered structures.
To the north, the farm of Litlibaer, built in 1895, testifies to the habitat of this century. Surrounded by a stone wall, the property covered three hectares ... the house made only 3.9 m. on 7,4 m., with sheds serving as kitchen.
Ísafjarðardjúp, in summer - with archive pictures - video Harpa Halldorsdottir
Sources:
- Geomorphology - Distribution and spatial analysis of rockslides failures in the Icelandic Westfjords: first results - by Aurore Peras & al.
- Geomorphology and the Little Ice Age of the Drangajökull ice cap, NW Iceland, with focus on its three surge-type outlets - by Skafti Brynjolfsson & al.