Publié le par Bernard Duyck
After the 1980 eruption at St Helens, geophysicists have studied magma movement beneath the volcano ... they found a buildup of magma in shallow rooms in the earth's crust to a depth of between 3 and 12 km .
The question of the origin of the magma in the crust and its migration to generate the eruptions has been now analyzed in a study by the University of New Mexico.
The authors, Steven Hansen and Brandon Schmandt, refute the idea of ​​the rise of molten material directly under the St Helens.
Seismic imaging reveals the presence of a cold mantle beneath the volcano: the lack of P waves reflected in the volcano's crater suggests that it is situated on top of a corner of the mantel, cold, almost solid, and serpentinized. Further east, the reflected seismic energy increases from 10 to 30%, with a strong material contrast between the crust and the underlying mantle.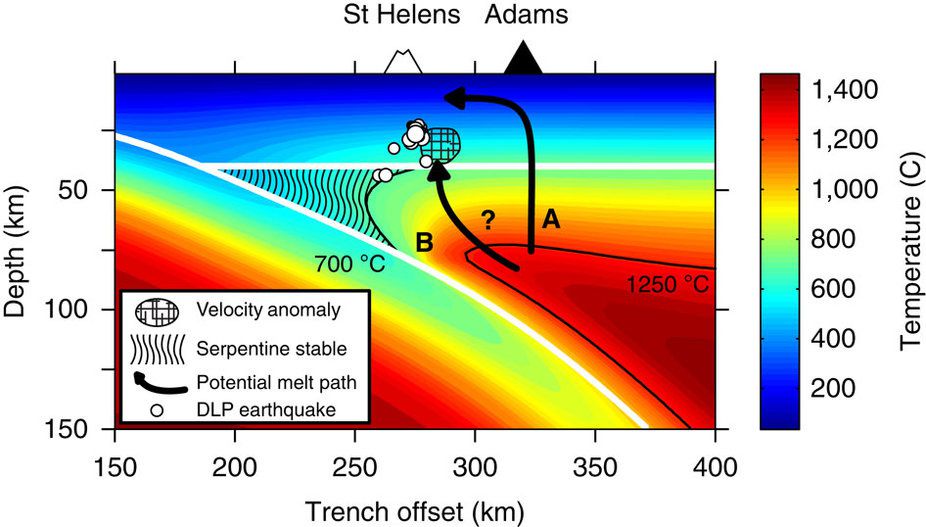 Thermal 2D model of the Cascades subduction system in Oregon and geological interpretation center - the shaded area marks the mantle wedge of the region where serpentine is stable (around 700 ° C). The white dots indicate the location of earthquakes long périose (DLP). The arrows show the two alternative ways of lateral migration of magma towards the St Helens. - Doc. in Seismic evidence for a cold serpentinized mantle wedge beneath Mount St Helens - S. M. Hansen, B.Schamandt et al.
The authors of this study propose a generation of magma to the east, with lateral migration in the mantle; This endorsed by both the decentered position of St Helens in the Cascade volcanic arc and earthquakes LP recording at a depth of 23-44 km southwest of the volcano.
Two migration routes are possible: one by the middle crust (A on the diagram of the subduction system) and the other through the mantle wedge (B on the diagram of the subduction system).
Future observations within the project IMUSH / Imagning Magma Under St Helens should lead to a better understanding of areas of subduction.