Publié le par Bernard Duyck
Going down from the northwest fjords, we will see various volcanic and geothermal structures.

Gabrokargigar forms a small volcanic field belonging to the Ljosufjöll volcanic system, one of the three fissuring vents systems of the Snaefellsnes, which runs over 90 km from the Berserkjahraun fields to the village of Bifröst.
Located about thirty kilometers north of Borgarnes, in the borough of Circular Road No. 1, it consists of three spatter cones and their production.
Stóra Grábrók (the big crater), Litla Grábrók (the small one, because of the exploitation that preceded the protection of the site) and Grábrókarfell, are composed of alkaline olivine basalts dated less than 3,600 years old.
Deildartunguhver, the hot spring of Deildartunga, would be, by its volume, the largest in the world. Its average flow rate is 180 liters of water at 100 ° C per second. Its energy potential is about 62 megawatts, integrating that of the two artificial wells. Modern extraction is done by pumping, as Deildartunguhver is only 19 meters above sea level.
This hot water, coming from 1000 years old precipitations on the plateau overlooking the Borgarfjördur valley, has been used since 1925 for domestic heating. The district heating company of Akranes and Borgarfjördur is responsible of a 74 km long network. The average temperature at arrival in the houses varies between 65 and 77 ° C.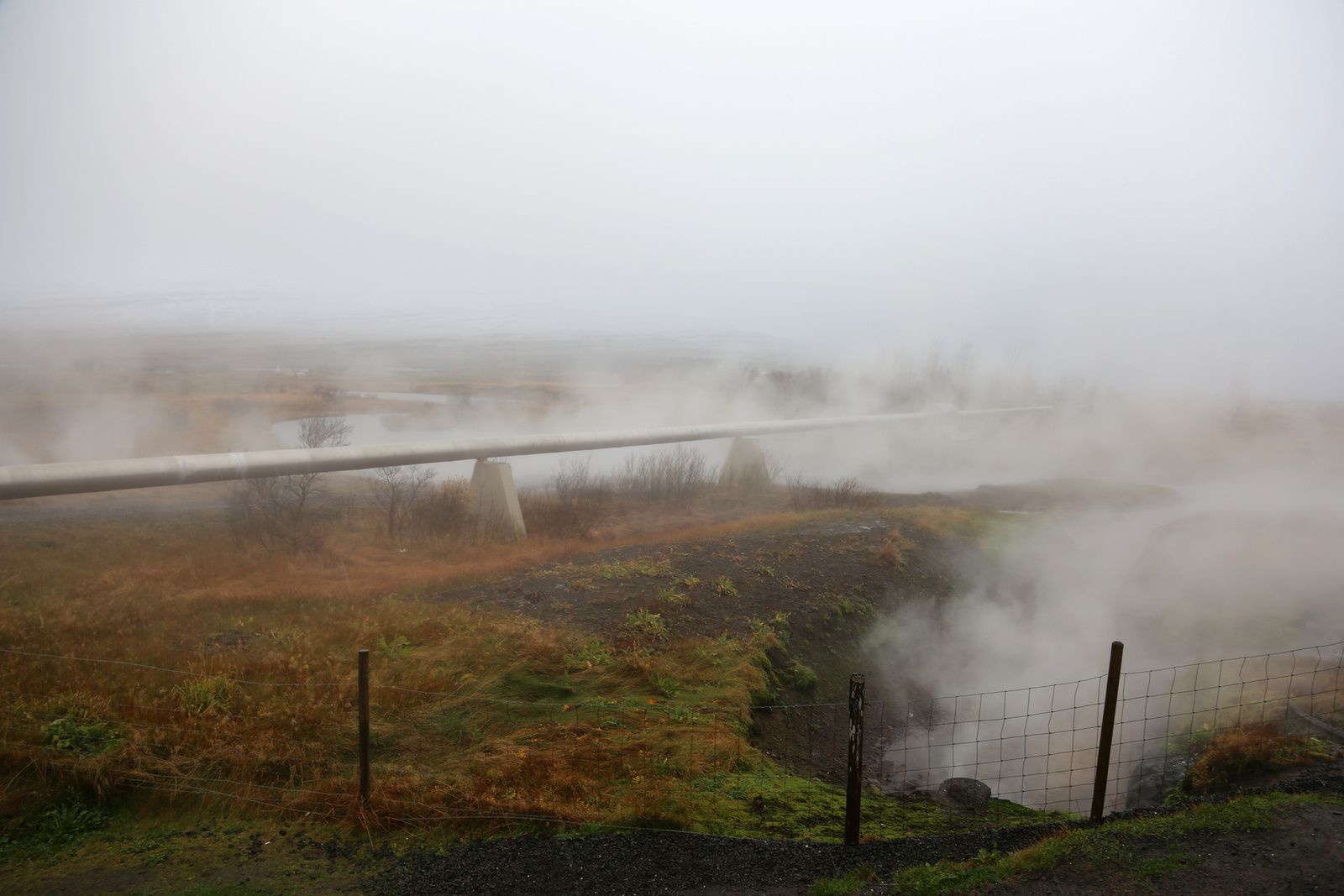 Deildartunguhver, the vapors of the geothermal exploitation are confused in the ambient winter fog - photo © Bernard Duyck 10.2016
Hraunfossar, literally the waterfalls of the lava field, denominates a series of small waterfalls that stretches for about 1,000 meters.
The river Litlafjlót flows under the Grahraun lava field before flowing into the Hvítá river.
The Grahraun was produced by the eruption of one of the volcanoes under the Langjökull glacier.
Another nearby waterfall, Barnafoss - the children's waterfall, is associated with local history: On Christmas day, the entire household of Hraunsas went to the church, with the exception of two children staying at home. When the family returned, the children had disappeared ... but their traces led to the stone arch that spanned the river. They had fallen and drowned. The mother had this natural bridge shoot down to prevent others from experiencing the same fatal fate.
Sources:
Outline of Geology of Iceland - Chapman Conference 2012 - By Thor Thordarson