Publié le par Bernard Duyck
Kirkjufell is an emblematic figure of the photo in Iceland, because of its sleek and impressive form, which gave it its name: "Church Mountain" in Icelandic, "Sugar summit" for the Danes.
High of 463 meters, the mountain occupies a small peninsula in the Breiðafjörður Fjord, on the north coast of Snaefellsnes.
It acquired this form during the last ice age, following the glacial erosion : located on a nunatak, a high rock between two glaciers, Kirkjufell is steep in all directions.
Its flanks show various layers corresponding to volcanic eruptions : on a lava basis of Tertiary, there are sediments containing fossils dating more than a million years.
The intermediate portion is formed in the Quaternary during the hottest time of the Ice Age, and is topped by hyaloclastites, implemented under a glacier and dating from the cold period of the same ice age.
We can find the various inversions of the poles, dating the strata between 180 m and the summit.
Close and inseparable from the "postcard", is Kirkjufellsfoss, consists of three waterfalls fed by water from the massive of Helgrindur, also known as the Lysukard or Lysuhóll, a chain of cinder cones basalt olivine and aligned vents ONO-ESE.
Still farther west, the small town of Ólafsvík, bordering Breiðafjörður and at the foot of the volcano Ólafsvíkurenni (415 m.) In the 17th century, Ólafsvík was the first Icelandic town, which received a trade license by the Danish king who regarded the country as a Danish colony at that time. The trade prospered in Ólafsvík until the 19th century.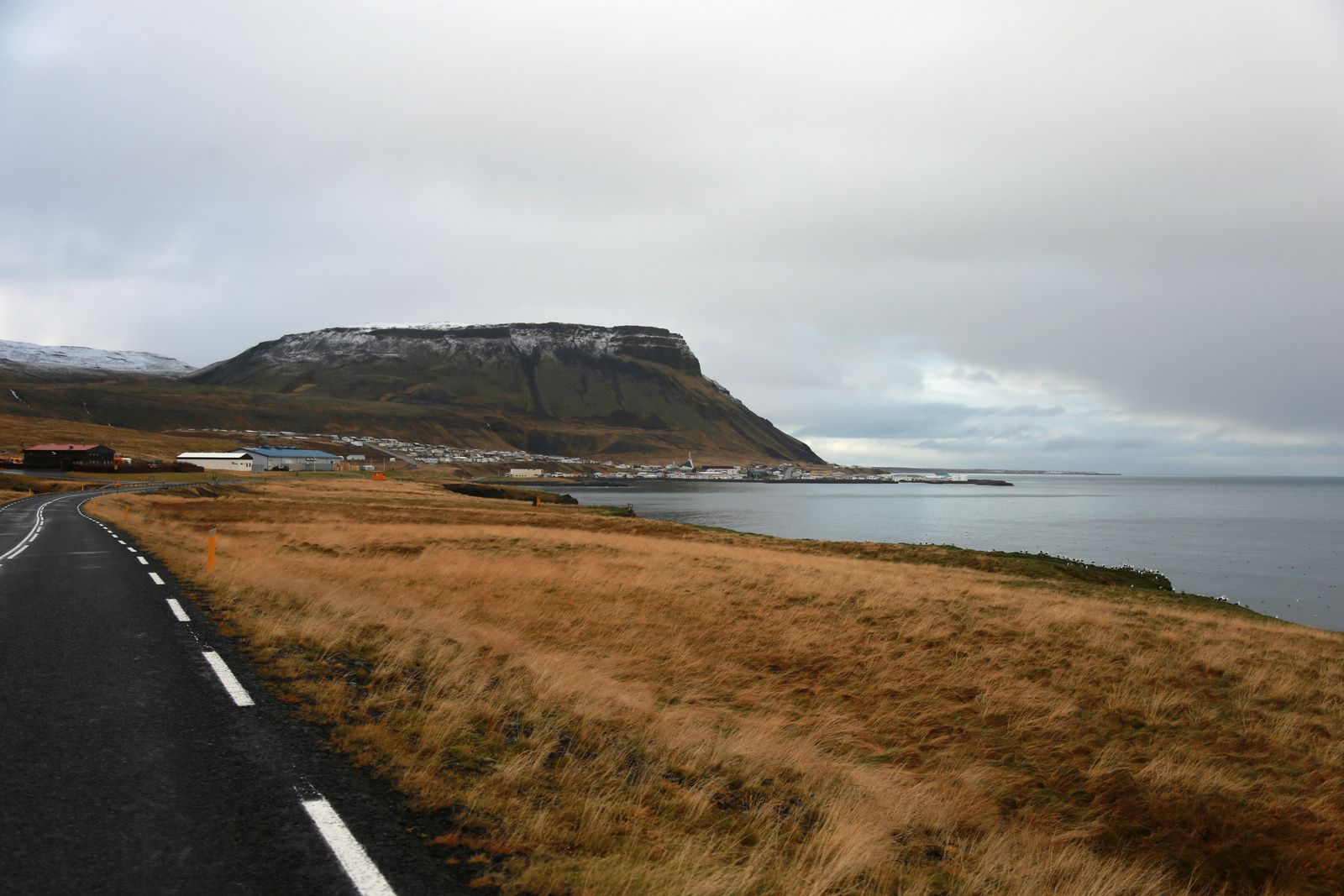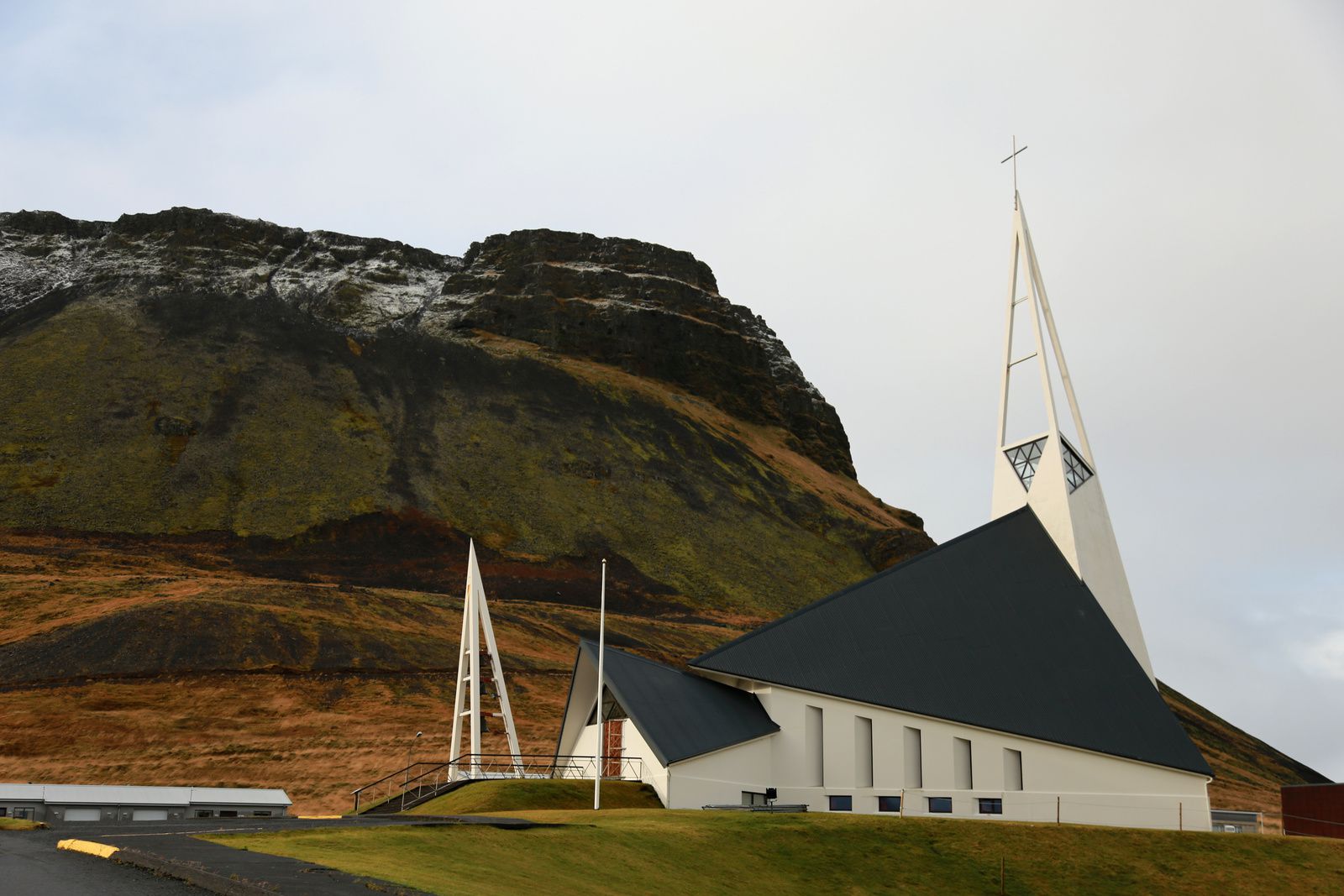 Ólafsvík, its port and modern church, at the foot of the volcano Ólafsvíkurenni - photos © Bernard Duyck 10.2016
Ingjaldshólskirkja is one of the oldest concrete Lutheran church in the country. I do not mention for his age, but because his name is linked to the book of the Colonies and the saga of Bardar: colon Ingialdur Alfarinsson would have been different with the giant Hetta, living in the mountains of Ennis. It almost succeeded in drowning it while fishing offshore, inflating a storm by sorcery. A friend of Ingialdur, Bardur Snaefellsas, succeeded in rescuing him in time.

From the church on a promontory you can see the Snaefellsjökull on the right of the photo - click to enlarge - photo © Bernard Duyck 10.2016
Lóndrangar on the south coast of Snaefellsnes, offers two rocky pinnacles, two basalt plugs, remains of erosion of a crater attacked by waves. Respectively high of 61 and 76 meters, they were only climbed in 1735 and 1938. The highest is called "Tröllkarlinn", the ogre. The flanks of the two plugs harbor the nests of many seabirds, fulmars, gulls, puffins, and Guillemots de Troïl.
Side Legends: one of the rock is supposed to be the church of the Hidden People, the other being their library where the memory of this people is concentrated.
Sources :
- Postglacial volcanism in Iceland – par Thorvaldur Thordarson / Univ. Iceland
- Outline of Geology of Iceland - Chapman Conference 2012 -
by Thor Thordarson
- Global Volcanism Program - Helgrindur - link