Publié le par Bernard Duyck
We stay in Reunion Island, but with another type of volcano.
A volcanic artist with frenzied production: Jace.
It will make us discover funny characters, the gouzous ... "landed a weekend from another planet, as he said, and never returned home. Small character without kind or race, I believe they have fun on Earth ".
Born in 1973, he arrives in Reunion Island with his parents in 1982. He is more "graffiti than street art", until the creation of the Gouzou in 1992 ... and is held to a large extent, given the positive popular reaction.
When La Réunion discovers his character fetish, he is busy crossing the oceans to implant his gouzous in the United States, China, Luxembourg, Brazil, Paris, although he continues to be based on the island.
As he says in his biography, "A frenetic vector of love and poetry, his style and his message reflect with exalted accuracy his multi-ethnic culture, his traveling appetite, his thirst for sharing with his congeners. Prevents the cultivation of a spicy taste for mocking and the joy of living, but always in a way unconditionally governed by a clear sense of humility and tolerance".
In 2015, returning to the Mathgoth gallery for a solo exhibition, Dipty Q, he took the opportunity to remake his facade - Doc. Matthgoth / Vimeo.
Not content with these works that decorate the walls of the world, he exhibits, and opened in Reunion Island, to put a little pressure, the Factory in Gouzou, a space at once gallery and store, where to buy books, works on wood, canvas, postcards, stickers.
The reactions of passers-by to these works vary: according to the artist, some have car accidents because of inattention while driving, others prefer to steal them, or still collect them in photos ("hunting gouzous ") ... or do not care.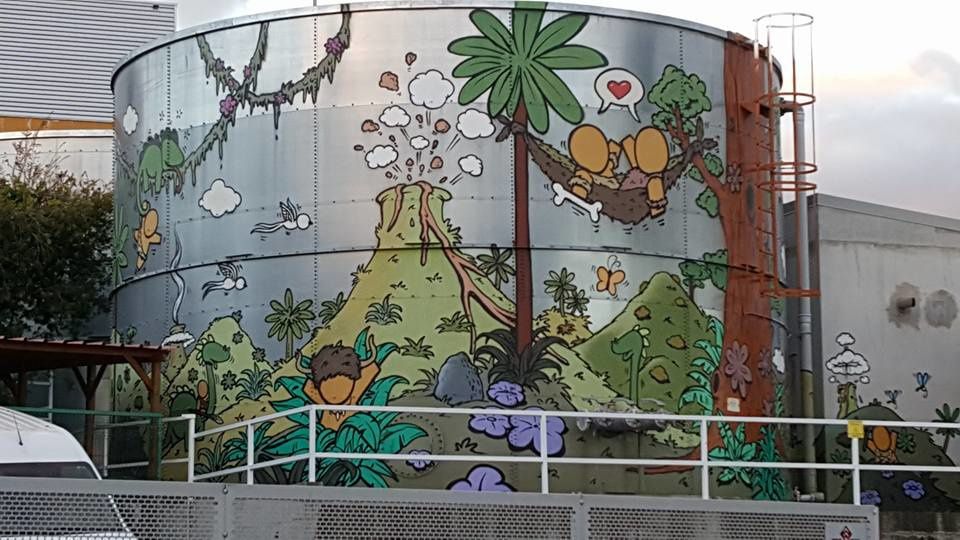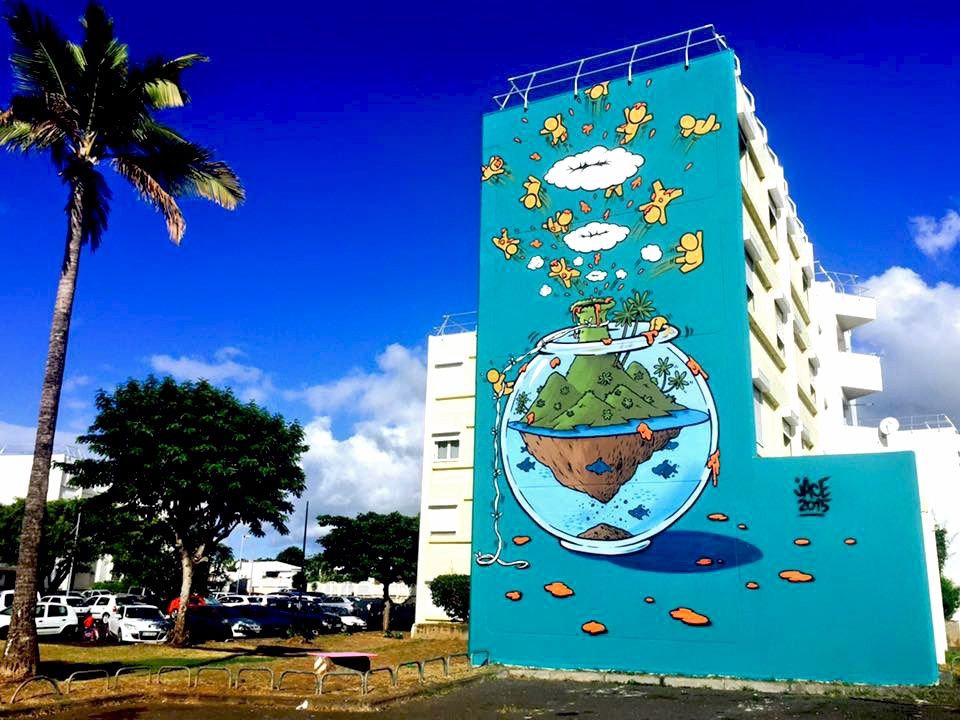 Jace - his works decorate old walls as well as reservoirs or whole pinions of buildings thus personalized - a click to enlarge - Doc. Christian Lauret / Facebook "Art and volcano"
The Facebook page "Art and volcano", in which the gouzous appear regularly, has made me fairly unconditional, especially those where we find the stylized cones of his adopted country, illustrated on this page ... detriment of all the others.
Sources :
- Facebook – Volcans et art – insertions de Christian Lauret et d'autres - link
- Facebook – Chasseurs de Gouzous – link
- Twitter : #gouzous
- All city blog : Jace: L'Usine à Gouzou - link