Publié le par Bernard Duyck
What is the effect of Icelandic eruptions and the emanation of volcanic ash on populations of breeding waders?
A short-term negative effect:
A team of scientists from the Universities of Iceland, Aveiro in Portugal and East Anglia in the United Kingdom analyzed the relationship between spring temperatures, volcanic eruptions and wader productivity.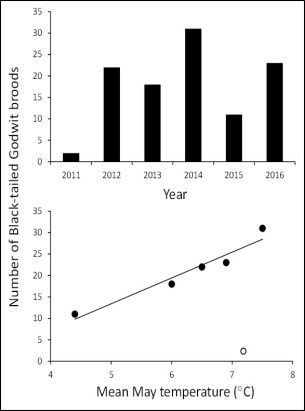 Reproduction rate of black-tailed Godwit vs spring temperature - doc. Effects of spring temperature and volcanic eruptions on wader productivity. - Tómas Grétar Gunnarsson & al.
Scientists first determined a positive effect of high spring temperatures on reproduction.
On the other hand, the negative effect of volcanic ash has been reported: it covers wetlands and invertebrate sampling traps ... these negative effects, fortunately in the short term, have an effect through the mortality of invertebrates, and consequently on the small number of successful broods in the following summer.
The eruptions of the Eyjafjalajökull in 2010 and the eruptions of the Grimsvötn in May 2011 made it possible to verify this influence on the populations of waders.
A longer term positive effect:
The effects of volcanic activity on waders in Iceland are more likely to be positive in long term, as volcanic dust recharges vegetated land with nutrients and buffers the pH. Wader densities across Iceland are generally higher when intakes of volcanic dust are higher (Gunnarsson et al., 2015).
Volcanic dust in Iceland is mainly basaltic and subject to rapid alteration, allowing a release of minerals important for the functioning of terrestrial ecosystems.
Drylands and wetlands, which have the largest ash deposits, are home to more waders than areas where agriculture is practiced. The number of individuals can triple in wetlands, between periods of weak and larger deposits. On the other hand, the local effects of ash deposits in agricultural areas are masked by artificial fertilizers.

The distribution of volcanic dust is not limited to periods of volcanic activity: wind erosion of the soil occurs, and during spring and summer, glaciers melt, retreat, and release / redistribute trapped ash. Volcanic ash released by eruptions can have large-scale, long-lasting effects on food webs.

Sources:
- Wadertales blog
- Effects of spring temperature and volcanic eruptions on wader productivity - by Tómas Grétar Gunnarsson & al.
- Ecosystem recharge by volcanic dust drives broad-scale variation in bird abundance - Tómas Grétar Gunnarsson, Ólafur Arnalds, Graham Appleton, Veronica Méndez and Jennifer A. Gill Ecology and Evolution 2015; 5 (12): 2386-2396