Publié le par Bernard Duyck
The 16th paroxysmal episode of the year at Fuego has continued since December 20, with a plume of ashes rising to 5,200 m asl. on December 21, before moving south and west for more than 18 km.
Ash falls are reported on Panimaché, Morelia, Santa Sofía, Sangre de Cristo, San Pedro Yepocapa, and Palo Verde.
The lava fountain reaches 200-300 m above the crater and feeds three lava flows, respectively to the Santa Teresa barranca long of 2.500 m , to the barranca Taniluya, long of 2.000 m, and to the Las Lajas barranca, where It reaches 1,800 m.
Around 10:09 local time, a pyroclastic flow descended the Tanilyua barranca, accompanied by a column of gray ashes rising to 2,000 m.asl and dispersing on the western and southwestern sides of the Fuego. The flow, estimated at 300 m. wide, has traveled to 3,500 meters from the crater.
In his last report of 21.12 / 15.30 hours, the Insivumeh announces the end of this eruptive episode.

Source: Insivumeh & Conred
A new explosive eruption occurred at Bogoslof on December 21 at 4:10 pm local time. Spotted by the seismic network and the Himawari-8 satellite, it lasted about 30 minutes. The plume of ashes was traveled by many flashes. The direction of the winds and the temperature at the top of the ash cloud suggest that it has a height of 10,700 meters and is heading north. The Aviation Alert Code is red.

Source: AVO
On the left, Bogoslof 21.12.2016 / 16h48 loc image Thermal InfraRed - AVO / Dave Schneider - on the right, the numerous flashes spotted in the plume - NOAA - a click to enlarge
The site of Valahnúkur, at the southwestern tip of the Reykjanes peninsula, and close to the oldest lighthouse in Iceland, was closed due to the appearance of a large crevasse. This should soon lead to a landslide.
When I visited this site in late October, I noticed a small crevasse on the expanse that served as a parking lot at the end of the access road.

Source: Safetravel.is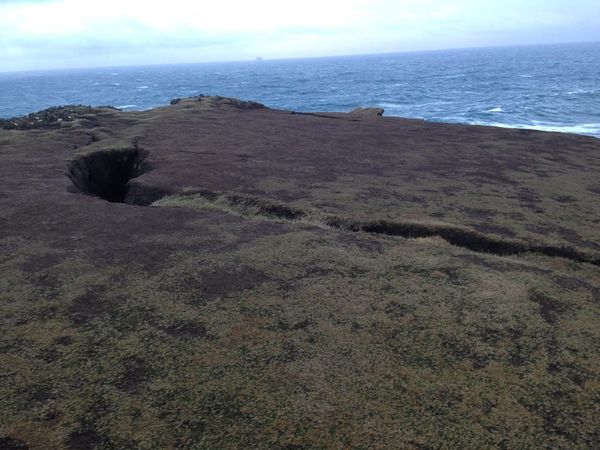 Closing of the site of Valahnúkur following the appearance of a crevasse - images safetravel.is - a click to enlarge
To greet the winter solstice, the geyser Old Faithfull made a show worthy of the day. Due to the cold on the Yellowstone and the difference in temperature with the water emitted, a column of steaming steam overcame the geyser by tripling his height.
Old faithfull at the winter solstice - Thanks to Ranger Orville Bach - Yellowstone National Park Service