Publié le par Bernard Duyck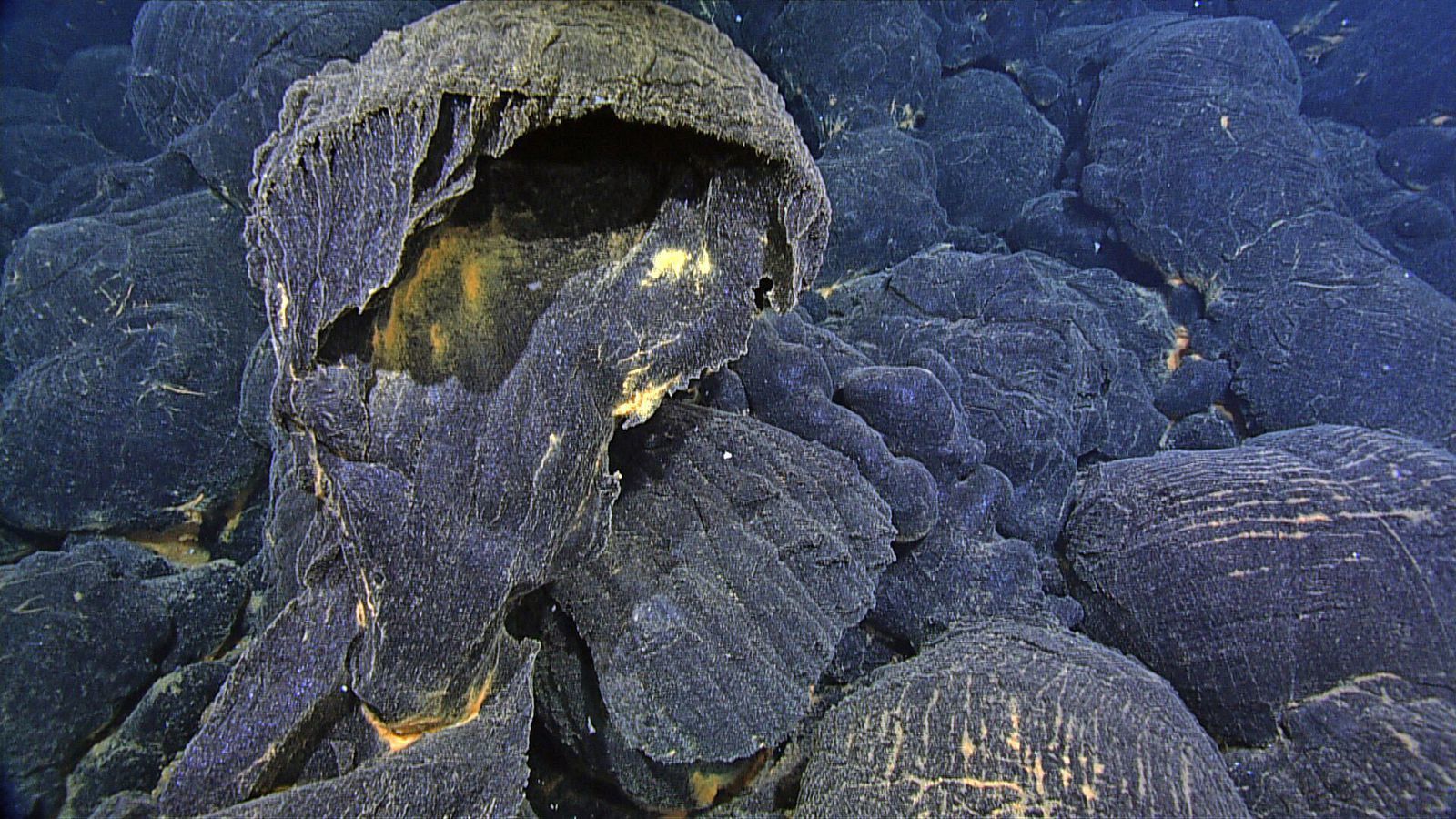 Axial seamount - pillow lavas exploded, dating from April 2015 eruption - one click to see full screen - doc. MBARI
At the 2016 meeting of the AGU / American Geophysical Union, researchers from the MBARI / Monterey Bay Aquarium Research Institute presented, in addition to their research reports, a new seabed map of the Axial seamount, a submarine volcano located off the coast of Oregon, made during a dive in August 2016.
It describes the caldera and the north and south rift zones, and will serve as reference to marine geologists for future eruptions; The new data allow an estimate of the volume of lava emitted by the eruption of 23 and 24 April 2015: 156 millions m³ of lava in 14 separate lava flows were produced by a series of eruptive cracks extending over 19 km from the north of the caldera to the north rift zone.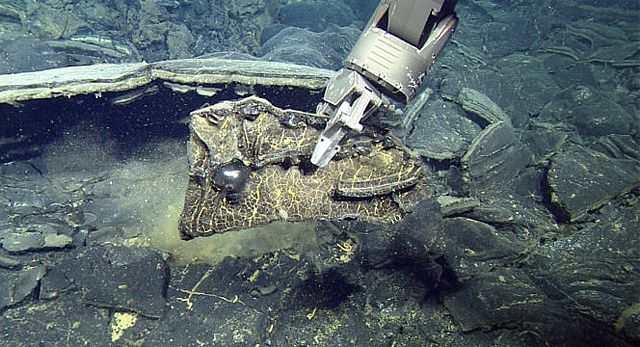 Axial seamount - Collection of a fragment of the lava of the 2016 eruption during the diving of 2016 - Image (c) 2016 MBARI
On the left, part of the new map of the Axial seamount and the northern rift zone produced by the researchers of the MBARI - Black outlines underline the lava flows of the eruption 2015 - Image (c) 2016 MBARI Credit ( C) 2016 MBARI - - Right, Axial seamount location on the Juan de Fuca / NOAA ridge in GVP - - a click to enlarge
Interesting details were revealed by the dives of 2016: a field of small hydrothermal vents, 30 to 50 cm high, was discovered on a fresh lava flow, colonized with tuberworms and other animalcules living on these vents.
Excellent photos of a hundred lava pillows were taken; They illustrate the tens of thousands of sounds similar to those of gun shots recorded at the time by the marine seismometers of the zone OOI Cabled array. These sounds of explosions are produced by seawater trapped in the fingers of hot lava and brutally transformed into steam.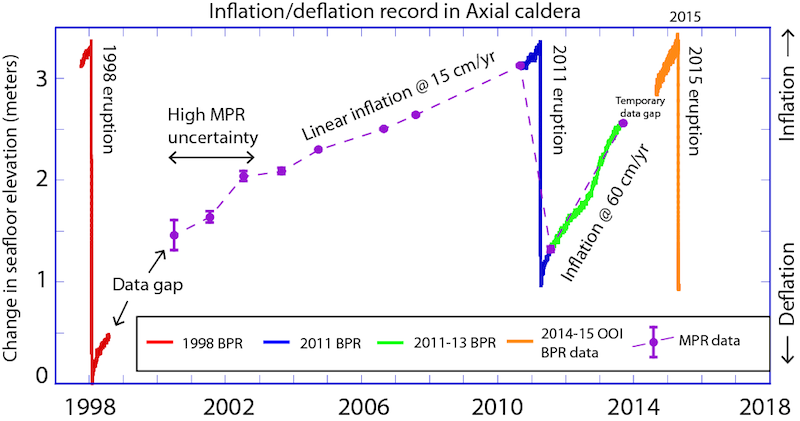 Axial seamount - Tracking of the long-run time series of inflation-deflation at the Axial Caldera center on which the 2015 forecast was based, updated with the 04.2015 eruption in orange (using OOI Cabled data Array).
The Axial seamount erupted in 1998, 2011 and 2015, and dozens of times in the previous 350 years ... the next eruption is expected to occur over the next decade.
This submarine volcano is particularly monitored, and the new bathymetric map established by the MBARI will be useful to show the extent and volume of the next lava flows.
Sources :
- MBARI - MBARI's seafloor maps provide new information about 2015 eruption at Axial Seamount – link
- University of Washington - Underwater volcano's eruption captured in exquisite detail by seafloor observatory – link
- Science mag – AAAS - Underwater network gives scientists a rare glimpse into deep-sea volcanoes – link
- Global Volcanism Program – Axial seamount – link