Publié le par Bernard Duyck
A new strong eruption was recorded this Jan. 20 at 13:17 AKST / 22:17 UTC at Bogoslof; It was accompanied by emissions that reached 11,000 meters, according to the testimony of a pilot, then pushed towards the island of Unalaska, where no fall of ashes is reported. One lightning was detected as well as infrasound.
Satellite images indicate that the cloud was rich in ice, but also that hot materials / probably lava were present on the surface a few minutes after the seismic detection of the eruption.
The aviation alert level is red.

Source: AVO
At the Colima, three large vulcanian eruptions were recorded within 48 hours, without any official report being published. The privatization of the SSN seismograms adds arguments to the media complaining about the lack of information.

A joint statement by the National Co-ordination of Civil Protection of the Secretaría de Gobernación, the Centro Nacional de Prevención de Desastres, the Unidades de Protección Civil de Colima y de Jalisco and the Universities merely repeats that since October 2016 Colima entered into a predominantly explosive stage of activity, at irregular intervals. The prevention measures mentioned yesterday were recalled.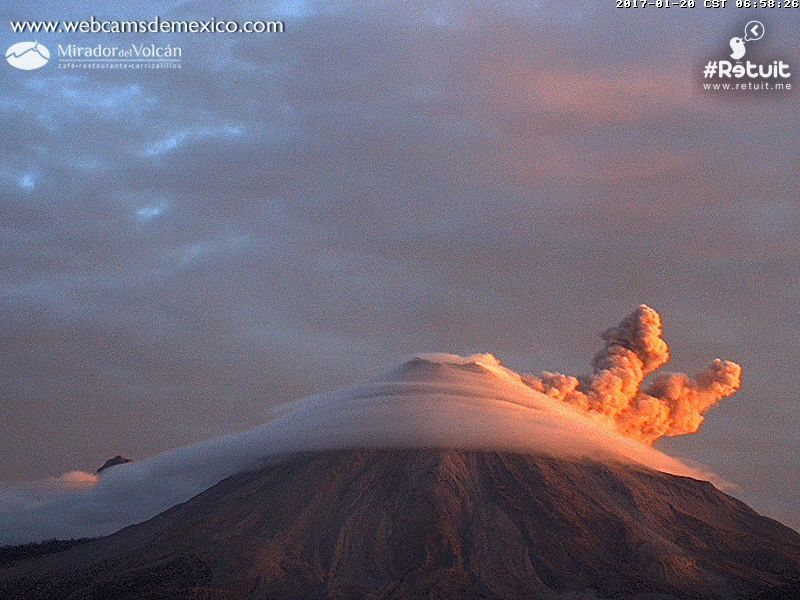 After a restless night, activity resumes at Colima, nicely caped this 20.01.2017 at 6:58 - webcamsdeMexico
The Colombian Geological Service recorded on January 19 at 5:18 a signal of energetic tremor at the Nevado del Ruiz, associated with the emission of gas and ashes.
Ashes have fallen over Murillo and Tolima in recent days.

Source: SGC - Manizales