Publié le par Bernard Duyck
Arequipa, second city of Peru, is dynamic, and animated day and night, contrasted between the historic heart and the modernity of the new districts.
At 2,300 meters above sea level, the city has more than 300 days of sunshine per year. This luminosity and the white stone buildings have earned it its name of "Ciudad blanca", "the white city".
Arequipa, which has developed along the Quebrada El Guarangal on the southern flank of the Misti, now lives under the threat of pyroclastic flows and lahars that could descend this drainage.
The city was built on the deposits of ashes and the lahars of the subplinian eruption of the Misti, about 2,000 years ago.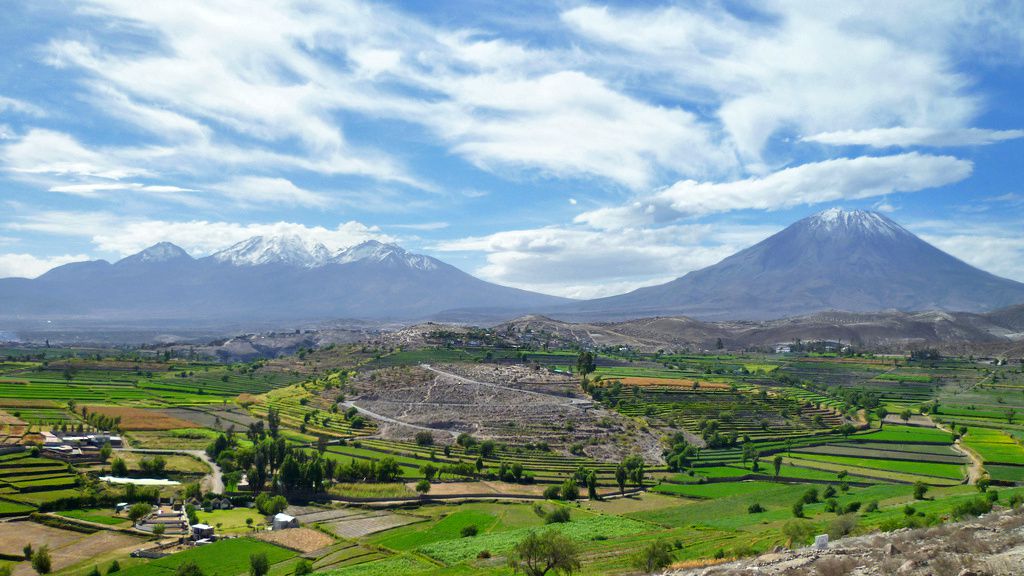 Two of its three volcanoes of Arequipa : the Chachani complex on the left, and El Misti, on the right
Arequipa, a doubly volcanic city, is built with the volcanic stones of a volcano, on the falls of another volcano.
The city has many buildings built with a white volcanic stone. This stone, the sillar, is a volcanic tuff produced by the Chachani volcano, now extinct, during the Pleistocene.
A beautiful example of this architecture is given by the arches of the "Mirador de Yanahuara", from where one can contemplate the white city and El Misti.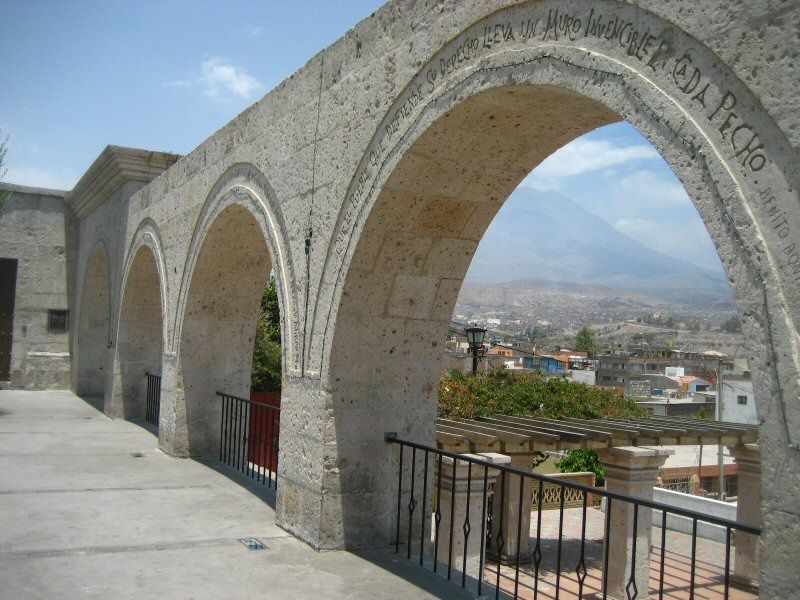 Arequipa - the Mirador de Yanahuara, in "sillar" -  between the arches, one of the flanks of the Misti - picture Joël Tekv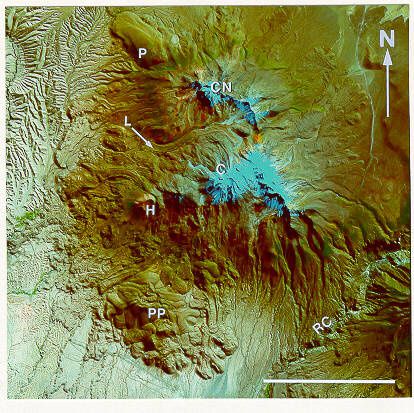 Arequipa - the Chachani massif - C: Nevado Chachani - CN: Cerro Nocarane - P: Cerro Los Peñones- PP: Pampa de Palacio - document Oregonstate Univ
Nevado Chachani is a complex spanning 360 km² and consists of three main structural entities:
- the Cerro Nocarane (CN) dating from the pre-Holocene, and the Cerro LosPeñones (CP) in the north
- Nevado Chachani (C), in the center
- the Pampa de Palacio (PP), to the south.
The last two elements eroded by glaciers.

The greatest period of activity relates to Neogene and Quaternary, including three emissions of ignimbrites:
- the Ignimbrite La Joya - 20 km³, 4.87 Ma
- the ignimbrite of Arequipa airport - 18 km³, 1,6 Ma
- the pumice deposits Yura - 1.5 km³, 1.02 Ma.

The flow of Añashuayco, 18 km long, has been eroded by the waters and presents this white ignimbrite extracted with rudimentary tools in different quarries.
Huayco's career is also famous for its pink sillar, rare and consequently of more consequent price.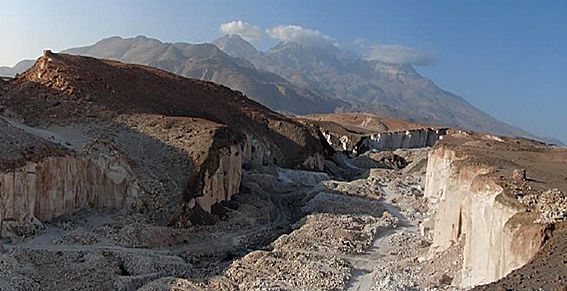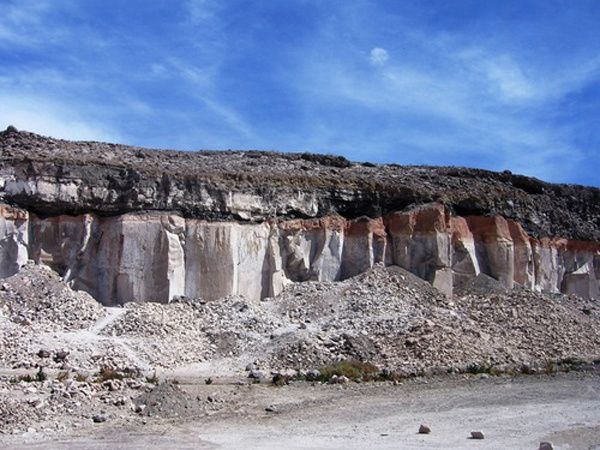 Arequipa - photo above, exploited ignimbrites of the canyon of Añashuayco - photo Scribd - photo at the bottom, white and pink ignimbrites topped by a layer of debris - photo Adri Noort / Panoramio
Sources :
- Global Volcanism Program – Nevado Chachani - link
- Global Volcanism Program - El Misti - link
- Chachani volcano- Oregonstate univ. - link
- Entidades del geosistema de las canteras de sillar de
Añashuayco, en Arequipa - Geosystem Entities of the Seat of the Quarry Añashuayco, in Arequipa - by Héctor Palza Arias-Barahona, Carlos César Trujillo Vera,Jenny Zenteno Machaca - link