Publié le par Bernard Duyck
Dark, but resistant, Volvic's trachyandesite has allowed the construction of numerous prestigious constructions within a radius of a hundred kilometers around its extraction site.
Exploited by the monks since the 12th century, it is after the launch of the reconstruction of the cathedral of Clermont that the stone of Volvic acquires its letters of nobility.
Situated at the top of the hill which forms the old center, Notre-Dame de l'Assomption stands out for its slimness but also for its dark color ... which earned it its nickname "Cathedral of the charcoal burners" by the brothers Goncourt .
Clermont-Ferrand still houses the Maison Savaron, dating from 1513 in flamboyant Gothic style, and the Fontaine d'Amboise, work of transition between the Gothic and the Renaissance, both of Volvic stone.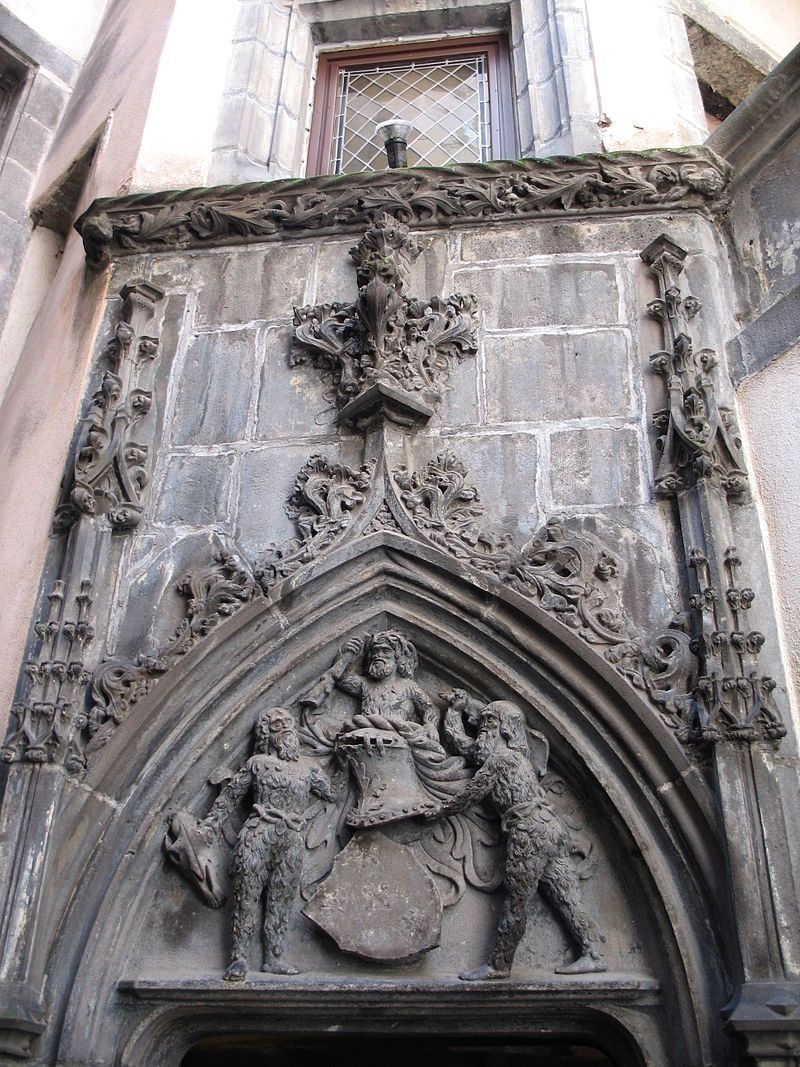 Clermont-Ferrand - Hotel Savaron. Bas-relief at the tympanum of the door of the staircase, in the inner courtyard, with two savages holding the shield of the Savarons. - photo Basvb
In a few decades, the stone will adorn the surrounding towns of Basse-Auvergne with its gray tint which blackens a little with time: Volvic, Riom and Clermont-Ferrand.

In Riom, the city center has some buildings, which may seem austere, but emblematic of the Volvic stone.
The Tower of the Clock is an ancient belfry, rebuilt in the Renaissance on its medieval base. At the top, a salamander, the emblem of Francis I recalls that Riom was a royal city from 1521 to 1532.
The Mandet Museum has a courtyard and an entrance porch with original shapes.
The Puy de la Nugère

The Volvic stone comes from the flows of trachyandesite emitted by the Puy de la Nugère.
It is a gray-colored stone with many small bubbles and feldspar. It resists to frost and chemicals. It has a low coefficient of expansion. All these characteristics make it an interesting material for construction.
The eruptive complex of Nugère consists of a pyroclastic ring, strombolian cones, a frozen lava lake and several lava flows.
La Grande Nugère was built by partially covering two small existing cones, including the former Nugère.
Later, an explosive eruption destroyed the eastern flank of the great Nugère and built a tuff ring, which was filled by a lava lake, solidified today: It is the New Nugère stage.
Four strombolian cones, including the Puy de La Louve, generators of trachyandesite flows, were born on the solidified lava lake. The last two flows, 12,000 years old, have supplied the stone of Volvic. On the western flank of the cone are the partially buried remains of two strombolian cones prior to Nugère.
La Nugere, largely wooded, was the first mountain in Auvergne to be recognized as a volcano in 1751 by J.E.Guettard.
Sources :
- Guide des volcans d'Europe et des Canaries - par M.Krafft & de Larouzière - ed. Delachaux et Niestlé / Puy de la Nugère-Volvic p.53-56
- Magma mixing at La Nugère Volcano (Chaîne des Puys, Massif Central, France): Role in the trachyandesites genesis – by A.Gourgaud & G.Camus
- Le chemin fais'art – Earth of fire - link
- Thierry Courtadon expose la pierre de Volvic – Earth of fire - link