Publié le par Bernard Duyck
An explosive eruption began at Bogoslof on January 8 at 10:23 pm AKST / Jan 9 7:23 UTC, detected by the seismic and infrasonic network. The max. Was spotted at 22h31 loc. To decline around 22h38 loc.
The aviation alert is reddened, and the volcanic alert to Warning.
Last minute: A second explosion took place on January 8 at 22:56 AKST / January 9 at 7:56, distinct and accompanied by a cloud of ash climbing to 10,660 meters, spotted by the satellites, drifting towards the Nw.

Source: AVO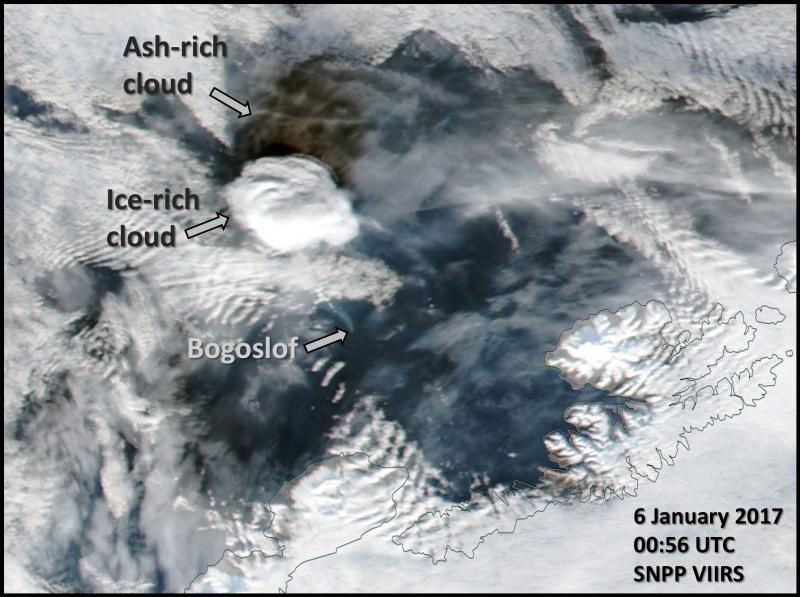 An interesting picture of the Bogoslof eruption 06.01.2017 / 0h56 UTC showing the separation between the ash cloud and the ice cloud - doc.AVO
At the Colima, an explosion on January 8 at 4:17 pm was accompanied by a plume rising to more than 4,000 meters, falling of blocks on the western, southern and eastern flanks, as well as pyroclastic flows on the east side of the volcano.

Sources: S. Tapiro, webcamsdeMexico & SEGOB
Over the past 24 hours, the Turrialba has maintained a variable seismic activity with ash emissions, and ash falls on the Central Valley affecting Desamparados, Alajuelita, Santa Ana, Ciudad Colón, Palmares.
The poor atmospheric conditions did not allow direct observation.

Source: Ovsicori