Publié le par Bernard Duyck
Two strong explosions at Colima on January 25:
The first at 7:49 am accompanied by a plume rising to about 4,000 meters; The collapse of the eruptive column caused a pyroclastic flow on the northeast flank.
The second towards 8h generated a plume of 3,000 meters in height, followed by a dispersion towards the ENE.

Sources: webcamsdeMexico, Proteccion Civil de Jalisco.
An explosion was recorded at the Ubinas on January 24, 2017 at 2:23 local; The OVS-IGP reports that it indicates a disturbance of the hydrothermal system of the volcano following the ascent of magma identified since the beginning of January. At the seismicity level, the day of 21.01 is to be pointed, with five hours of tremor.

Source: OVS - IGP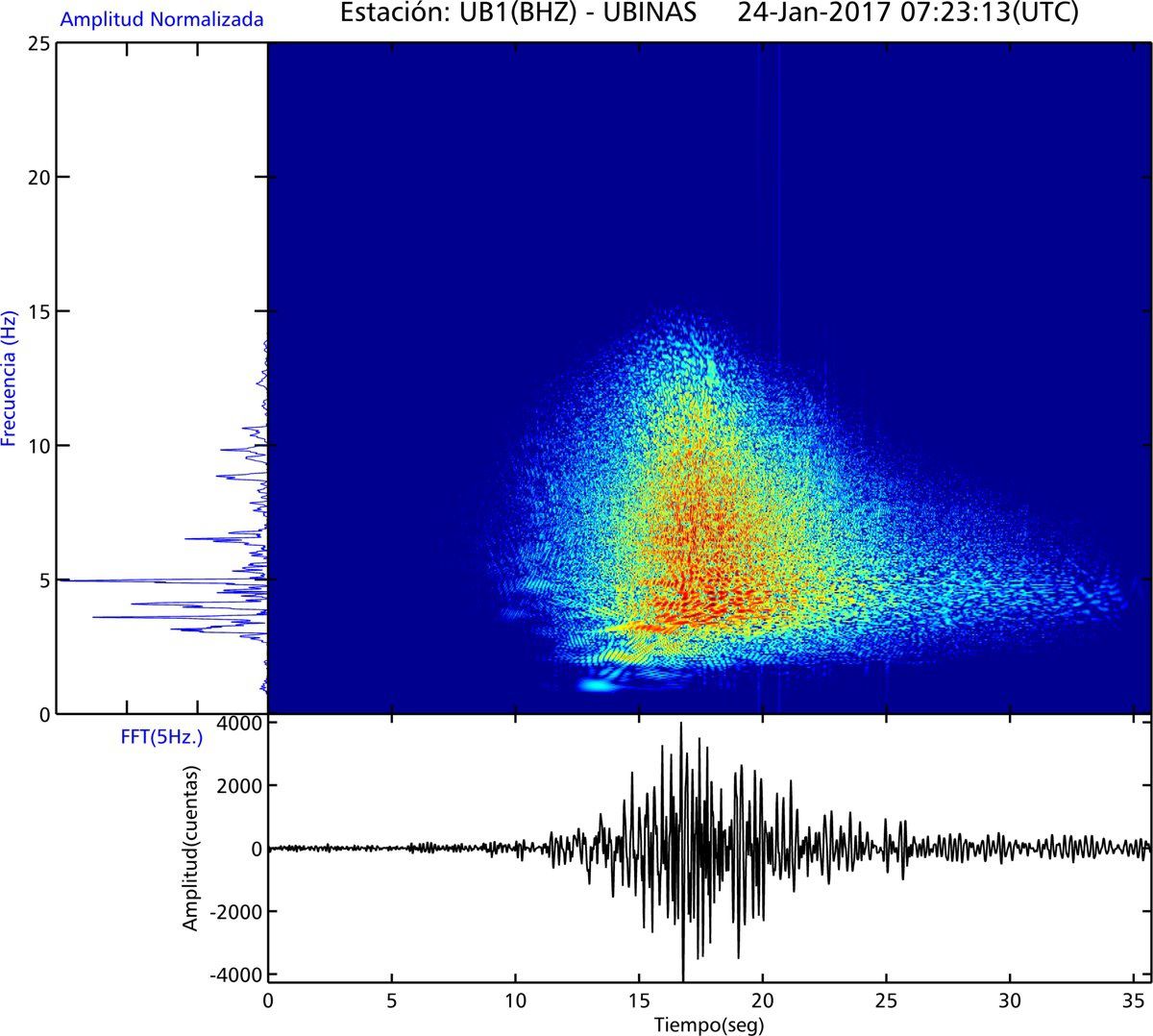 Ubinas - Spectrogram of the explosion 24.01.2017 / 2h23 loc - 7h23 UTC - duration of the episode 27 sec. - Doc. OVS - IGP
In Guatemala, the Fuego is the site of constant explosions, moderate to strong, accompanied by an ash plume rising to 5,000-5,500 m. Asl., before moving on a large western area.
Incandescent emissions reach 250 meters above the crater; they feed a lava flow in the barranca Ceniza, for the moment of 1000 meters long. The fall of bombs and incandescent materials goes up to 300 meters from the crater.

Source: Insivumeh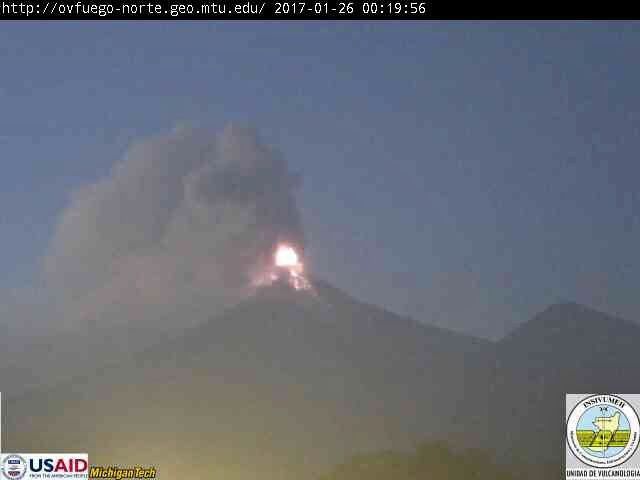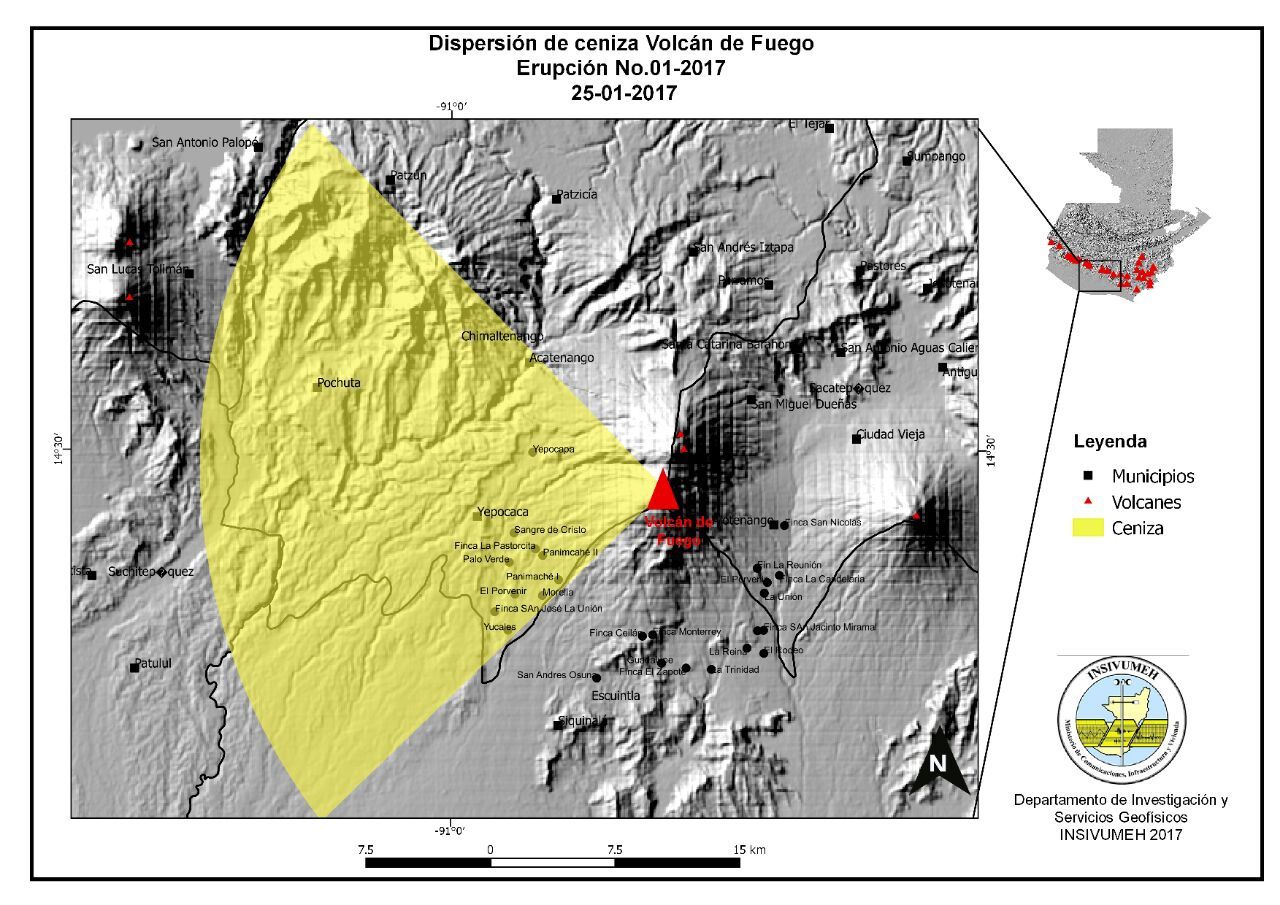 Fuago - 26.01.2017 / 0h19 loc - Insivumeh webcam & ash distribution map 25.01.2017 - doc. Insivumeh Click to enlarge
Since January 17, 2017, the Turrialba has maintained a quiet activity, and passive emissions of bluish gas and aerosols in direction SSE.
The transparency of the plume allows daylight to well appreciate the dimensions of the crater, and at night, the brightness of the gases emitted at high temperature (> 600 ° C)

Sources: Ovsicori and RSN