Publié le par Bernard Duyck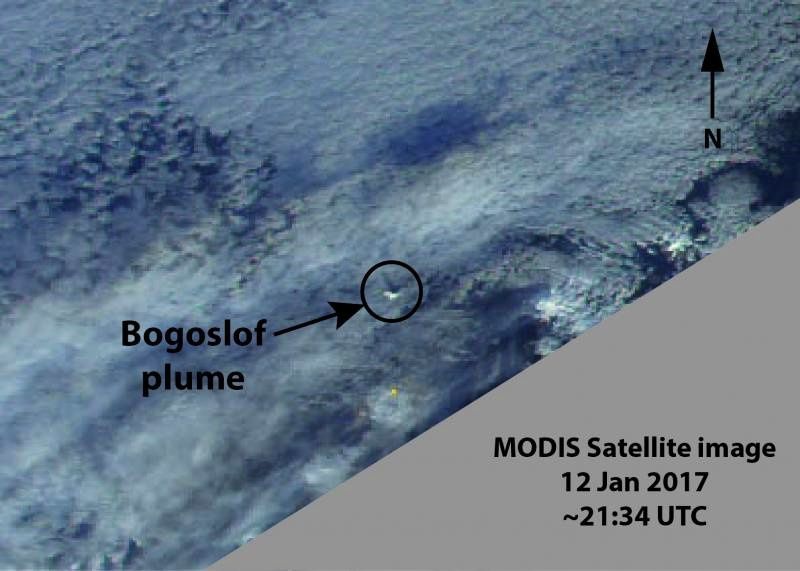 Bogoslof - 12.01.2017 / 12h34 - in the circle one can see the emitted cloud and its shadow (towards the NO) - doc. Janet Schaefer / AVO
The AVO seismic network detected two eruptions at Bogoslof on 12 January at 11h23 AKST / 20h23 UTC and 12h30 AKST / 21h30, also observed by pilots.
The estimated height of the plumes is 18,000 feet asl for the first, and 14,500 feet asl for the second. Each eruption lasted after 5 to 6 minutes.
Given the short duration of the eruptions and the relatively low altitude of the ash cloud emitted, the aviation code remains orange and the level of volcanic alert to Watch.

Source: AVO
The Conred put on line a new kind of report of activity of the volcanoes of Guatemala, in the form of short video with sub-text.
It is easily understandable, despite its broadcast in Spanish.
On January 13, 2017, the Vanuatu Geohazards Observatory raised the level of alert of Lopevi from 1 to 3, a stage of minor eruption that can evolve at any time in an upward or downward direction. The risk zone covers the entire island. Volcanic gases and ash can also affect the surrounding islands, which would be downwind.
Village communities, visitors and tourist agencies are advised to take this information seriously.