Publié le par Bernard Duyck
An increase in seismicity was detected at Bogoslof on 5 January at 13:24 local / 22:24 UTC; It was accompanied by detection of flashes indicating a current eruption. It lasted only 5 minutes. The satellites visualized a detached ash cloud at a height of 9.1 - 10.7 km, moving towards the north. The level of volcanic alert is Warning and that for aviation Red.

Source: AVO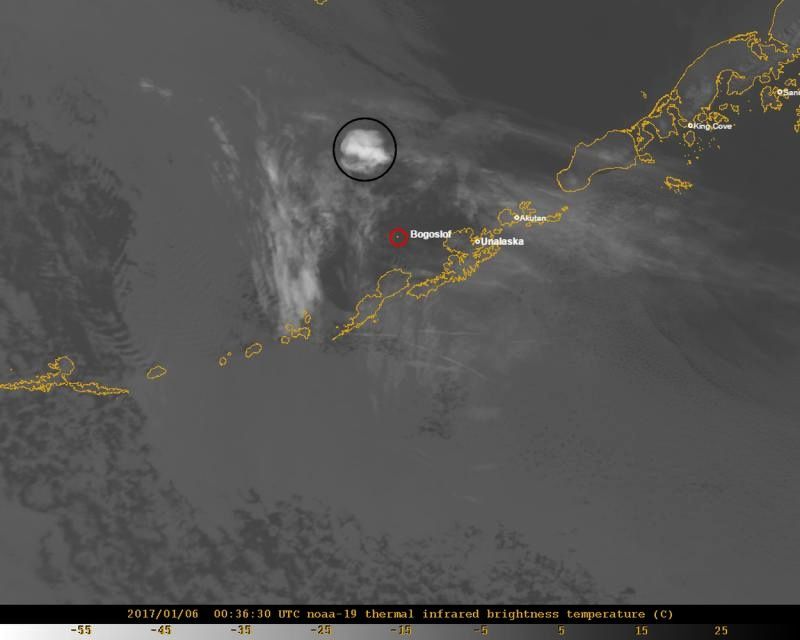 Image of the volcanic cloud detached from the Bogoslof eruption of 5 January at 13:24, taken by the NOAA at 15:36 on the same day. This cloud, consisting of ash, ice and volcanic gases is estimated between 9.1 and 10.7 km of altitude. - Doc. Dave Schneider / AVO - USGS.
The Fuego has a white degassing plume rising to 4,000 m. asl, then dispersing to the west and south. Six to eight low to moderate explosions are reported, accompanied by gray plume rising between 4,500 and 5,000 m asl. Incandescent pulses are observed between 100 and 150 m. above the crater, assorted by avalanches of blocks. Numerous ash falls occur in the south and west areas of the volcano.

Source: Insivumeh
Between 5 pm on 4 and 5 pm on 5 January, the Turrialba maintained an almost constant activity, characterized by a passive emission of gas, steam and ash in the form of a plume of height varying between 500 and 1,000 m above the Crater, whose falls affected the central valley, and by a variable tremor.

Sources: Ovsicori and RSN
In Chile, the Nevados de Chillan complex has experienced over the past 48 hours a dozen weak pulses, including an eruption at 8:10 pm on Thursday, December 5.
The Operational Committee of Emergencias analyzed the situation before a possible evacuation of the inhabitants of the sector concerned of the Province of Ñuble.

Source: BioBio
In Hawaii, a video shows a very hot and very fluid lava waterfall plunging into the ocean at Kamokuna, after the collapse of the delta and part of the cliff, which cut the tunnel feeding in height.
The encounter between the lava and the waters engenders explosions with projections of spatters, Pele hair and volcanic sand to the cliff above the entrance to the ocean. What remains of the platform has cracks indicating potential instability.

Source: HVO