Publié le par Bernard Duyck
The Dukono on Halmahera Nord, in the Mollucca's archipelago, is experiencing a rise in activity, with ash and gas emissions reaching 900 meters in height. The regions of Galela and north Tobelo are covered with ash.
The alert level remains at 2, in effect since June 15, 2008, with a prohibited zone of 3 km radius. Domestic activities may nevertheless continue.

Source: Tempo / 11.01.2017 - 13h16 WIB
The Sinabung continues its usual activity, with some beautiful explosions.

Sources: Endro Lewa & Sadrah Peranginangin
According to the OVPF newsletter, during the second half of December 2016, a magmatic recharge phase was observed at Piton de La Fournaise. This magma has accumulated and stored under the central system (at the base of the summit craters) but has not left the reservoir.
The reservoir remains nevertheless under pressure, and a new recharge in the days / weeks / months ahead could trigger an eruption with few long-term precursors.
Indeed, such a situation was observed twice in 2016 when, following similar inflation phases, phases of calm followed (45 to 85 days) before leading to eruptions preceded by little (May 2016), see very little (September 2016) of long-term precursors.

Source: OVPF

Illustration of the deformation from 01 January 2016 to 08 January 2017 (eruptions of 26-27 May and 11-18 September 2016 are shown in yellow). Here is shown a baseline (distance between two GPS receivers) crossing the Dolomieu crater from north to south (in black the raw data, in red the smoothed data over a week). A rise is synonymous with elongation and therefore swelling of the volcano; Conversely, a decrease is synonymous with contraction and therefore deflation of the volcano. Note that deformation jumps related to eruptions have been removed in order to highlight long-term trends. (© OVPF / IPGP)
A photo of the summit of Etna, taken on January 2, testifies to the degassing activity that always marks the Voragine, and in particular the mouth that opened on August 7, 2016 near the eastern edge of the crater. It still shows incandescence in the evening and during the night.
A slight subsidence marks the Bocca Nuova, since October 10, 2016, with a deeper deepening of the northwest depression (BN-1 in the photo), where diffuse degassing persists.
A weak fumarollian activity is observed at the northeast crater and at the new south-eastern crater, with sporadic and limited ash emissions for the latter.

Source: Weekly bulletin of volcanic, geochemical and seismic monitoring of Etna / INGV posted on 10.01.2017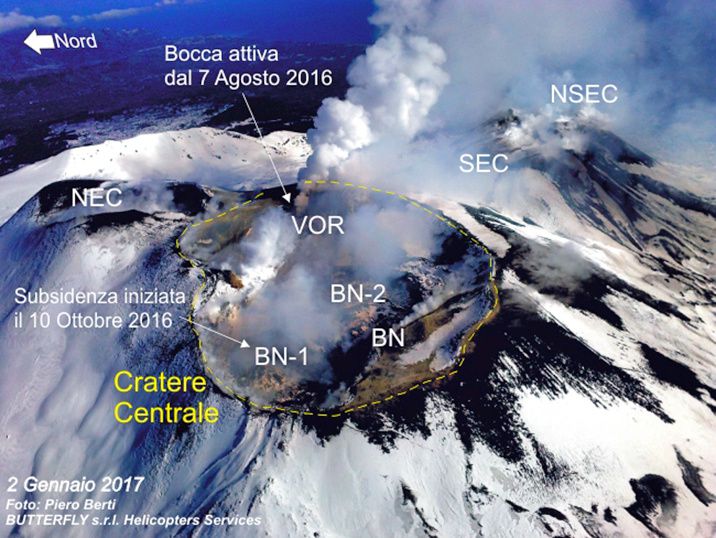 Etna summit activity - photo INGV Bulletin / Piero Berti / Butterfly s.r.l. Helicopter Services.- 02.01.2017