Publié le par Bernard Duyck
Two reversals of volcanic lakes took place in one week in Italy.

After the discovery of dead fish on 6 January at the Averno lake in the northern sector of the caldera of the Phlegrean Fields, it is the Monticchio Piccolo Lake of the volcano Vulture in southern Italy that has changed color on weekend of 14-15 January: it turned to the rusty color, unlike its neighbor, the Monticchio Grande which has kept its usual dark blue color.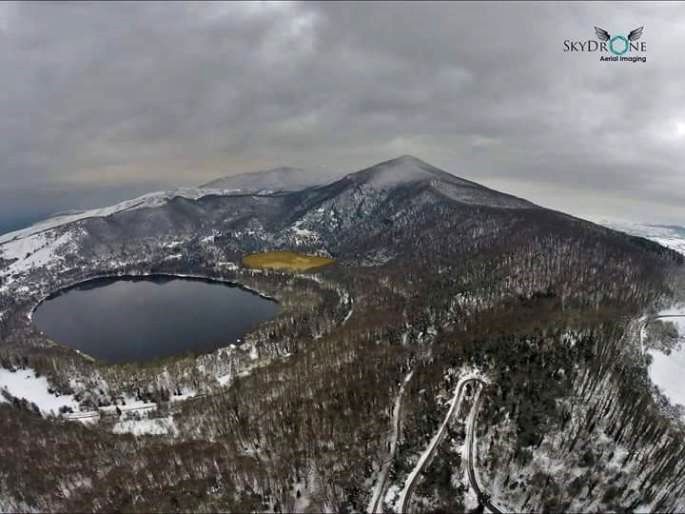 The Monticchio lakes - the Monticchio Piccolo has changed color in January 2017 - photo Diego Sabbatini & Skydrone / CVL / IAVCEI
Despite the instability that marks the Phlegrean Fields, the death of fish in the Lago d'Averno can be explained by a reversal of the lake, following Giovanni Chiodini of INGV Bologna, and a mixture of deep anoxic layers with surface water rich in oxygen. Similar events took place in this lake, still in winter, in 2002, 2003 and 2005.
For the two lakes Monticchio, located further south, an exceptionally cold winter would have favored the reversal of the waters of the small lake: the rusty color of the waters is probably caused by the oxidation of the iron of the deep waters transported towards the surface during the "roll -over" of the lake ... remember what happened at Lake Monoun in 1984 and Lake Nyos in August 1986.
Though damaging to fish, the reversals of the two Italian in January 2017 are not so worrying, as they go hand in hand with a gentle release of gas stored in deep water, carbon dioxide and methane... which does not lead to an accumulation of pressure until supersaturation and a more explosive discharge. Moreover, the Italian lakes are smaller and shallower, storing less quantities of gas than the Cameroonian "killer lakes".
On the left, Vulture volcano situation - on the right, geological map of the volcano Vulture / La Volpe & Principe (1991). - click to enlarge
The Mount Vulture is peculiar to more than one head: it is the only major volcano of the Italian peninsula to be situated to the east of the Apennines, and to contain haüyne in its lavas.
This complex stratovolcano has different eccentric eruptive centers. The summit zone is occupied by a structure in caldera, the Valle dei Grigi, whose origin is subject to debate. The Valle dei Grigi depression is open to the SW, with a slightly eccentric post-caldera (assuming that there is indeed a caldera) edifice lying on its SSW boundary.
Two younger calderas are present on that edifice, of the older of which (Piano Comune/Serra Corta caldera) only the W rim is still preserved. The younger caldera (named Monticchio caldera) has about 3 km maximum diameter and contains the most recent eruptive centers of the volcano, the water-filled Monticchio maar craters.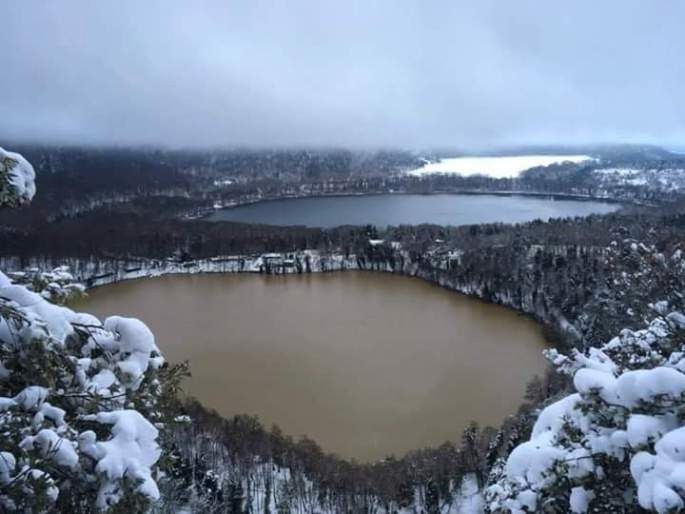 The Monticchio maars - in the foreground, the Monticchio Piccolo, whose color changed in January - photo Diego Sabbatini / CVL / IAVCEI