Publié le par Bernard Duyck
The Sernageomin raised the level of the technical alert of the Lanin volcano to yellow on 16 February from 15:24 local, following a succession of earthquake VT / rock breaks and spasmodic tremor / fluid movements. The first seismic swarm brought together 59 events in 45 minutes. If abnormal activity persists, the volcanic system may be destabilized.
Lanin volcano is part of a 60 km volcanic chain that includes Villarica and Quetrupillan; This stratovolcano experienced eruptions in the Holocene, marking its central crater and flank craters.
No eruptions have been documented recently; The GVP dates the last three respectively of year 90, 400 and 560.
The presence of a summit glacier makes it a potentially dangerous active volcano, in terms of risks of lahars and detrital flows.

Sources: Sernageomin & Chile Volcanoes.
At the Piton de La Fournaise, following the decline that occurred yesterday, the volcanic tremor (indicator of surface eruptive intensity) is constant again, at a level equivalent to that at the beginning of the eruption.
No seismicity was recorded during the day under the summit of Piton de la Fournaise. No significant distortions have been observed over the last few days.
Observations made on the ground this morning by the observatory teams indicate that the activity is continuing mainly in "lava tubes". Only a few flows of small extensions were visible a hundred meters downstream of the eruptive cone.

Source: OVPF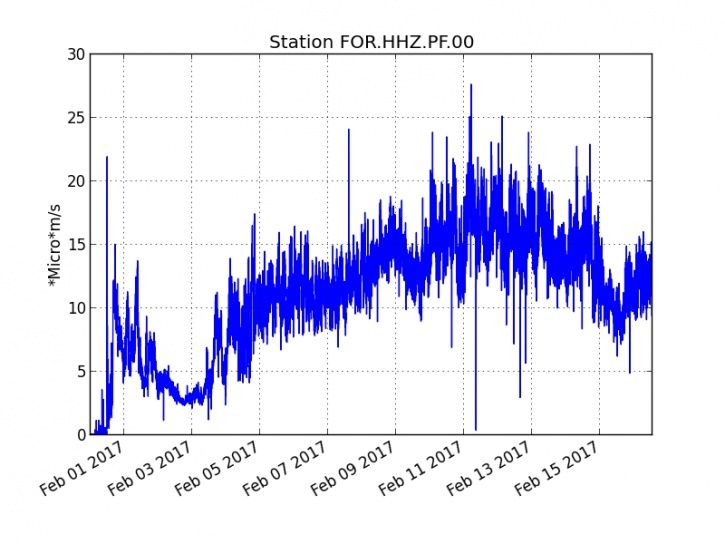 Evolution of the RSAM (volcanic tremor and eruption intensity indicator) between January 31st and February 16th (5:30 pm local time) on the seismic station of Château Fort, located on the southern flank of the volcano. (© OVPF / IPGP)
In Etna, 15 and 16 February were marked by an explosive strombolian activity at the pittusidu of the NSEC, and emissions at the level of the Voragine. The plumes were contrasted: dark to the NSEC, and clear to the Voragine.

Sources: INGV Catania & local observers.
Etna - explosions respectively on 15.02 (on the left) and on 16.02.2017 (on the right) - a click to enlarge - photos Turi Caggegi