Publié le par Bernard Duyck
Since 22 February, ashes and steam have been emitted by Copahue / Chile, as well as a low nighttime glow.
The Sernageomin report for the Bio-Bio region of February 20 indicates the recording of a local magnitude quake of 3.6, suggesting a possible injection of a minor volume of magma, which could signal an increase in superficial activity in the next few days, in the form of phreatic explosions, or strombolian activity.
Volcanic alert remains in Amarillo / changes in behavior of volcanic activity, with risk of a possible eruption in terms of weeks or months. A restricted area of ​​1.5 km radius is recommended.

Source: Sernageomin
At Piton de La Fournaise, the eruption begun on January 31, 2017 at 7:40 pm local time continues. The volcanic tremor (indicator of surface eruptive intensity) remains at a less stable level than that observed a week ago.
No seismicity was recorded during the day under the summit of Piton de la Fournaise.
The resumption of inflation of the volcano in its summit area continues. On the other hand, at lower altitudes (bottom and outside of the enclosure) no deformation is currently observable.
The visual observations made on the eruptive site by a team from the Observatory today show moderate and stable activity. No significant changes in surface activity were observed. This morning a strong north wind pushed the plume towards the south coast.

Source: OVPF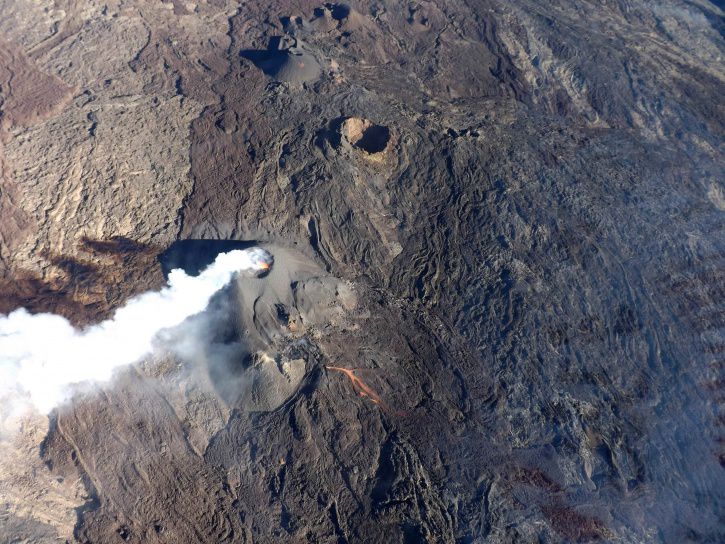 Piton de La Fournaise - Aerial view of 22 February 2017, from the vent of the current eruption. A channel from the cone towards the southeast is seen, as well as the plume pushed by the wind towards the south coast. - photo OVPF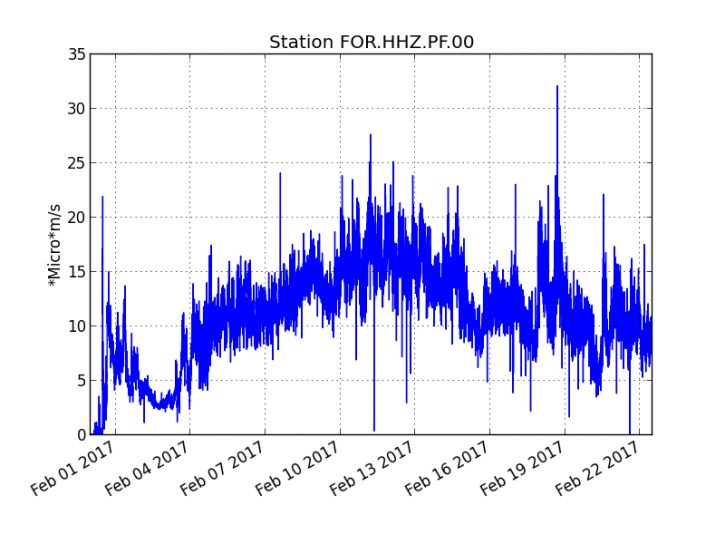 Piton de La Fournaise - Evolution of the RSAM (volcanic and volcanic eruption indicator) between January 31st and February 22nd (16h local time) on the seismic station of Château Fort, located on the southern flank of the volcano. - OVPF / IPGP
In Kilauea / Hawaii, the 61 g flow is still active and the lavas enter the ocean at Kamokuna. The flows on the upper portion of the lava field stagnate, while they remain active on the Pali and the costal plain.
At the top, inflation resumed last night, with the lava lake surface of the Halema'uma'u 28 meters below the floor level.

Source: HVO