Publié le par Bernard Duyck
The second 2017 eruption of Fuego lasted over only 13 hours ... "the activity of the volcano has returned to normal," said Conred's spokesman.
The plumes of ashes rose saturday morning to 5,000 meters asl, 1,240 meters above the summit. The ashes affected the communities of El Rodeo, El Zapote, La Reunión, Alotenango and San Vicente Pacaya, to the north and east of the volcano.
Three lava flows in the Santa Teresa, Las Lajas and Ceniza barrancos, respectively of 1,200, 1,300 and 1,600 meters long, were fed by lava fountains up to 300 meters in height.

Sources: Insivumeh & Conred
Ashes scatter map on 25.02.2017 - and the same day tremor at 1 pm / Insivumeh - one click to enlarge
We are awaiting news of the analyzes carried out by the COD / Deep Carbon Observatory teams on the volcanoes of Costa Rica. In Poas, in addition to the usual measurements, the temperature of the laguna caliente 38 ° C, pH 0.85, they look for data on extremophiles capable of living in this extreme environment, and the way they are affected by type phreatic eruptions that mark the acid lake.

Source: #subductCR / Twitter.

Poas - a view of the acid lake, inaccessible to the volcanophiles - click to enlarge - photo Donato Giovanelli.
No seismicity was recorded during the day under the summit of Piton de la Fournaise.
Since the night of last Friday, the volcanic tremor (indicator of surface eruptive intensity) is slightly increasing; The inflation of the volcano in its summit area continues. A slight inflation at the base of the cone (bottom of the enclosure) is now perceptible. On the other hand, outside the enclosure, no deformation is currently observable.
Visual observations from Piton de Bert during the night from Saturday to Sunday show a few projections at the active vent, a lava flow mainly in lava tube, and rare outlets for lava at level of the flow. Some skylights (opening in the roof of a lava tunnel) were also observable.

Source: OVPF - IPGP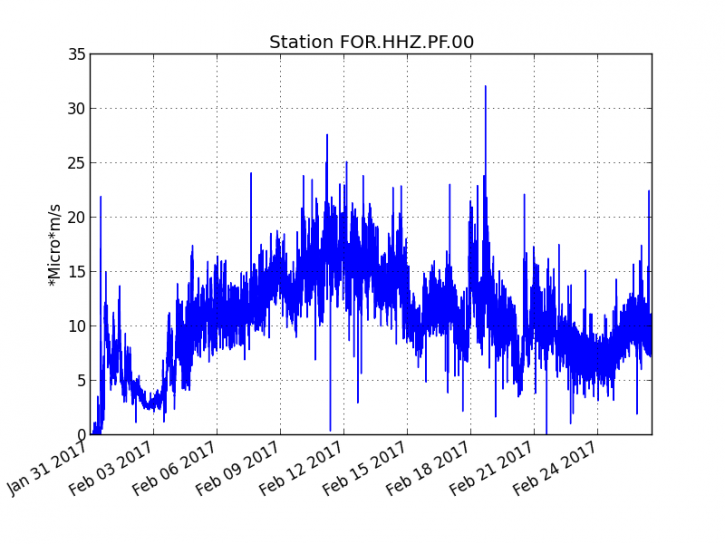 Evolution of the RSAM (volcanic and volcanic eruption indicator) between January 31st and Sunday February 26th (18h00 local time) on the seismic station of Château Fort, located on the southern flank of the volcano.- doc. OVPF - IPGP
In Sinabung, the activity continues with explosions accompanied by impressive plumes.