Publié le par Bernard Duyck
Tasmania, in southeastern Australia, has the largest dolerite exhibition in the world: 30,000 km², and a volume of 15,000 km³ (Hergt & al. 1989).
This dolerite is particularly noticeable at Cape Pillar, on the coast of the Tasmanian Peninsula, and at the summit of Mount Wellington, which dominates the town of Hobart.

A major intrusion of dolerite occurred in the Jurassic, during the break-up of Gondwana, in a short period at a geological level: in about 165 million years, the dolerite covered more than one third of Tasmania. This intrusion also affected Antarctica, Argentina and South Africa 183 million years ago to form the Karoo-Ferrar Igneous Province.
This episode could be the cause of the Toarcian extinction by a consequent oceanic anoxic event. Magma has cooked coal and bituminous schists producing up to 27.4 teratons of carbon dioxide, some of which has spread to our atmosphere.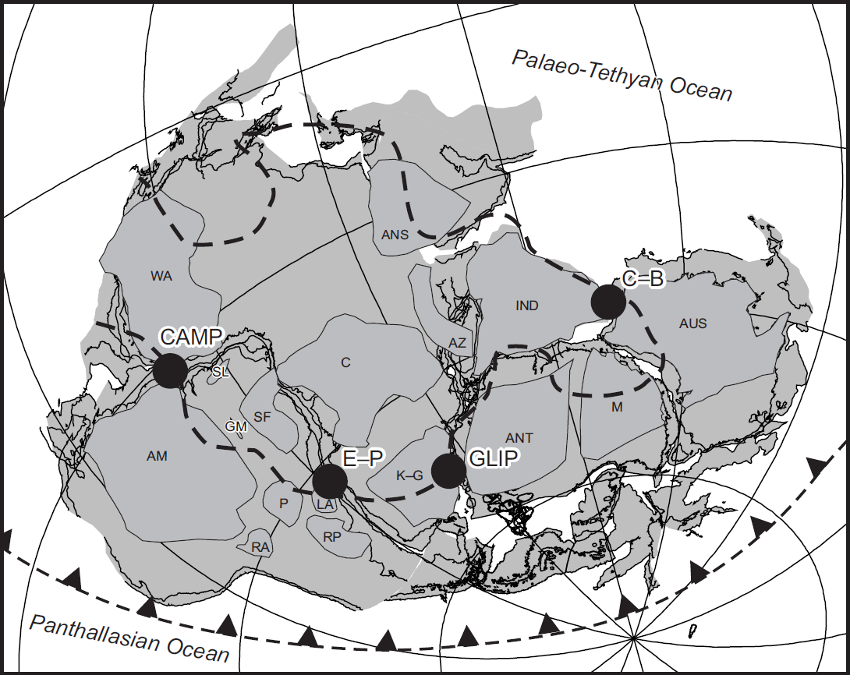 Gondwana reconstruction for 180 Ma (modified after Pankhurst & Vaughan 2009) showing major cratons and projected outline of the African LLSVP (heavy dashed line) from Torsvik et al. (2010). Major post-Permian large igneous province centres associated with the break-up of Gondwana are marked: CAMP – Central Atlantic Magmatic Province, 200 Ma (after Marzoli et al. 1999); GLIP – Gondwana Large Igneous Province, 180 Ma (after Storey & Kyle 1997) ; C–B – Comei–Bunbury LIP, 134 Ma (after Zhu et al. 2009); E–P – Etendeka–Paraná, 132 Ma (after Peate 1997). Craton labels are after Pankhurst & Vaughan (2009) and are as follows: ANS – Arabian–Nubian Shield; AM – Amazonia; ANT – Antarctica; AUS – Australian cratons; AZ – Azania; C – Congo; GM – Goias Massif; IND – Indian cratons; K-G – Kalahari–Grunehogna; LA – Luis Alves; M – Mawson; P – Paraná; RA – Rio Apa; RP – Rio de la Plata; SF – Sao Francisco; SL – San Luis; WA – West Africa. - carte modifiée d'après Pankhurst & Vaughan 2009./ Large igneous provinces
The majority of the intrusions are in the form of sills (fillons) up to 500 meters thick, the rest in the form of cones and dykes.
The dolerite is a magmatic rock with little vitreous structure, intermediate between a basalt and a gabbro. Its composition is 40% plagioclase, 20% clinopyroxene, 20% quartz, 5% ilmenite and a few % of feldspar and amphibole potassium. The rock is altered by water in smectite and kaolinite, containing unaltered quartz.
Cape Pillar's dolerite cliffs, 300 meters tall, are separated by the waters of the Pacific Ocean, and a partly flooded cave.
Two climbing spots, among others in Tasmania: Totem Pole and Candlestick.

The whole coast is part of Tasmania National Park, home to seals, mad, albatrosses, eagles, peregrine falcons, cormorants; You can see whales and dolphins.
Mount Wellington dominates Hobart; It culminates at 1,271 meters.
The lower parts of the mountain are formed of marine deposits that formed when the entire Hobart region formed a vast underwater platform and slowly emerged.
The upper part was formed more violently by intrusion of a sill of igneous rocks which entered between the older rocks when the Australian continent separated from the Antarctic and separated from the Gondwana.


Sources:
- AGU - The Field - Surveying the rugged beauty of Tasmania's coast - link
- Tasmanian Geological Survey - The geology and mineral deposits of Tasmania - link
- Large igneous provinces commission - The links between large provinces, and continental break-up: from Antarctica - link