Publié le par Bernard Duyck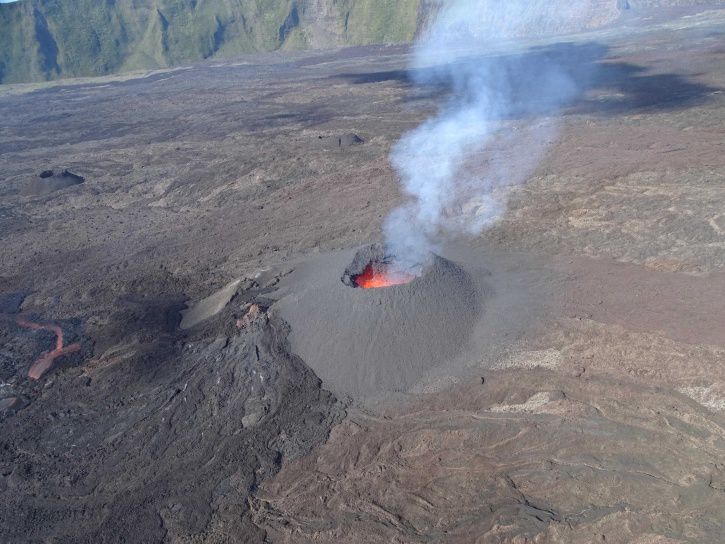 Eruption site at Piton de La Fournaise: the cone and the beginning of the lava flow - photo 10.02.2017 / 8h50, local time.- OVPF
The eruption continues at Piton de La Fournaise.
The volcanic tremor (indicator of surface eruptive intensity) remains at a high level of intensity.
No seismicity was recorded during the day under the summit of Piton de la Fournaise.
The inflation of the building continues, reflecting the pressurization of the surface reservoir and the maintenance of a rise of fluids.
SO2 fluxes are relatively low.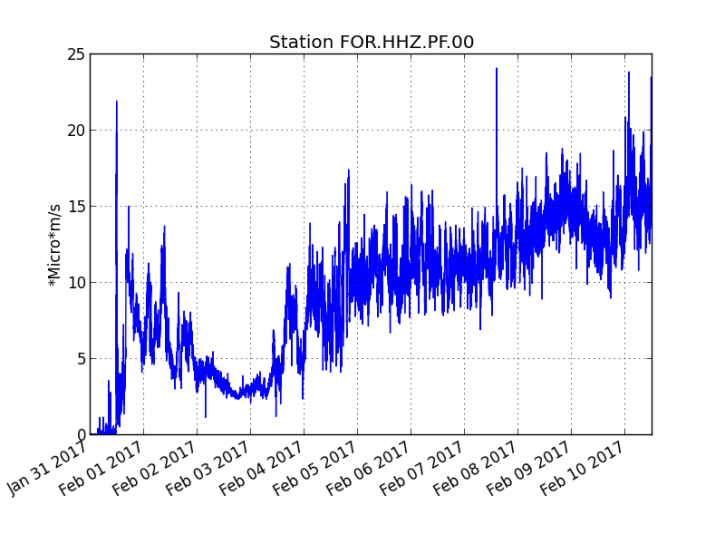 Evolution of the RSAM (volcanic tremor and eruption intensity indicator) between January 31st and February 10th (5pm local time) on the seismic station of Château Fort, located on the southern flank of the volcano. (© OVPF / IPGP)
A well designed cone of 30-35 m. high and 190 m. wide, has been erected, capped by a single active mouth, from which escape projections contribute to its growth. He was unofficially named Piton Carlos by the local media.
The level of the lava is approximately half the height of the cone (February 10, 8:50 am) and the thickness of the lava accumulation at the outlet of the vent is about 14 m.
Most of the activity is done by lava tube, and surface flows are therefore low (estimates between <1 and 2.4 m3 / s according to the satellite data of the HOTVOLC platforms (OPGC - Clermont Ferrand) and MIROVA (University of Turin).
Only a few small arms are visible at the exit of some tubes. These observations are consistent with the low flux of SO2.
Outlet temperatures at the vent are between 1200 and 1250 ° C. Larger shots identified the main channels and highlighted tubes areas.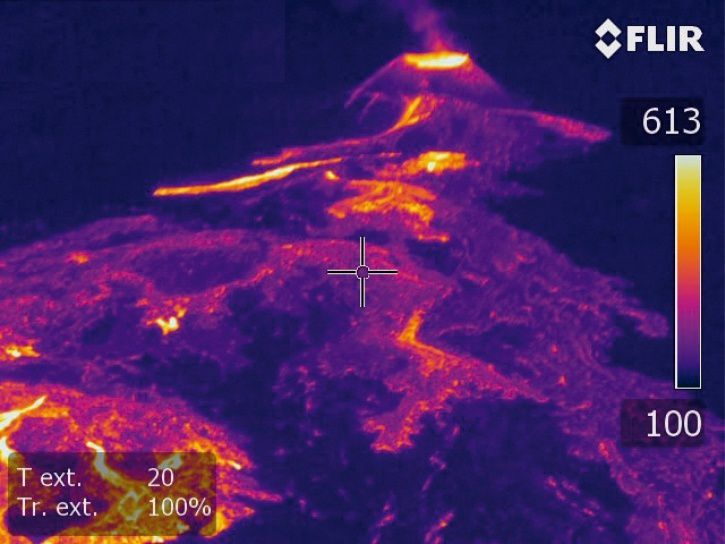 Piton de La Fournaise: Thermal image of the eruptive site taken in aerial view on 10.02.2017 / 8.45 am local time - doc. OVPF
The photos taken today made possible to more accurately map the extent of lava flows.
The flow front at the top of the "Grandes Pentes" is frozen and no longer progresses.

Source: OVPF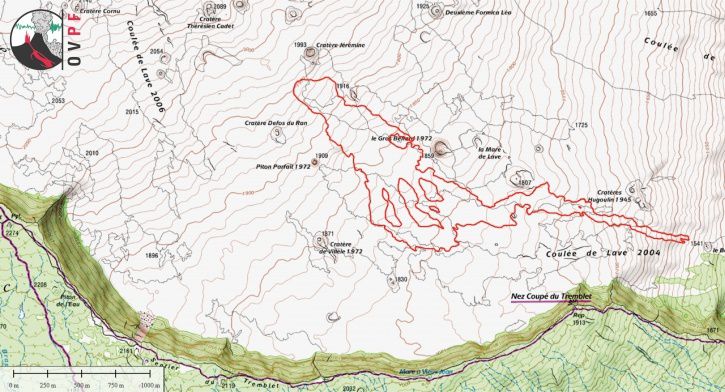 Piton de La Fournaise - Approximate tracing of lava flows on 10/02/2017, 8h50 local time, deduced from aerial images (IGN background map). (© OVPF / IPGP)