Publié le par Bernard Duyck
The eruption of the Piton de La Fournaise, begun on January 31, 2017 at 7:40 pm local time, continues. Here is the activity bulletin of the OVPF of 3 February at 16h local:

The volcanic tremor (surface eruptive intensity indicator) was maintained at an average level of about 24 hours (about half that observed at the beginning of the eruption) before experiencing fluctuations again around 11 am local time ( 07h UTC) today.
No significant deformation was recorded during the day on the terminal cone.
No seismicity was recorded during the day under the Piton de la Fournaise building.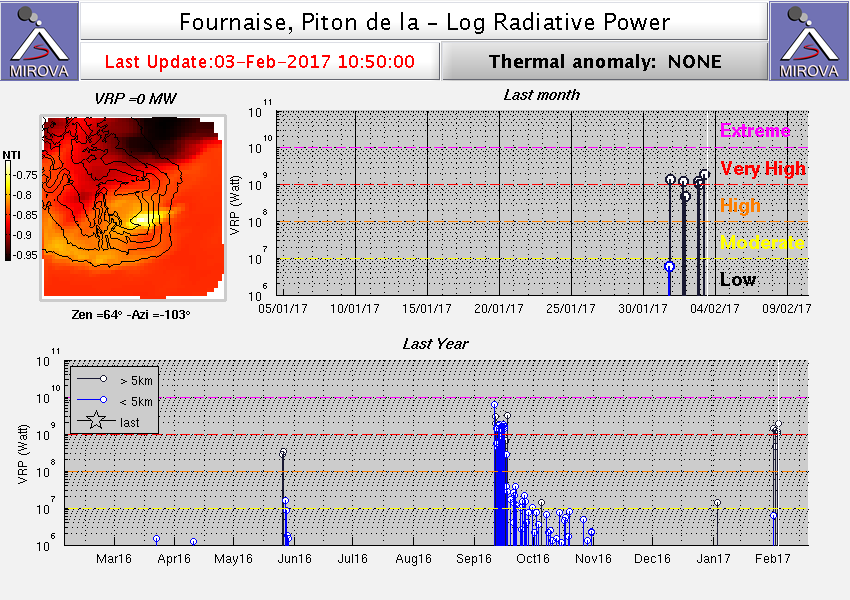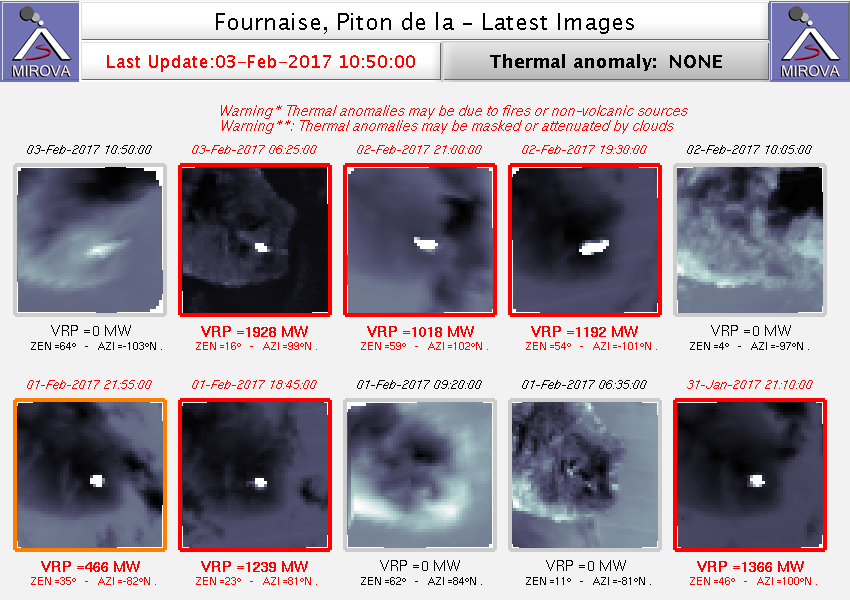 Thermal anomaly at Piton de La Fournaise: summary of the eruption in progress on 03.02.2017 / 10h50 by Mirova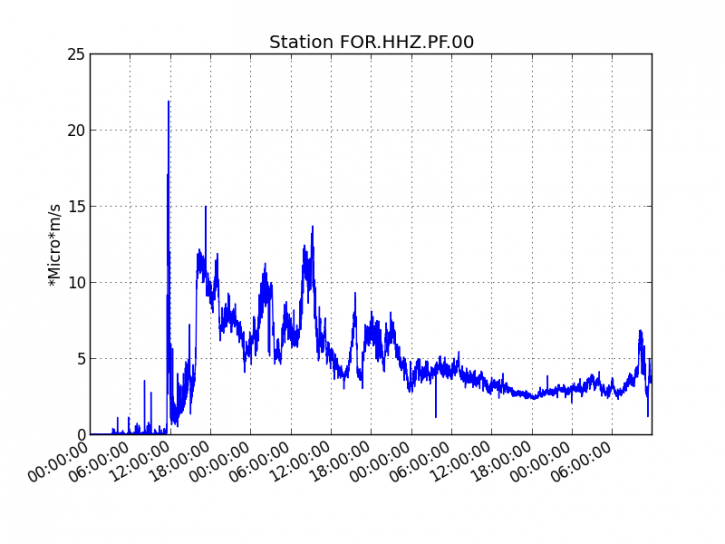 Evolution of RSAM (volcanic tremor and eruption intensity indicator) between 7:00 am (1:00 pm UTC) on January 31st and 4:00 pm (12:00 pm UTC) on February 3rd on the seismic station of Château Fort, located on the south side of the volcano. (© OVPF / IPGP)
Video of the eruptive site February 2, 2017 by Thierry Sluys
Analysis of the previous day's data indicates the construction of an eruptive vent of 128 m in its longest length and about 35 m high in its highest part (02/02/2017). It should be noted that this morphology is subject to rapid variations; In fact the growth of a cone at the beginning of the eruption is always rapid and then subjected to sets of stabilization / destabilization.
The surface flows estimated from the satellite data over the last 24h, via the HOTVOLC (OPGC - Clermont Ferrand) and MIROVA (University of Turin) platforms range from 5 m3 / s to 10.1 ± 2.5 m3 / s.

Sources: OVPF, and many thanks toThierry Sluys
In Bogoslof, activity is also continuing.
On February 3, at 13:57 and 14:33 UTC, two episodes of tremor were detected; The second, accompanied by an infrasonic signal, indicates an explosion, without cloud of ash observed by satellite.

On February 4th, the tremor began at 1:41 UTC, then continues. The report of the AVO of 04.02 / 5:23 UTC indicates a significant decrease of the tremor. The eruption produced a small plume of ash, observed by satellite from 2h UTC for one hour, moving towards the north in direction of the Bering Sea at an altitude of about 7,600 meters.

Source: AVO
The Colima has a big explosion on February 3, around 5:30 pm local time. It was accompanied by a plume rising to nearly 5,000 meters, in the form of an atomic mushroom, and small pyroclastic flows.

Sources: webcamsdeMexico and Sergio Tapiro