Publié le par Bernard Duyck
In Guatemala, Pacaya activity is increasing in the crater, where a cone generates incandescent pulsatile emissions at a height of 25-50 meters; they filled a large part of the crater and overflowed on February 9 in the northwest part, at the level of the fissure left by the eruption of 2010: the lava flow is 300 meters towards the crater of Cerro Chino.
According to the Insivumeh, this cycle of activity characterized by lava flows will continue and give in the days to come explosions that can go more than 300 meters above the crater.

Source: Insivumeh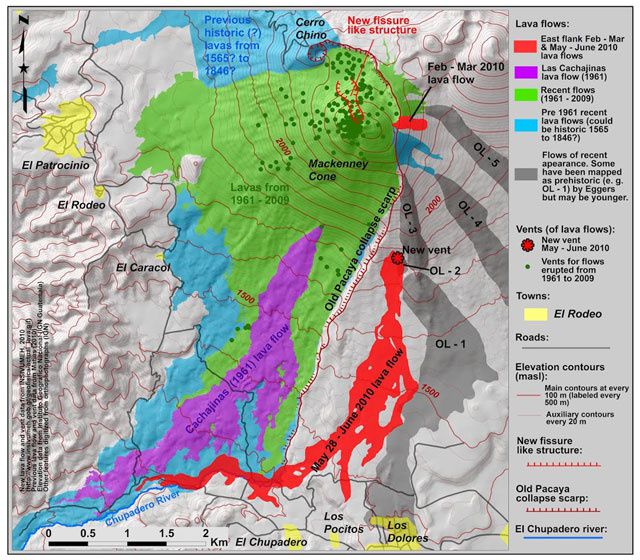 Simplified geological map of Pacaya, based on cited references, INSIVUMEH mapping, and GOES satellite data. - GVP 2014
In Bogoslof, the eruption continues, only followed by infrasound seismographs and recorders, which do not detect a significant activityon 09.02.
Between 1330 and 1430 UTC, a series of small low frequency earthquakes were recorded; They must be related to regional tectonic movements.
A radar image taken by the COSMO SkyMed Synthetic Aperture Radar on February 8 shows that the vent is still below sea level.

Source: AVO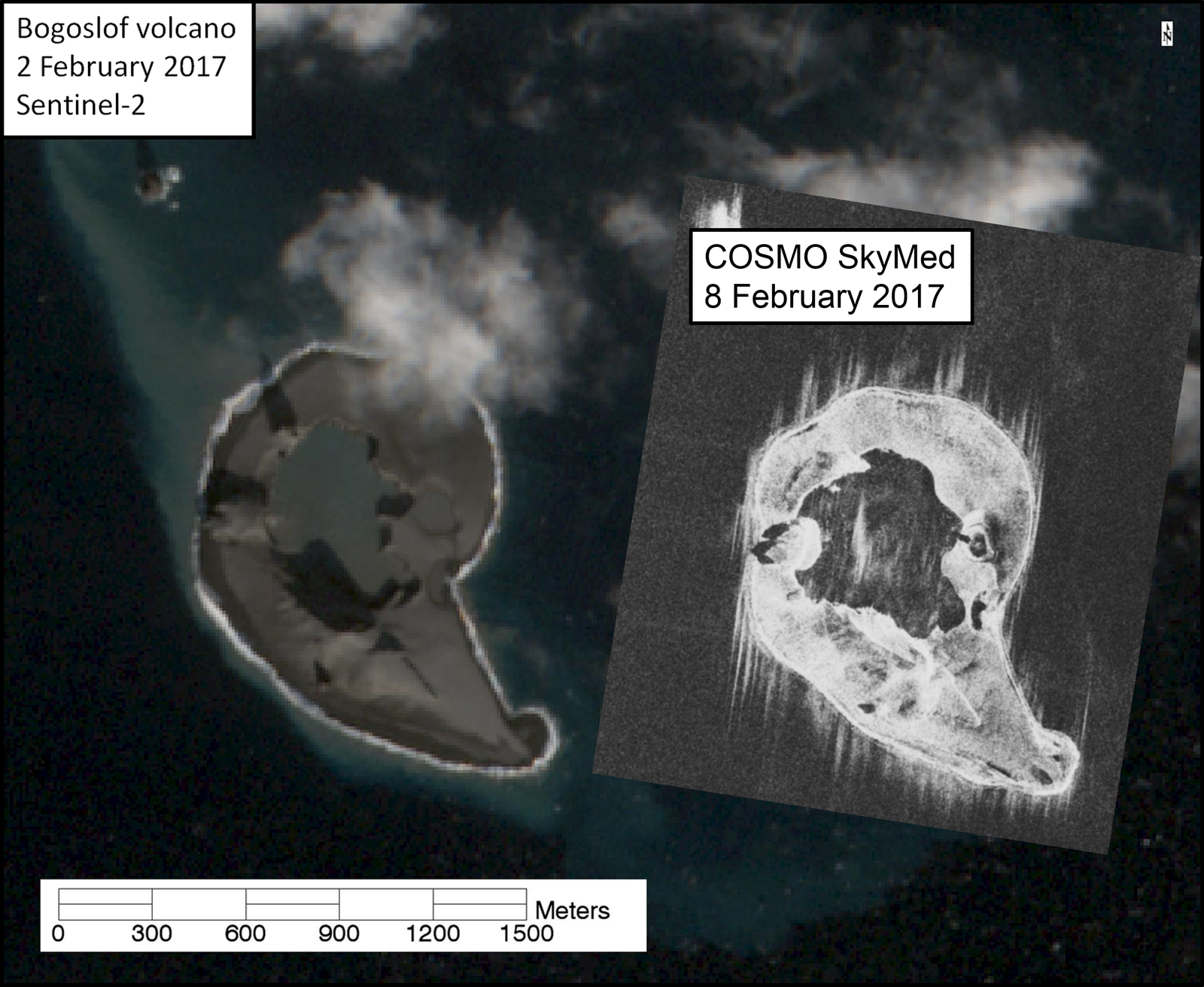 Bogoslof - radar image on the right versus satellite image Sentinel 2: the vent is still below the sea level - NB: the SAR image has a geometric distortion. - Doc. AVO / Dava Schneider
The BNPB reported 22 eruptive events at the Sinabung between 4 and 6 February 2017.
With the extension of hazardous areas, the number of people to be relocated is also increasing. The main limiting factor is the availability of land for the relocation of agriculture.

Source: BNPB / Sutopo Purwo Nugroho
"Kiwis" hire drones to replace planes and helicopters used for post-eruptive volcanic monitoring, and other high-risk situations.
They can be used to take photos, infra-red measurements, and take rock and ash samples without human intervention on site.
This project is a collaboration between the University of Canterbury and Japanese colleagues.

Source: New Zealand Herald - Drones recruited to spy on NZ volcanoes, including White Island.
Video made by a drone at the crater of White island, where the lake disappeared - doc. NZ Herald