Publié le par Bernard Duyck
The three days of calm since February 13 did not continue in Bogoslof ... an explosive eruption occurred this February 17 beginning at 9:56 AKST / 18:56 UTC, observed by the seismic, infrasonic and lightning surveillance systems . Satellite images and pilot reports indicate a cloud of ash reaching 11,580 meters / 38000 ft asl, and pushed towards the Bering Sea. The activity characterized by individual pulsatile emissions ceased around 11:40 AKST.
Another short-lived eruption took place this 17.02 at 15:46 AKST / 18.02 - 0.45 UTC, accompanied by a cloud of ashes at 7.600 meters.
The aviation alert code is red.

Sources: AVO and National Weather Service Aleutians
In the Adaman Islands, Barren Island volcano is again active according to scientists at the National Institute of Oceanography's Dr. Abhay Mudholkar.
They sampled sediments and waters, and found pyroclastic materials black such as coal; These will help to decipher the nature of the activity, characterized by fumaroles at the mouth of the crater.

Sources: Times of India & Mirova
In Ecuador, the Cayambe is characterized by an abnormal seismic activity since the end of December 2016.
In January, a daily average of 15 LP (fluid movements) and 36 volcano-tectonic (rock fracture) earthquakes was recorded; This month, it is not less than 15 earthquakes LP and 21 VT daily that have been recorded ... a very slight drop.
The type of earthquakes and their location suggests a magmatic origin and scenarios leading either to a very small phreatic eruption or to a small magmatic eruption comparable to that recorded in 1785.
Since then, new measuring instruments have been installed and an overflight of the volcano carried out by the IGEPN (in January, since the volcano is covered with clouds)

Source: IGEPN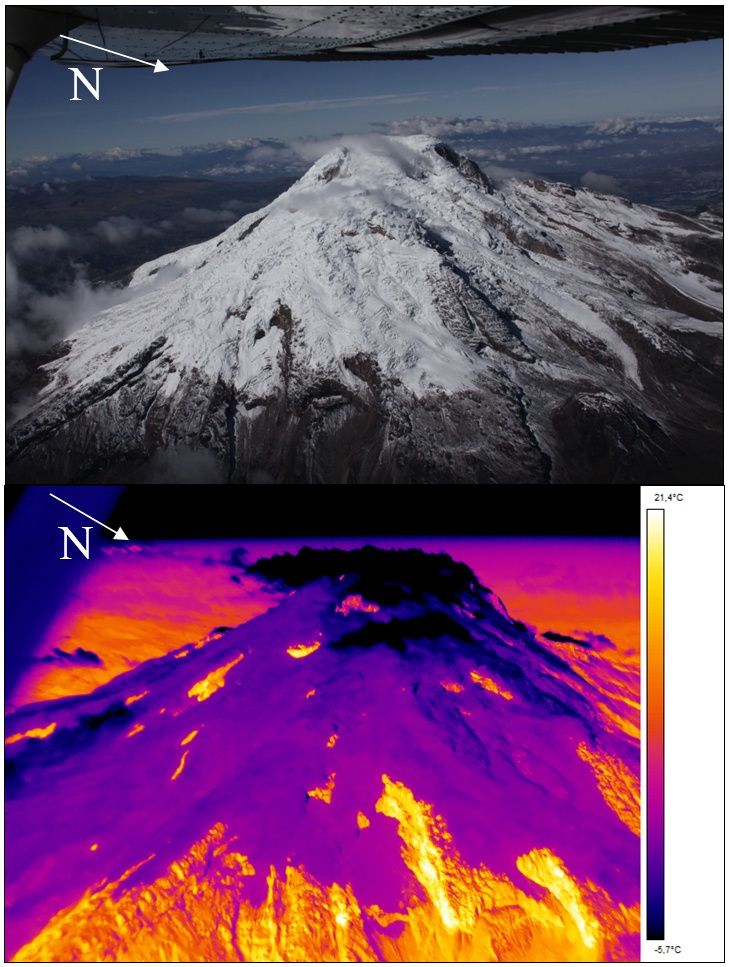 Cayambe - overview 16.01.2017 - Photo of the east side and corresponding thermal image; Note that the yellow zones correspond to rocks predominantly warmed by solar radiation - photo P.Ramon / IGEPN