Publié le par Bernard Duyck
Vailulu'u, discovered in 1975, this basaltic submarine volcano dominates the sea bottom of its 4,360 meters, but is still immersed at 590 meters below the water level. Located at the eastern end of American Samoa, it is considered to be the location of the Samoa hot spot.
Its summit shelters an oval caldera 2 km wide and 400 m deep; Two main rift zones extend east and west of the summit parallel to the hot spot path.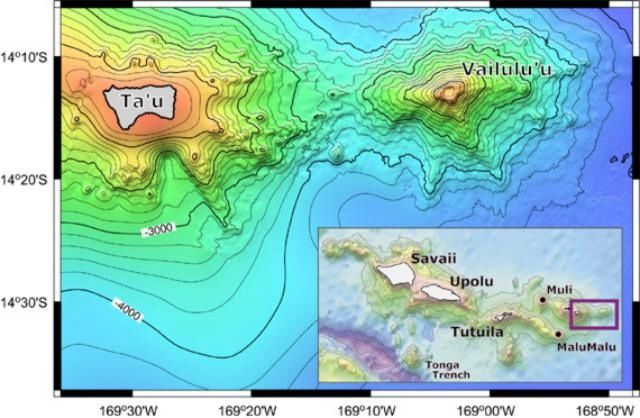 Bathymetry of Vailulu'u and the neighboring island Ta'u Island - SeaBeam bathymetric survey performed during R / V Melville's AVON 2 and 3 cruises, augmented with satellite-derived bathymetry from Smith and Sandwell (1996). / GVP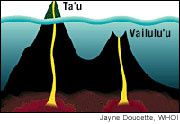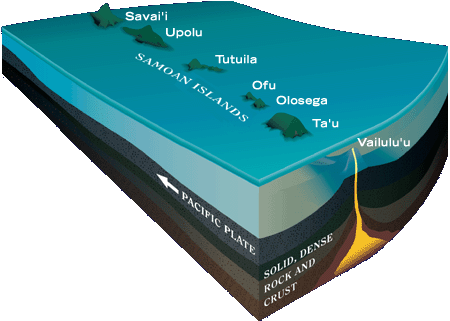 Schematic representation of Vailulu'u and his position on a chain of volcanoes - doc. WHOI.edu Schematic representation of Vailulu'u etsa position on a chain of volcanoes - doc. WHOI.edu
In 1995, a seismic swarm may have been linked to an eruption. In 2005, an expedition from the NOAA Office of Ocean exploration and reseach found an intracaldic cone called "Nafanua", named after the Samoan war goddess.
The crater shows an hydrothermal activity at multiple locations and life is found on areas at the top of the Nafanua cone, including a site called "eel city". On the other hand, the floor of the caldera surrounding the cone was named "the moat of death", due to its turbid waters and toxic acids toxic to marine life.
The sonar campaign conducted by Okeanos in 2017 reveals changes:
- first, a plume of bubbles, presumably carbon dioxide, ascends from the northern moat and testifies to the hydrothermal fluids rich in gas emitted by the seabed;
- secondly, the Nafanua cone grew both in height and width, confirming its activity. Its growth since 2006 has caused major changes to the hydrothermal systems and the chemosynthetic ecosystems of the caldera. A deep dive should reveal more.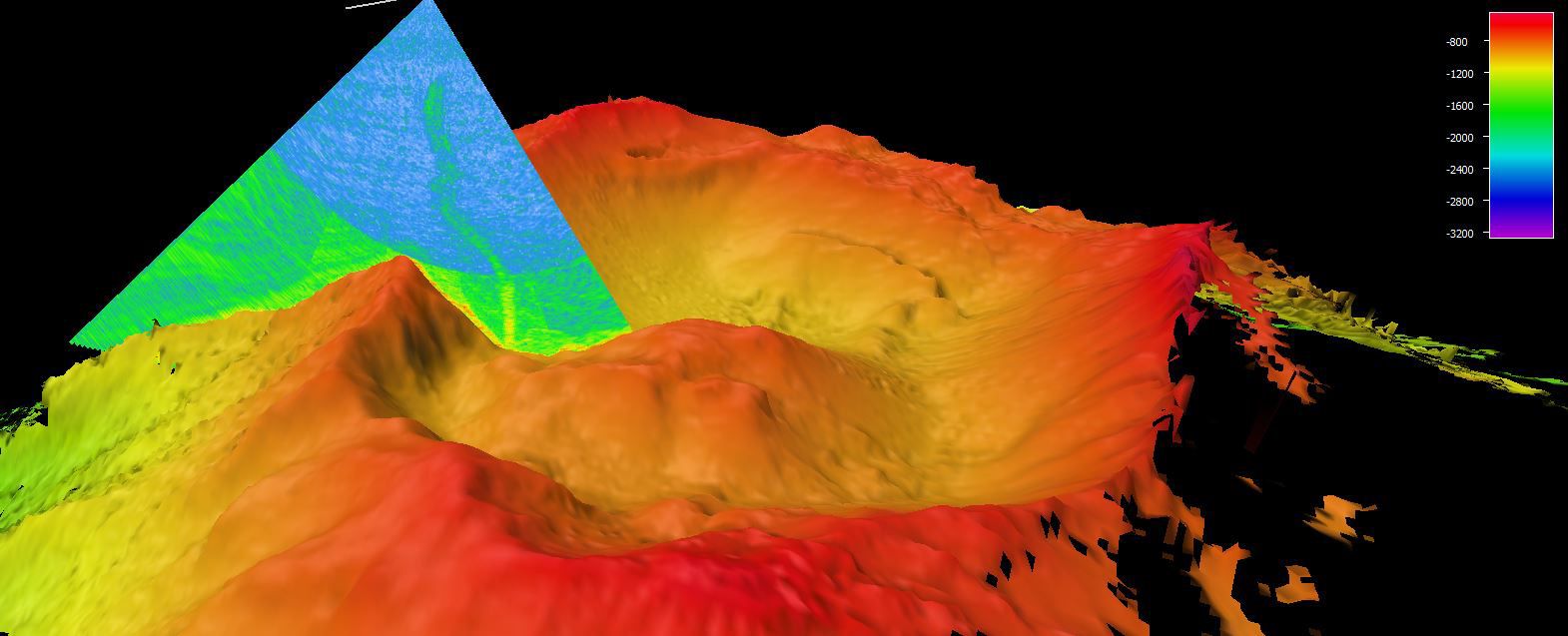 Vailulu'u - a plume of bubbles rising from the caldera floor (left of the bathymetric image) - Image courtesy of the NOAA Office of Ocean Exploration and Research, 2017 American Samoa.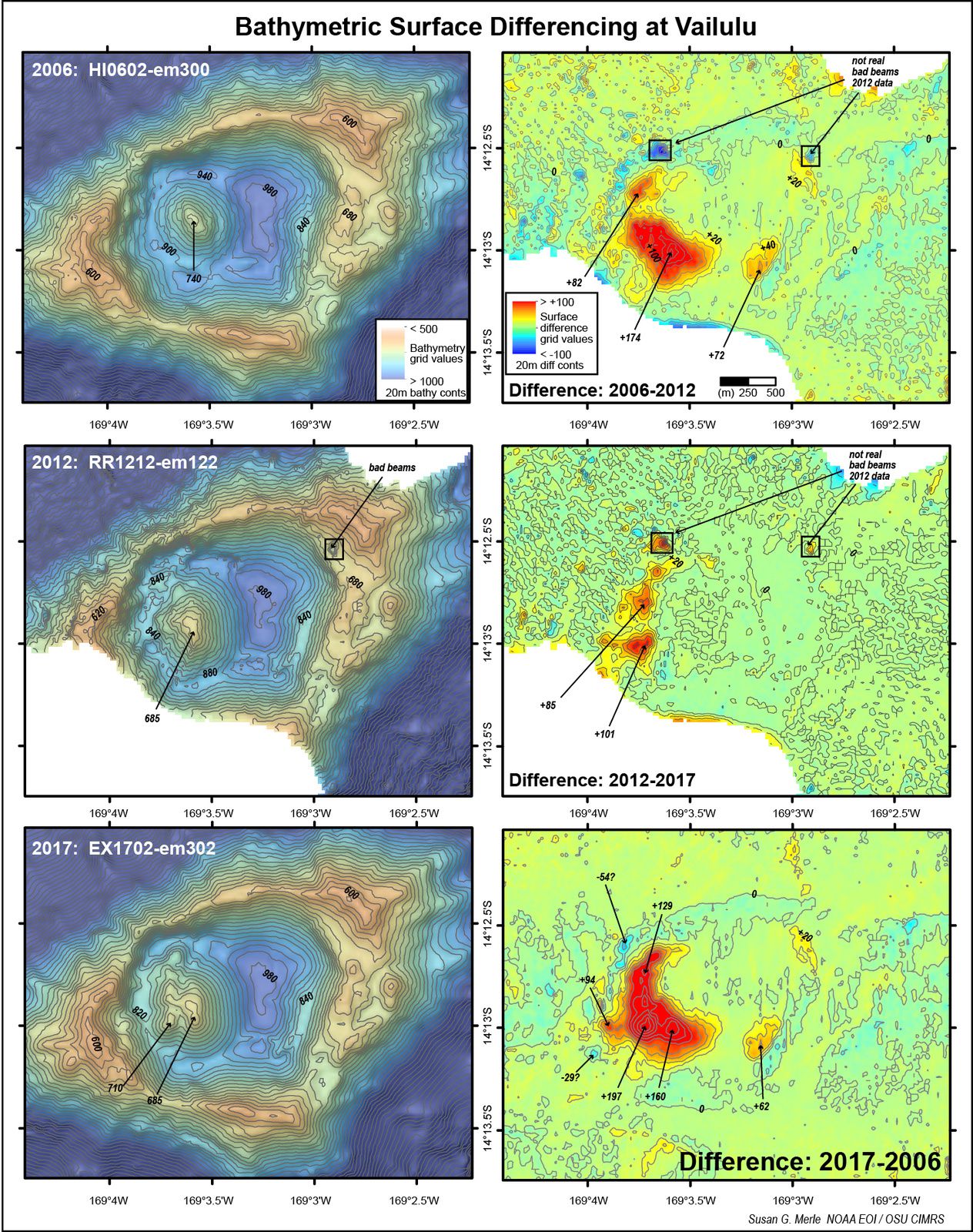 Maps comparing three bathymetric surveys collected at Vailulu'u in 2006, 2012, and 2017 (left) and depth comparisons between them (right). Red areas show positive depth changes due to eruptions at Nafanua cone between the surveys. Image courtesy of Susan Merle, Oregon State University and NOAA/PMEL.
Sources:
- NOAA OKEANOS EXPLORER - A Tantalizing Preview of Vailulu'u Seamount - February 22, 2017 - Bill Chadwick
Oregon State University and NOAA / Pacific Marine Environmental Laboratory - link
- Vailulu'u Seamount, Samoa: Life and death on an active submarine volcano - Hubert Staudigel & al.- link
- Global Volcanism Program - Vailulu'u - link