Publié le par Bernard Duyck
The eruption begun on January 31, 2017 at 7:40 pm local time at Piton de La Fournaise continues.
The volcanic tremor (indicator of surface eruptive intensity) remains at an average level (about half that observed at the beginning of the eruption), with less fluctuations in the last 8 hours compared to the first 24 hours
- No significant deformation was recorded during the day on the terminal cone.
- No seismicity was recorded during the day under the Piton de la Fournaise building.
- The CO2 concentrations in the soil at the Volcano Gîte remain at high values.

Piton de La Fournaise - Thermal images of the eruptive site taken in aerial view on 02/02/2017, 8:45 local time (left and middle) and ground on 01/02/2017, 10:00 local time. (© OVPF / IPGP)
The observations and observations made this morning by the observatory allowed:
- Shooting of thermal images. Outlet temperatures at the vent are between 1200 and 1250 ° C .
- Monitoring the edification of the eruptive cone. The eruptive cone continues its edification. A main fountain is at the origin of the construction of a southern wall more prominent than the north wall. A second lava fountain is always visible.
Surface flows estimated from satellite data via the HOTVOLC (OPGC - Clermont Ferrand) and MIROVA (Turin University) platforms range from 3 m3 / s to 7 m3 / s.

Source: OVPF
In Turrialba, ash emissions were more intense in the morning of February 2, before decreasing in the afternoon. The activity is accompanied by a tremor of low amplitude.
The winds blowing towards the southwest, the ashes emmisese are drawn towards the central valley.

Source: RSN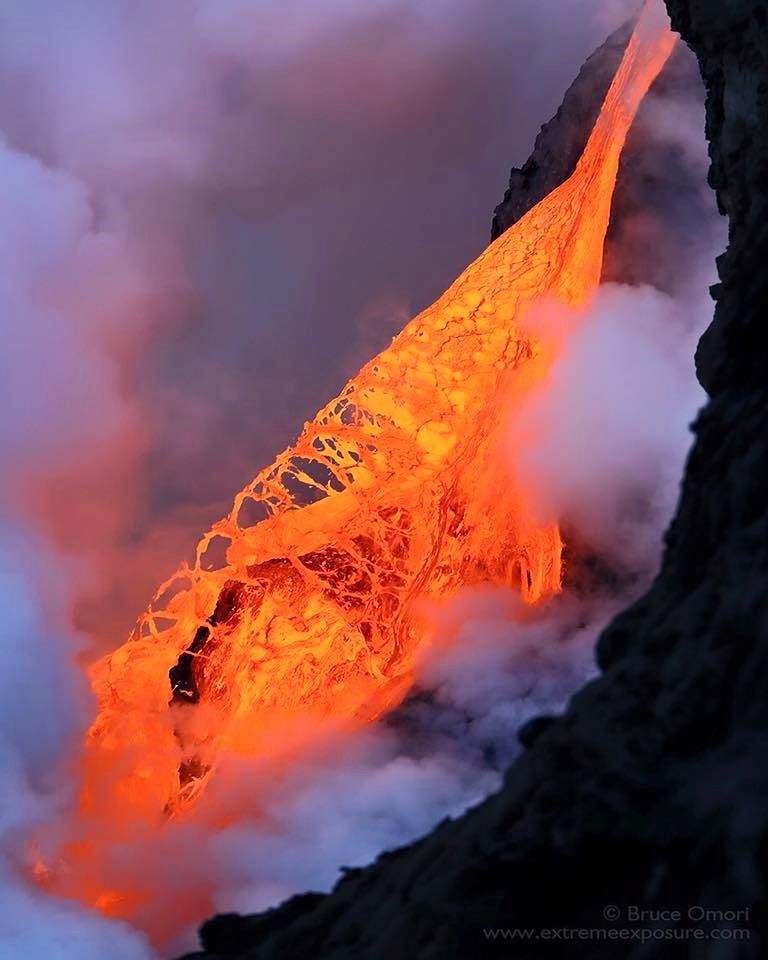 Hawaii 61 g episode - lava fall on 1 February; The photo of Bruce Omori accounts for the extreme fluidity of the lava / Extreme exposure.
In Kilauea, the episode 61 g remains very active, accompanied by an entrance of lava in form of impressive fall to Kamokuna.
An inspection of the cliff on 28 January by the observatory teams showed a crack 30 cm wide; the latter increased to about 70 cm on 1 February. Shakes mark the ground at more than 100 meters; the explosions generated by the entry of lava in the sea increase the instability of the cliff, and the risk of collapse.

Hawaii casting 61 g - eastern end of the crack of the cliff; The temperature measured at the thermal camera approaches 220 ° C - a click to enlarge - doc. HVO
On 2 February around 12.55, a cliff part, estimated at 30 meters by 5 meters, collapsed without any warning signs, causing a large wave, fortunately without consequences for observers.

Source: HVO
Last minute: Etna

- communication by Boris Behncke
The moment after one of the strongest explosions at the Southeast Crater on the morning of 3 February 2017. Incandescent rock fragments roll down the flanks of the cone.