Publié le par Bernard Duyck
Several seismic swarms shook the southwest of Isabela Island in the Galapagos since mid-February.
On 16.02, the swarm lasted after 1 hour and included VT earthquakes, related to the fracturing of rocks.
Between 8 and 13 March, sporadic earthquakes were observed at the Sierra Negra volcano. A new swarm lasted 30 minutes on 18 March.
On March 19 and 20, earthquakes are located at the SE of Cerro Azul, characterized by a higher frequency and a local magnitude of up to 3.4.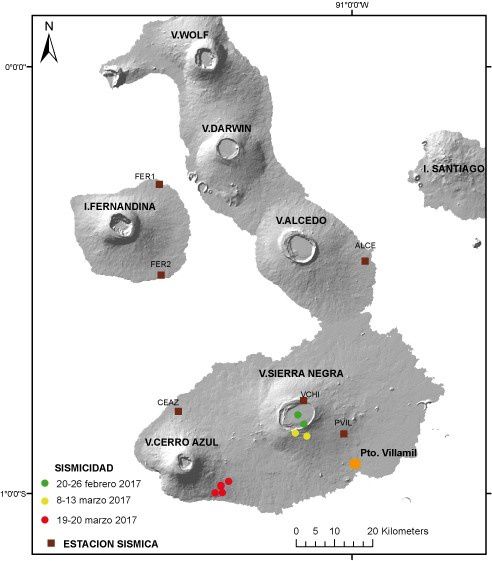 Galapagos - Isabela Island - the location of the earthquakes of 02-03. 2017 shows a migration of the activity towards the Cerro Azul - crate IGEPN
This migration of seismic activity was observed in 2008 during the last eruption of Cerro Azul, through radial and circumferential cracks, and lasting from a few days to a few weeks.
The IGEPN reports that in the event of an eruption in the caldera, the occurrence of explosive hydromagmatic eruptions is likely due to the presence of small lagoons.

Source: IGEPN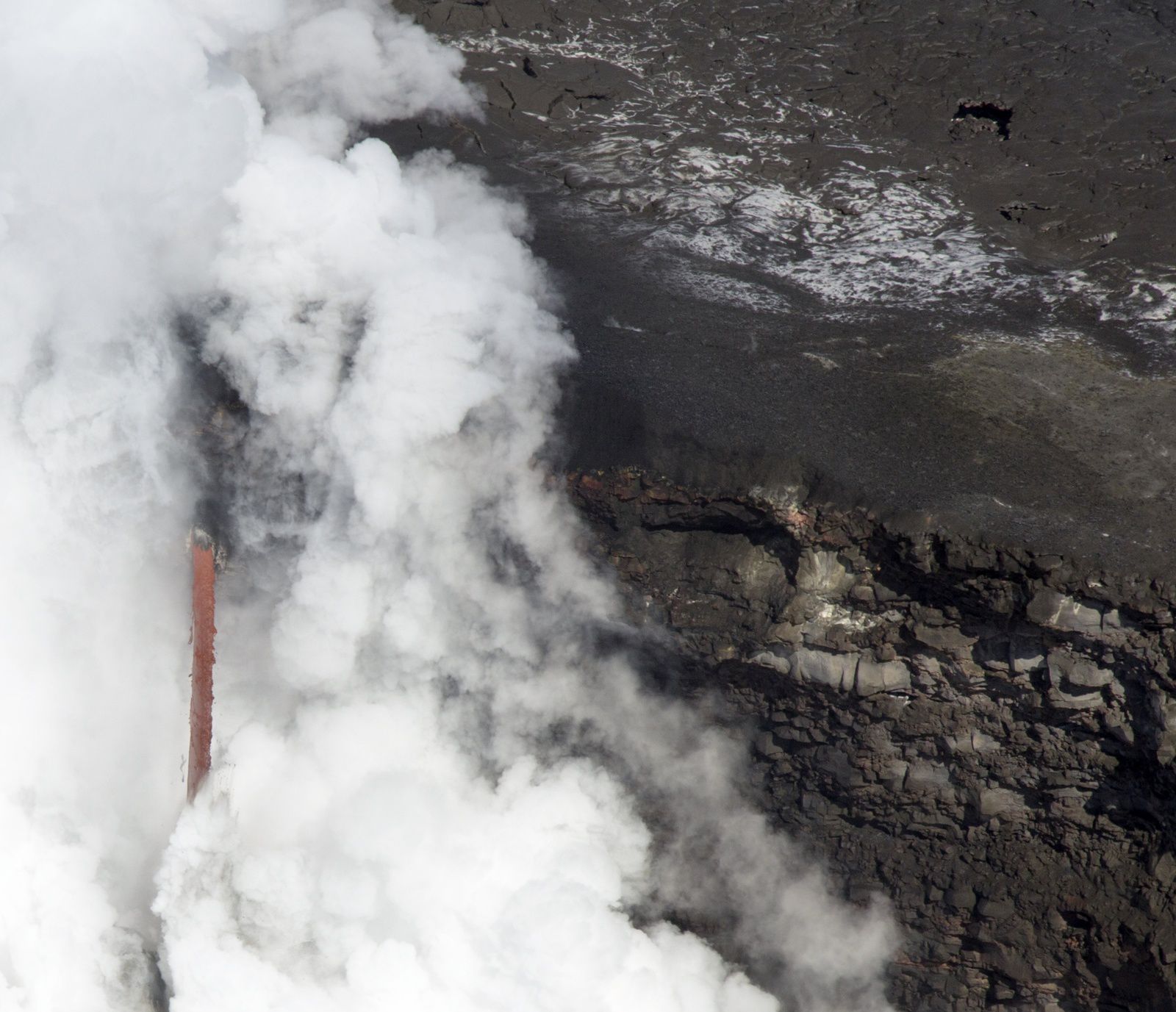 Kilauea / Pu'u O'o - Lava entrance to Kamokuna - beautiful cracks are visible at the top in the center on the edge of the cliff - picture HVO 16.03.2017
In Kilauea, the 61 g lava flow emitted by Pu'u O'o, continues its entry into the sea and feeds surface flows on the Pali.

Interesting changes to the entry of lava at sea in Kamokuna took place on March 20, 2017:
A boat view taken on March 20 at 8:00 am shows that the lava is engulfing in a new lava tunnel design, and forming a new delta start. (Video 1)
Another observation the same day at 3.30 pm shows that this draft pipe has broken and the lava has resumed its old habits, and plunges into the ocean, spattering (Video 2). - Kalapana Cultural Tours
A 3D model, built on a series of thermal images taken from a survey of the Kilauea summits lava lake, shows that a portion of the wall of the Overlook crater located along the southern wall of the Halema'uma crater 'U, is overhanging ... in case of collapse, a small explosive episode could occur, similar to those that occurred in November and December 2016. - see the video on https://hvo.wr.usgs.gov/multimedia/uploads/multimediaFile-1658.mp4
To be continued.

Sources: HVO & Kalapana Cultural Tours