Publié le par Bernard Duyck
Joseph Wright of Derby, born in 1734 in Derby and died in 1797 in the same city, is a British landscape painter and portraitist.
He was recognized as the first major professional painter to build his career outside the capital.
He is famous for his technique of chiaroscuro, which accentuates the contrasts between light and dark, and for his candle-lit scenes, influenced in this field by van Honthorst and Rembrandt van Rijn.
His paintings illustrate the beginnings of science, alchemy, scenes of experience, new machines and leaders of the industrial revolution. They constitute important archives on the "Age of Enlightenment", a period when science confronts obscurantism and religious values.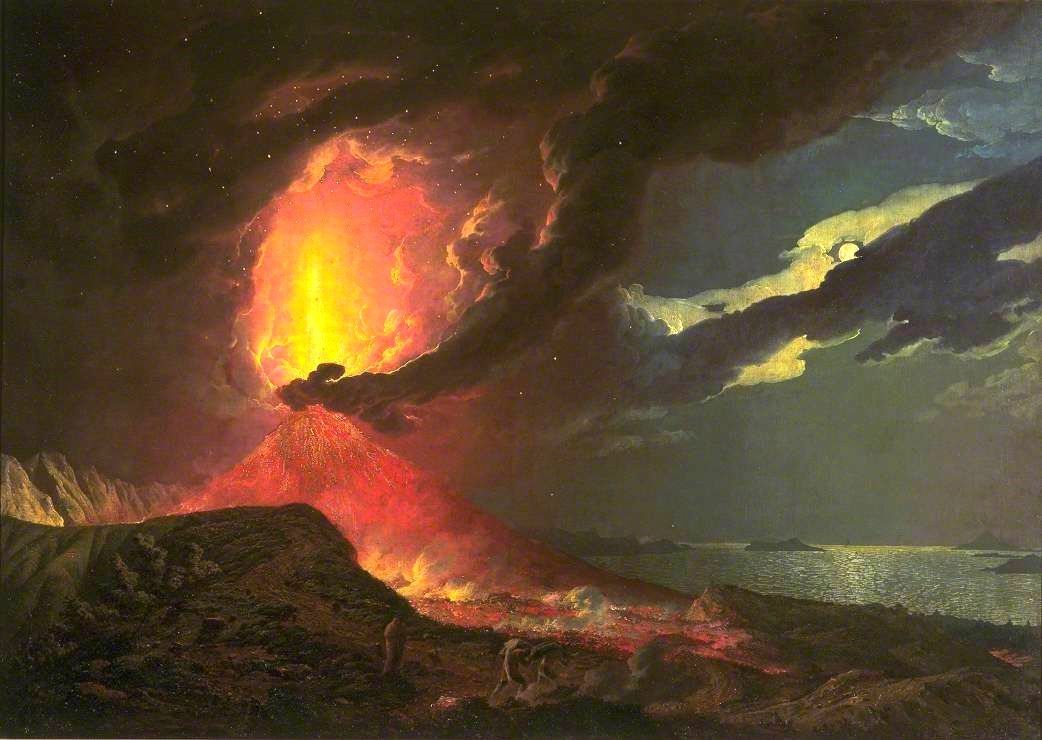 "Vesuvius in Eruption, with a view of the bay of Naples" - work by Joseph Wright of Derby 1734 - 1797 - a click to enlarge - doc. TATE
We will only be interested in a short period of his professional life, from 1773 to 1777, during which he visited Italy and was marked by the eruptions of Vesuvius, understanding how his interest in light sources could be combined with the painting of landscapes.
He painted thirty canvases of the volcano, combining precise observation of nature, including rock formations or the effects of light from the atmosphere, without sacrificing composition, poetry, beauty or drama.

"Vesuvius in eruption, with a view of the islands of the Bay of Naples" does not show a particularly strong eruption, but the painter succeeded in capturing the atmosphere lived after a nocturnal ascent, at the full moon, arriving on the Somma which forms the background of the active cone, on which fall the incandescent rocks that feed the lava flow lower.
"The Vesuvius from Portici" takes up the halo surrounding the eruption seat of the preceding picture, while maintaining a different atmosphere, with a wider foreground, better illuminated by the activity of the volcano.

The Global Volcanism Program reports the eruption of February 15, 1770, with a presumed end in October 1779, based on historical observations. From VEI 3, it concerned the summit and the northern and eastern flanks of Vesuvius.
At the same time, Vesuvius was the subject of other painters, including Pierre-Jacques Volaire, or Pietro Fabris, commissioned by Lord Hamilton.

Sources:
- Global Volcanism Program - Vesuvius - link
- Totally History - Joseph wright of Derby - link