Publié le par Bernard Duyck
Since March 26 at 01:33, the Turrialba began to emit a small plume of ashes, diluted ... the ash emanations became more constant afterwards. The tremor reached a maximum amplitude during nocturnal incandescent periods, suggesting a possible strombolian activity within the active crater; Of LP earthquakes were recorded.

At 7:50 am on March 28, an ash eruption began, and is maintained. The plume is driven south and south-east of the volcano, with reported falls on Lajas de San Ramon de Turrialba, San Antonio de Santa Cruz de Turrialba, and a smell of sulfur perceived in Santa Teresita de Turrialba.

Source: Ovsicori
Etna - 27/3/2017 © Giuseppe Distefano / My Etna Map
Effusive activity has continued in the last few days at Etna with a lava flow splitting into several branches on both sides of the Monti Barbagallo. To the west of it, a flow arm borrows an existing "morphological incision" between the Monte Frumento Supino and the Monti Barbagallo. On March 26th, the most advanced front of this flow reached the altitude 2,445m asl, a distance traveled about 2,500m from the eruptive mouth.
The second flow arm passes opposite to the east of the Monti Barbagallo; It is less energized since March 20 and the front of casting has reached the altitude 2,780 m. Asl., At 1,300 meters of the eruptive mouth this 26 of March.

This effusive action is complemented by active degassing at Bocca Nuova and some low ash emissions from the central vent of the southeast cone.

Source: INGV Catania
Explosive eruptive activity continues in the Kambalny, a little behind, accompanied on 29 March by a plume rising to 5,000 meters asl, then drifting 56 km in a west-southwest direction, according to the Aqua Modis satellite data / KVERT.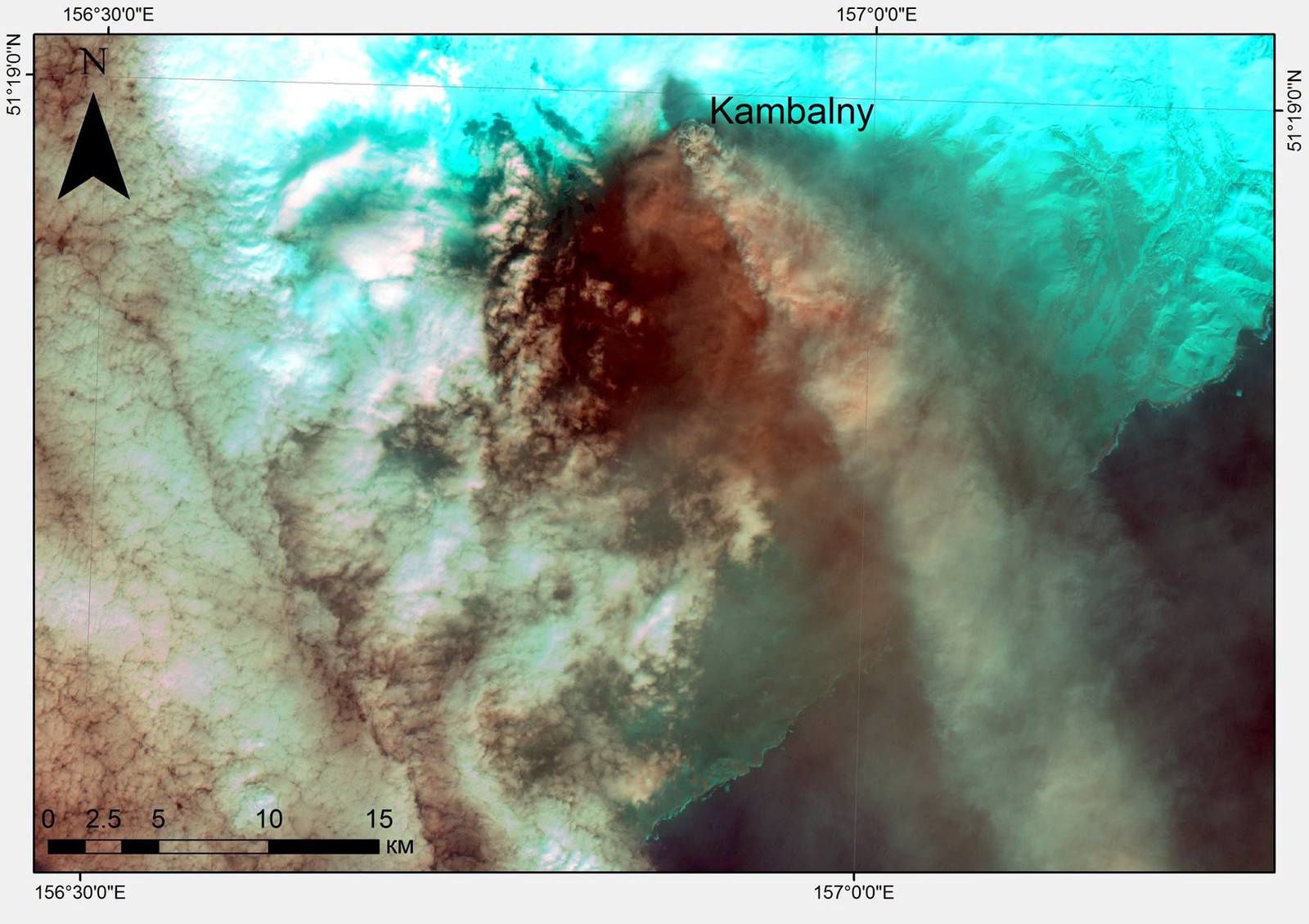 Volcano Kambalny, 27.03.2017. - image Landsat 7 via Dmitry Melnikov - Note by comparing the 2 photos, the change of orientation of the winds and the plume from one day to another.
Also in Kamchatka, there is a plume of gas and steam rising to 5,000-6,000 meters asl, to the Klyuchevskoy, on yellow aviation alert, and drifting 108 km towards the ENE, determined by the Terra Modis satellite data.

Source: KVERT 29.03.2017