Publié le par Bernard Duyck
At Etna, the strombolian activity of 27 February at the vent in the saddle between the two south-east craters, around which a cone developed, created an overflow fed by lava fountains and a lava flow which quickly reached the base of the cone, in the direction of Monte Frumento Supino. The NSEC crater is the site of sporadic brown ash emissions.
The lava front was at 13:00 on February 28 at altitude 2,850 meters.
The ash that accompanies the strombolian activity disperses in an eastern sector, and is reported on Zafferana and Linguaglossa in small quantities.
The volcanic tremor stabilized at high values ​​from 19 hours, with a maximum between 22 and 24 hours yesterday. It remains high on 28 February, with slight fluctuations. The deformation of the soil does not show any significant changes associated with the intensification of eruptive activity.
On the 1st of March the eruption continued; The tremor is in a plateau.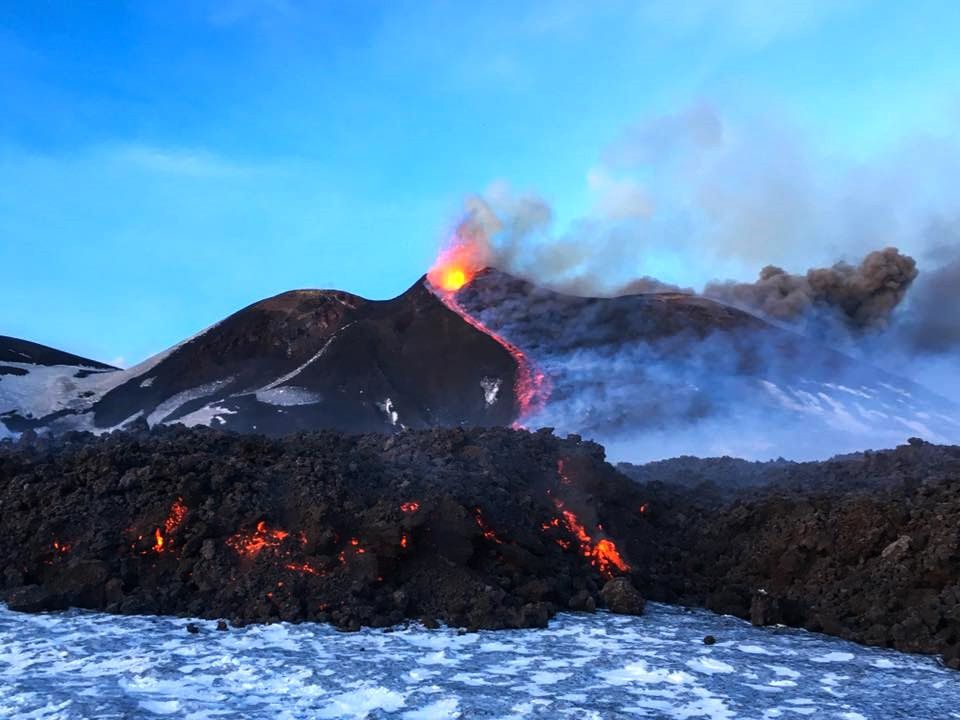 Etna - an excellent summary of the activity on 28.02.2017 / around 6 pm - by Giuseppe Distefano / EtnaWalk
The prefecture of Catania and the Civil Protection decided to limit access to the summit of Mount Etna, given the state of imbalance and the Giallo / Yellow alert level.

Source: INGV Catania and communication by Boris Behncke.
The explosive activity continues in Ebeko volcano, in the northern Kuril, with, on 27 February, a plume of ash rising more than 2,000 meters asl.and extending over 6 km. North of the volcano.
The KVERT has placed the Ebeko in aviation alert orange.

Source: KVERT