Publié le par Bernard Duyck
An explosive eruption began on March 8 at 7:36 UTC / 7 March at 22:36 AKST at Bogoslof, characterized by about three hours of significant ash emissions.
Activity was observed via seismic, infrasonic and lightning detection networks. A large ash cloud was seen by the satellites, moving east to an altitude of 10,700 meters asl. The volcano remains at a high level of instability, and its current aviation alert level is red.

Sources: AVO & WWLLN - NWS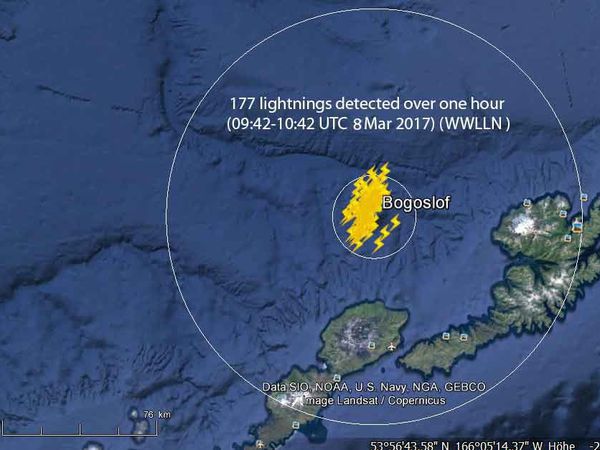 Bogoslof - 08.03.2017 - flashes detected in the ash cloud for an hour shortly after the onset of the eruption / WWLLN - AVO / via Volcanodiscovery - Seismogram of the day / AVO - ash advisory / VAAC Anchorage
The Sabancaya was the site of a beautiful explosion this 8th of March at 8:18; The ashes were scattered southwest. The level of volcanic alert remains at Orange.

Source: OVI - Ingemmet
At Piton de La Fournaise, the inflation of the terminal cone, that was maintained during the eruption, continues.
One week after the end of the eruption of 31 January - 27 February 2017, the Piton de la Fournaise volcanological observatory recorded two superficial volcanic tectonic earthquakes (0 to 2 km deep) in one week under the summit craters.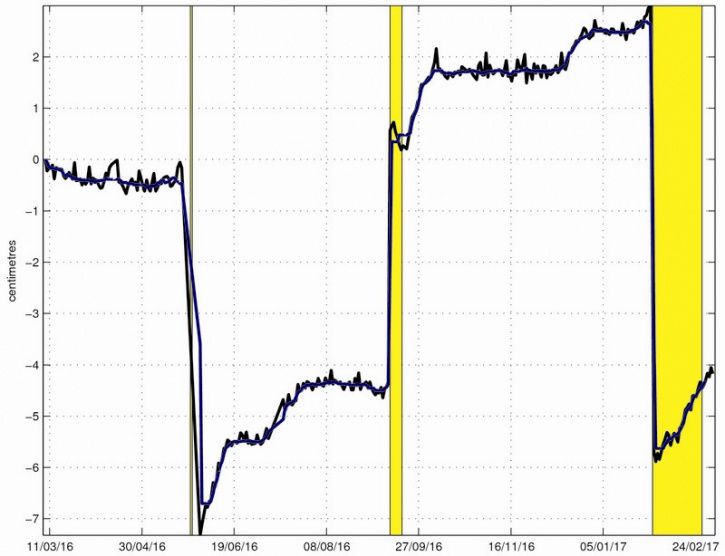 Piton de La Fournaise - Illustration of the distortion during the last twelve months (eruptions of 26-27 May, 11-18 September 2016 and 31 January - 27 February 2017 are shown in yellow). Here is shown a baseline (distance between two GPS receivers) crossing the Dolomieu crater from north to south (in black the raw data, in blue the smoothed data over a week). A rise is synonymous with elongation and therefore swelling of the volcano; Conversely, a decrease is synonymous with contraction and therefore with deflation of the volcano. (© OVPF / IPGP).
The prefecture of La Réunion communicates:
"Following the observations of the Piton de la Fournaise volcanological observatory (OVPF), the field reconnaissance carried out on 2 March 2017 by the services (OVPF, ONF, BRGM, PGHM and EMZPCOI) and the residual risks resulting from the last Eruption, the prefect of Réunion decided to return to the phase of VIGILANCE of the specific device Orsec * of the Volcano of the piton of the Furnace "possible eruption or presence of risks on the sector" as of March 10, 2017 at 6:00.
Decrees for access to the Enclos since the last eruption have been repealed, Order No. 395 of March 8, 2017, which comes into force on March 10, 2017 at 6:00 am, regulates public access under the following conditions:
• Access to the upper part of the enclosure remains strictly limited to the following two marked paths:
- Pas de Bellecombe - Formica Léo - Rosemont Chapel - Sentier Rivals- Crater Caubet
- Pas de Bellecombe - Formica Léo - Rosemont Chapel - access to the observation site of the crater Dolomieu (access by the North of the crater)
• The Kapor trails to Piton Kapor and the Caubet crater to the Belvedere on a castle are forbidden.
• The public is prohibited from engaging beyond the provisional limits that are materialized on the RIVALS trail. "

Source: OVPF
In Kamchatka, two strong explosions shook the Bezymianny on 9 March from 14:50 local time, and separated by about 30 minutes.
A plume of ashes rose to 7,000 meters asl, before drifting 112 km north-west of the volcano; Its width is 14 km.
The explosions are followed by strong degassing.
The aviation alert code is red.

Source: KVERT