Publié le par Bernard Duyck
There 3.66 million years ago, proto-humans marched in wet volcanic ash at Laetoli in Tanzania, in the Ngorongoro Conservation Area.
When the nearby volcano erupted again, successive layers of ashes covered their footprints, considered to be the oldest known, and preserved them.
A team of paleontologists led by Mary Leakey found footprints of animals cemented in volcanic ash in 1976, and in 1978 found a path 27 meters long, including about 70 human footprints.
These fingerprints were attributed to the Australopithecus afarensis, a fossil exemplar of which was found in the same layer of sediment.
The first humans who left these footprints were bipeds and had the big toes in line with the rest of their foot. This means that these first human feet were more human-like than ape-like, because the monkeys have very divergent big toes that help them climb and grab the materials as do the thumbs. The footprints also show that the gait of these first humans was "heel-strike" (The heel of the foot strikes first) followed by "toe-off" (the toes push at the end of the stride), the way of modern humans walk.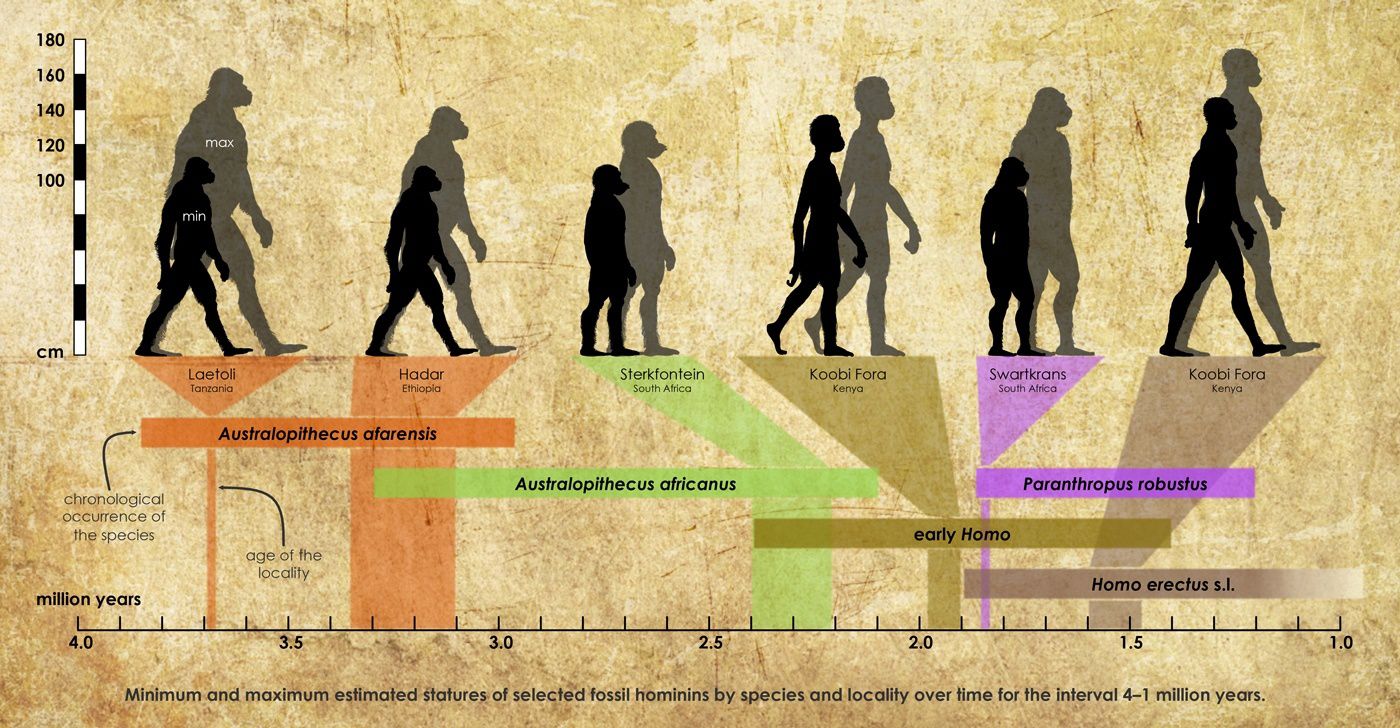 The largest and smallest hominid fossils by species between 1 and 4 Ma - one click to enlarge - doc. Marco-Cherin / Nature
Volcanoes have preserved the traces of Australopithecus afarensis, and confirmed their presence in the East African rift from Ethiopia to Tanzania, as well as variations in size and morphology (including sexual dimorphism)... and allowed to add one more milestone to the history of man.

Sources:
- Smithsonian - Laetoli Footprint Trails - link
- New footprints from Laetoli (Tanzania) - Fidelis T Masao & al - link
- Lallyouneedisbiology.wordpress.com - Lucy in the ground with diamonds.