Publié le par Bernard Duyck
The pikas of North American volcanic parks are vulnerable to global warming.
Scientists from the national parks and three western universities are predicting a future complex for this rodent found in the highland rocks and snows in the western United States, following a five-year study in eight national parks . The influential factors are diverse and related to local conditions of altitude, climatic variations and genetic diversity.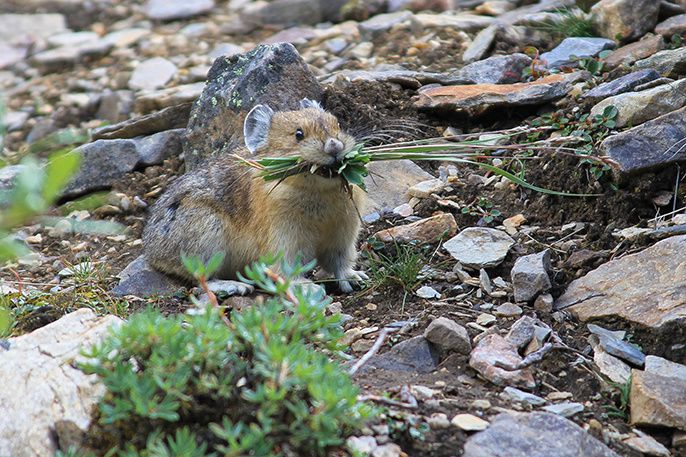 A pika holds grass clippings in its mouth.- photo David Restivo - Natural resource stewardship and science directorate
The pika is an important indicator of the health of mountain ecosystems ... if the climate changes, areas of high altitudes could warm up to the point that pikas can not survive. These rodents do not hibernate, but live under snow in cold rock fields at high altitude, after making food reserves, or finding it there.
Each national park has unique conditions, so that the persistence of pika populations at the end of the century may vary from one biotope to another.

In the Crater Lake National Park, the numbers could fall by half as a result of snow cover: with a falling snowpack, groups of pikas will find themselves more isolated.
In the Crater of the Moon National Monument, due to its warmer, dry climate, and insulation, low genetic diversity and restricted distribution areas, vulnerability could go as far as extinction.

In Yellowstone N.P., as in the Rocky Mountains, the climate will become hotter and drier ... however, the current high genetic diversity of local Yellowstone populations could increase the resilience of the species to temperature stress. One hope remains.

In the Lassen Volcanic Park, and although the climate in the Cascades range is already relatively hot and humid, there is a long-term anticipation of the pikas to this habitat, partly due to a wider growing season, and a better availability of plants.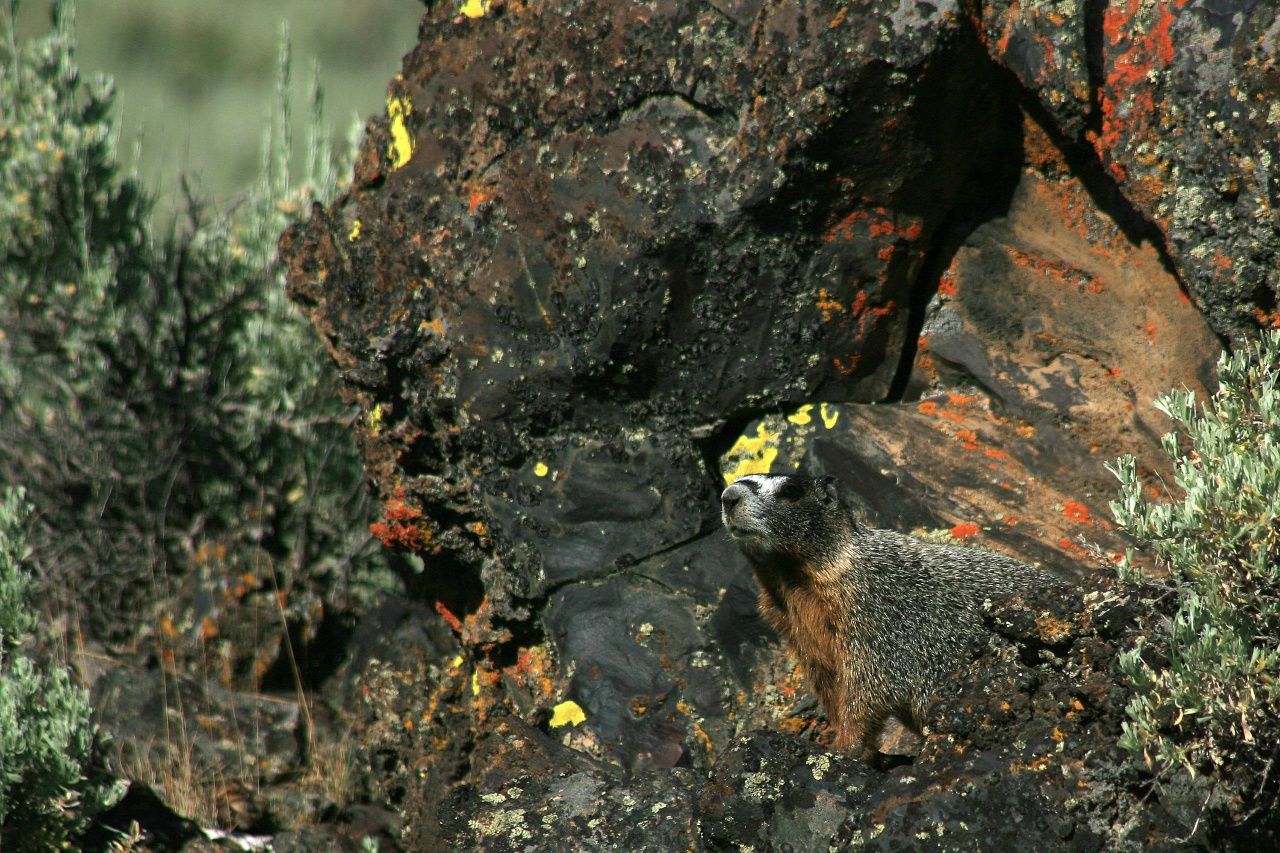 Will this yellow-bellied marmot, mimicking in the rocks of Crater of the Moon, suffer the same fate as the pikas? - photo © Bernard Duyck
In the Grand Teton National Park, because of the high altitudes encountered and the cold and dry climate, the pikas are already living in warmer and dryer niches than elsewhere. On the other hand, thanks to the connection between the different populations well adapted to the pockets of habitat, they should remain stable or even expand.

In the Lava Beds National Monument, this park has a lower, warm and dry climate, but the existence of sub-surface microclimates in lava tunnels could favorably influence the survival of the species.
The future will tell us if these forecasts are true, and we can only at this stage wish a long life to the pikas ... a good sign for us too !
Sources:
- Habitat availability and gene flow influence diverging local population trajectories under scenarios of climate change: a place-based approach - Donelle Schwalm & al.- link
- NPS - Pikas in Peril: Tiny Mountain Mammal Faces Uncertain Future - link
- NPS - Pikas in peril - link