Publié le par Bernard Duyck
A new explosive eruption was observed at the Showa crater of Sakurajima this 28 April at 02:01 UTC / 11:01 JST, followed by several smaller ones.
The ash plume reached an altitude of 4,300 meters asl. before drifting south-east.
The JMA maintains the alert level 3 / orange, and warns that further explosive eruptions are possible in the future.

Source: Kyodo News agency
Sakurajima 28.04.2017 / Kyodo news - An explosive eruption occurred in the Showa crater of Sakurajima (Kagoshima City) on the 28th at 11:01 am, and the feather reached about 3,200 meters high from the crater.
The Japanese Coast Guard conducted a survey on Thursday (April 27th) on Nishinoshima in the presence of Professor Kenji Nogami of the Tokyo Institute of Technology.
Several eruptions were observed successively, with emissions of plumes and slags at 150 meters in height. The lava enters the sea at two points, where the contact with the waters generates clouds of steam rising about 200 meters.
The professor Nogami states that a vast magmatic reservoir feeds eruptions and lava flows; It warns that in case of depletion, the gases can accumulate in the vacuum left and cause more explosive eruptions.

Source: NHK news.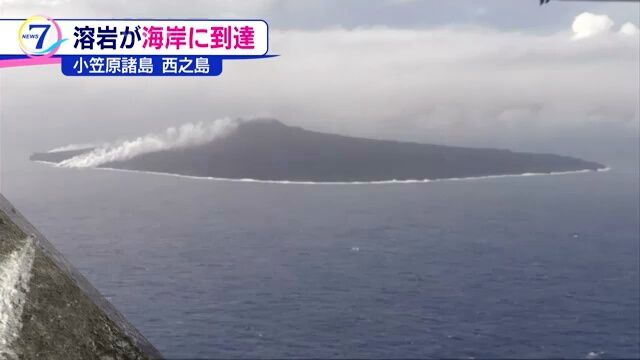 Nishinoshima - 27.04.2017 - two entries at sea are marked by emissions of vapors (to the left of the picture) - photo NHK news
Nishinoshima 28.04.2017 / 18:16 - On Nishinoshima in the Ogasawara Islands, where the eruption was confirmed for the first time in a year and a half this month, the observation of the sky above the Japan Coast Guard revealed that the lava flowing from near the center of the island reached the coast of the western side and the southwestern side
In Poas, the seismicity of the last 24 hours was marked by earthquakes VT and LP, as well as low-amplitude tremor.
The deformation shows a rapid inflation.
The exit of the gases provokes, in recent days, sounds of jet turbine, audible at several kilometers of distance. An odor of sulfur is perceived in El Poro, Grecia, San Juanillo de Naranjo, and Alto Palomo.
A cone continues to form in the active crater, following the ejection of fragments of lava, ash and lake sediments.

Source: Ovsicori 28.04.2017 / 11h.