Publié le par Bernard Duyck
In Poas, a strong phreatic eruption occurred on April 12 between 18 and 19 h. Local. According to the guards of the park, there are ashes in the area of ​​the watchtower and Baja del Toro, Fraijanes and Sarchí. The high cloudiness prevented an estimate of the height of the eruptive plume. The eruption lasted over forty minutes.
The rains of the night, combined with the ashes emitted, spawned lahars in the rivers Desagüe, Agrio y Gata; The CNE evacuated people living near these drainages.
A field inspection on 13 April revealed the morphological changes of the intracratric dome: a crack appeared in the outer wall, and one area was heavily eroded.
Many impact craters have been noticed, formed by the fall of fragments of ancient rocks. The collected rock material consists of about 95% chemically modified material and lacustrine sediments and the remainder is slag-type and possibly fresh glass vesicles. The slag is very similar to the material emitted during the 1954-55 Poas poetomagmatic eruption.

The National Park of Poas was closed preventively on 13 April.
On 13 April, at 15:46 local time, a new phreatic episode lasted 8 minutes, and was accompanied by a plume rising 500 meters above the crater.

Sources: Ovsicori, Red Sismologica Nacional, and Tiempo CR.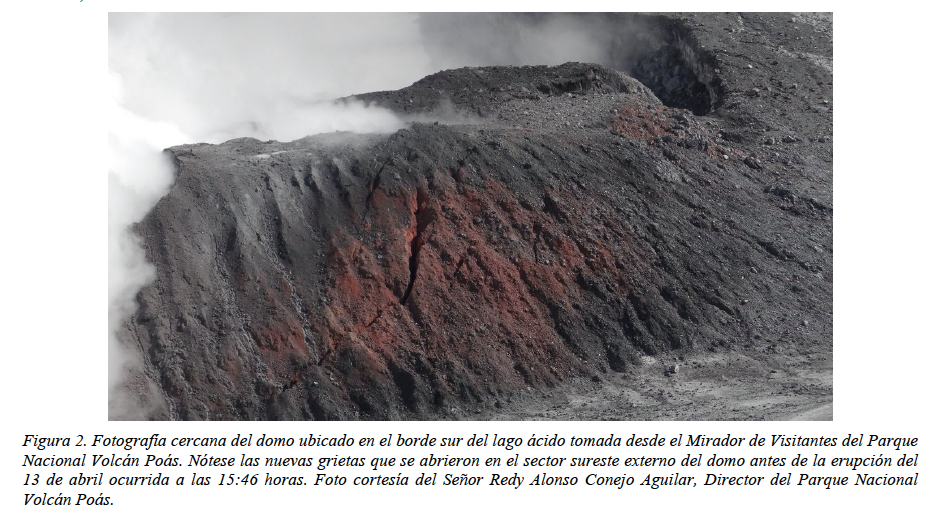 Poas - new cracks in the intracratric dome due to the eruption of 13.04.2017 - photo R.Aguilar / P.N. Poas
Video of April 13, 2017 at 9:36 h, from which it is possible to appreciate the eroded area and the fissure in the dome. - Doc. RSN
Video of the volcano eruption Poas today 13 April at 15:48 pm, captured by the surveillance camera of the RSN at the top. * Report: Dr. Maurice M. Mora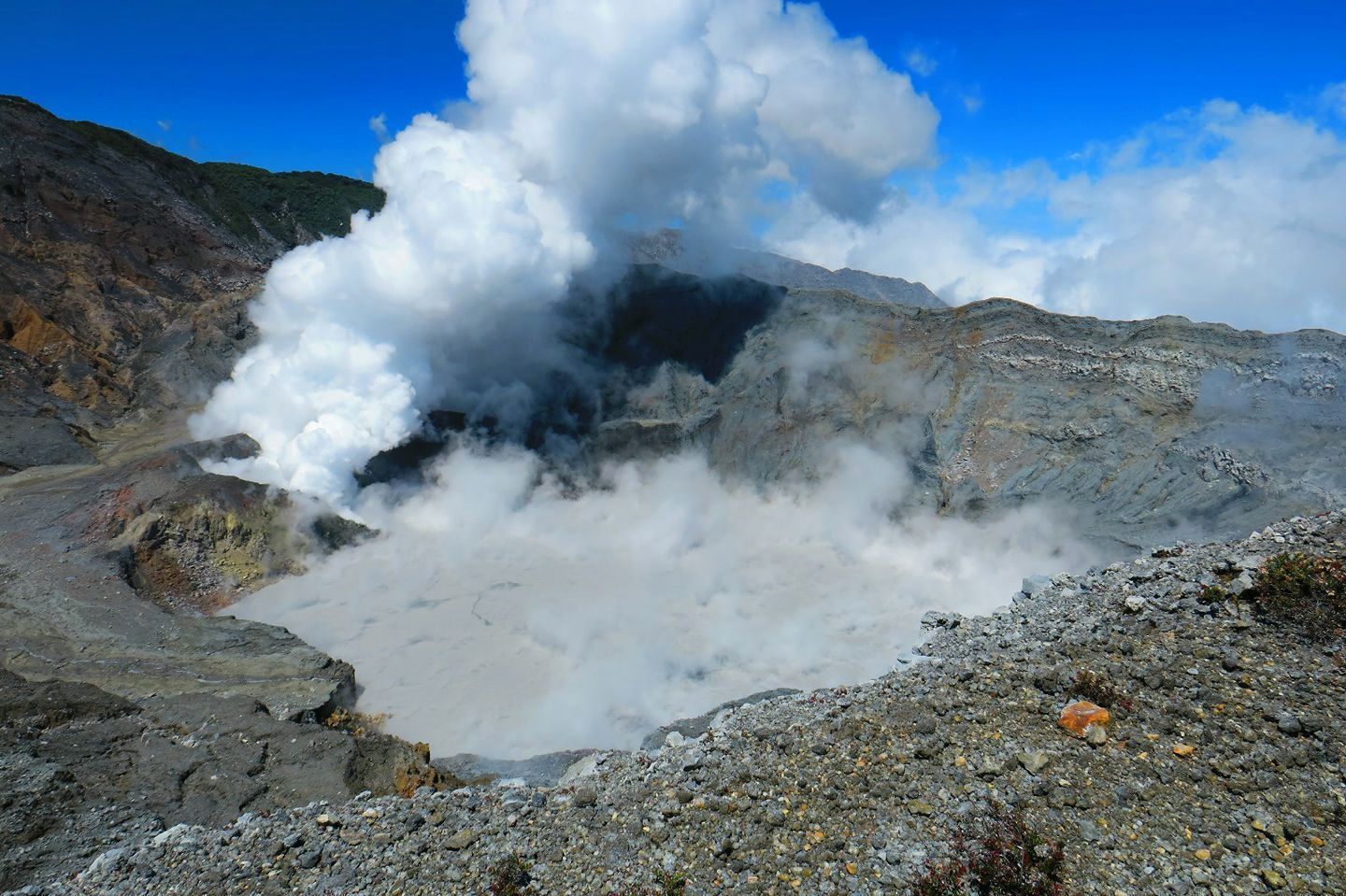 The volcano Poás after its eruption of 13.04.2017. A vigorous plume that sometimes reaches 700 meters in height. The Dome and its fractured lateral structures. La laguna Caliente with strong evaporation and black sulfur spherules. - photo Raul Mora-Amador
Also in Costa Rica, during the month of March and during the first half of April, Turrialba exhibited an intermittent eruptive activity, with low-energy ash emissions separated by periods of relative calm.
During the nights, the incandescence generated by the circulation of magmatic gases at high temperature and the heat of the walls of the crater remained constant.
The level of seismicity is decreasing, dominated by a volcanic tremor of variable amplitude and duration and discrete events of low frequency.

Source: Ovsicori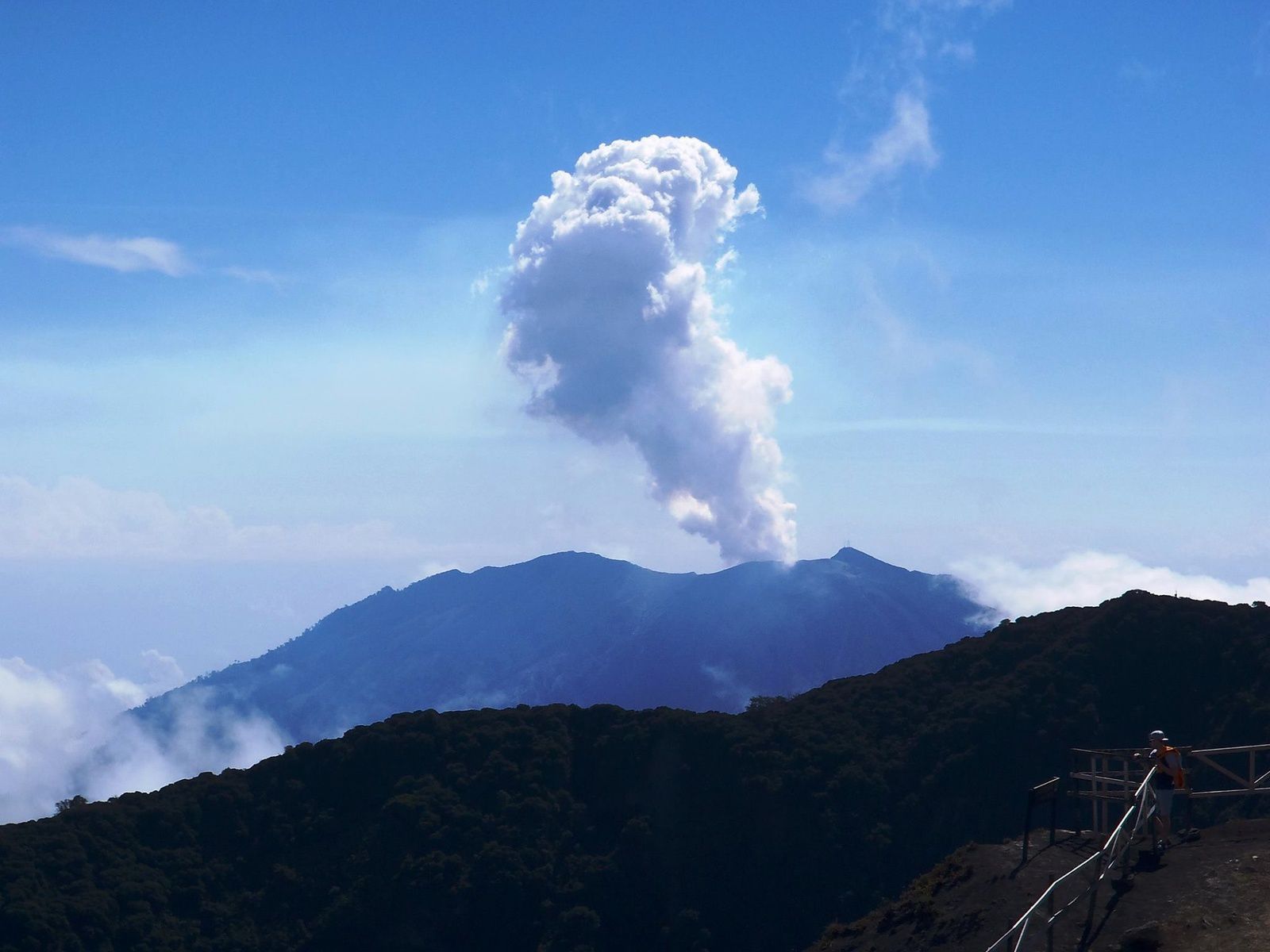 Plume of the Turrialba, seen from the volcano Irazu the 13.04.2017 - photo vulcanólogo Gerardo Soto of the RSN.
In Etna, a new effusive episode marks the southern base of the new south-eastern crater, and a weak strombolian activity is visible at its summit since 13 April around 10 pm

Sources: LAVE & RS7 webcams - Boris Behncke photos
Etna SEC - the eruption of 13.04.2017 respectively at 22:29, 22:35, and 22:56 - webcam RadioStudio7 - one click to enlarge