Publié le par Bernard Duyck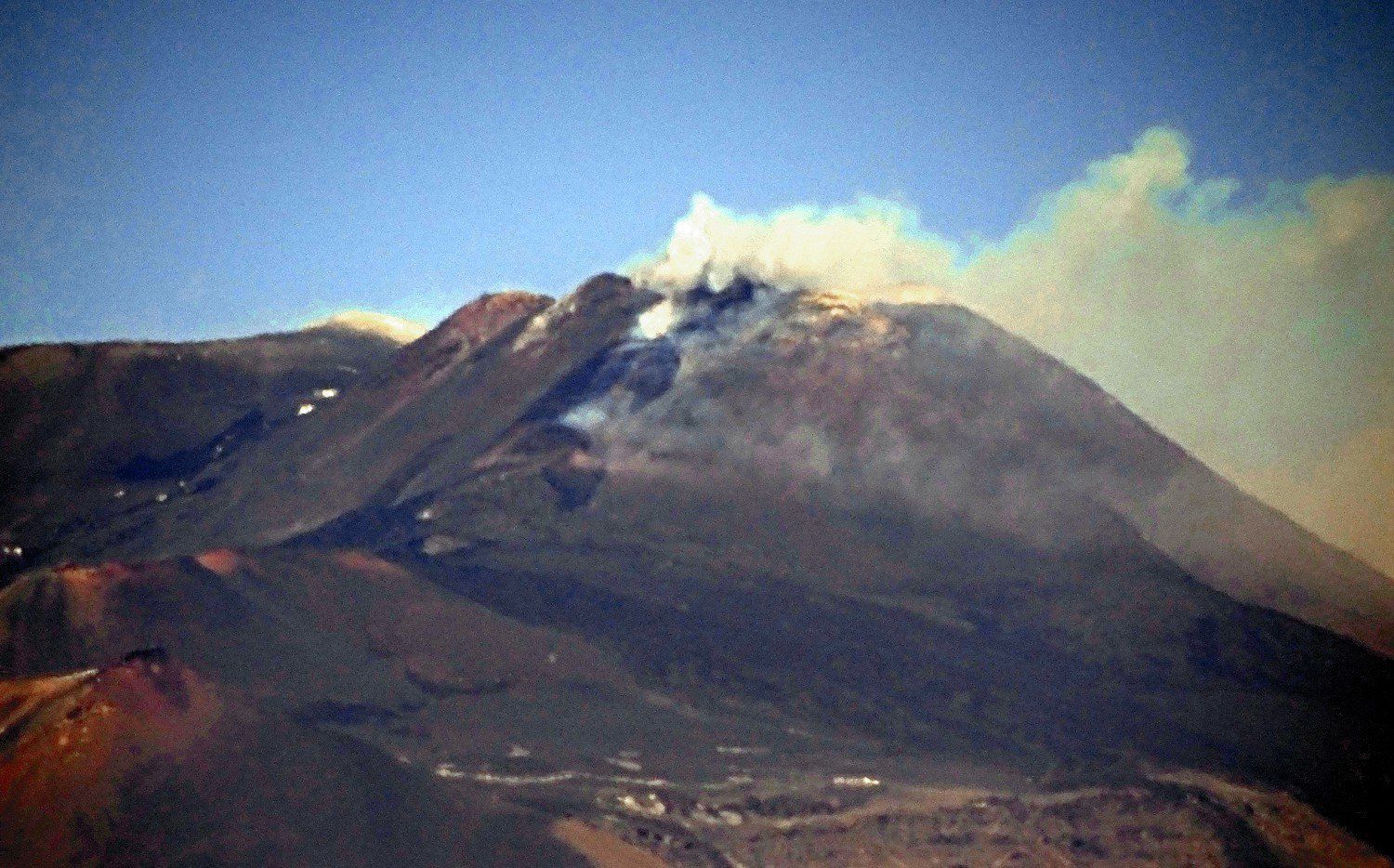 New eruption at Etna this 19.04.2017 - photo taken at 14h by Boris Behncke from the INGV-Osservatorio Etneo of Catania, 27 km away.
After four days of calm, a new eruptive episode began at Etna on April 19, 2017 at 9:34 UTC / 11:34 local time; It began with a lava emission at the pit crater located under the rim of the mouth of the old saddle between the two southeast cones.
A few minutes later, a vent situated further upstream presented a moderate strombolian activity. The tremor is soaring.

The lava flow descended on the southern side of the SEC, accompanied by small collapses, marked by small plumes of brownish-red ashes. It forms two distinct arms, separated by an elevation of the cone; The eastern arm entered the Valle del Bove, following the same route as the flows of the previous episodes, from 10-11 and 13-15 April.
The event was marked with an orange aviation code by the VAAC Toulouse, due to strombolian activity.

Sources: INGV Catania & VAAC Toulouse.
Etna - 19.04.2017 / 14h30 local - thermal webcam INGV and the tremor at 14h32 - one click to enlarge
Etna - lava flow in the direction of the Valle del Bove on 19.04.2017 at 19h58 and 20h28 - webcam LAVE - one click to enlarge
In Poas, a tremor of large amplitude was recorded between 6 am and 8.40 am, accompanied by small eruptions on a quasi-continuous basis, before opening at 8.43 am on a larger eruption filmed by the Ovsicori volcanologists on site at that time and by The RSN webcam.
As a result, access to the volcano remains closed "sine die" since Monday.
Volcán Poás. 19 de abril 2017. Videos by Carlos Sánchez and Geoffroy Avard. OVSICORI
Poas - 19.04.2017 / a las 08:43 tuvo lugar una erupción important captada for the cámara of vigilancia of the RSN. Informa: Dr. Mauricio M. Mora
In Turrialba, activity remains constant, characterized by emissions of steam, gas rich in sulfur and ash.
The incandescence in the evening of 18.04 / 20h-20h30 at the level of the crater is so intense that it passes the webcam in the visible spectrum.
Note that these events are not connected, since there are no connections between the magmatic chambers of Turrialba and Poas volcanoes.

Sources: Ovsicori & RSN
The incandescencia en el volcán Turrialba is ahora tan intensa que por si misma activa the cámara web en el espectro visible. 18 de abril del 2017, from 8 to 8:30 PM. Paz. Marino.
Two calmer images to close: degassing at the Copahue / Chilio-Argentina border, and a light lenticular covering the Popocatépetl.