Publié le par Bernard Duyck
In Poas, after the phreatic eruption of April 13 at 15:46, the volcano presented two others, smaller at 18:59 and 19:18.

During the morning of April 14, the observatory recorded seismic events of LP type, related to fluid movements and changes in internal pressure, which resulted in two new eruptions at 7:39 am and then at 7:57 am.
The atmospheric conditions did not allow an observation of the laguna Caliente by webcams ... but the plume of steam, gases, aerosols and fine sedimentary particles, which rose more than 3,000 meters was visible from the surrounding area and well documented .
The emissions have affected a wide area east and west: Bajos del Toro, Zarcero, Pocosol, La Tigra, Florencia, San José de la Montaña, Naranjo, San Ramon, Palmares, Sarchí, Grecia, San Luis, Finca Inés, Altura, Fraijanes, Parque Nacional Volcán Poás, Carrizal, San Pedro de Poás, Santa Bárbara, Pozo Azul.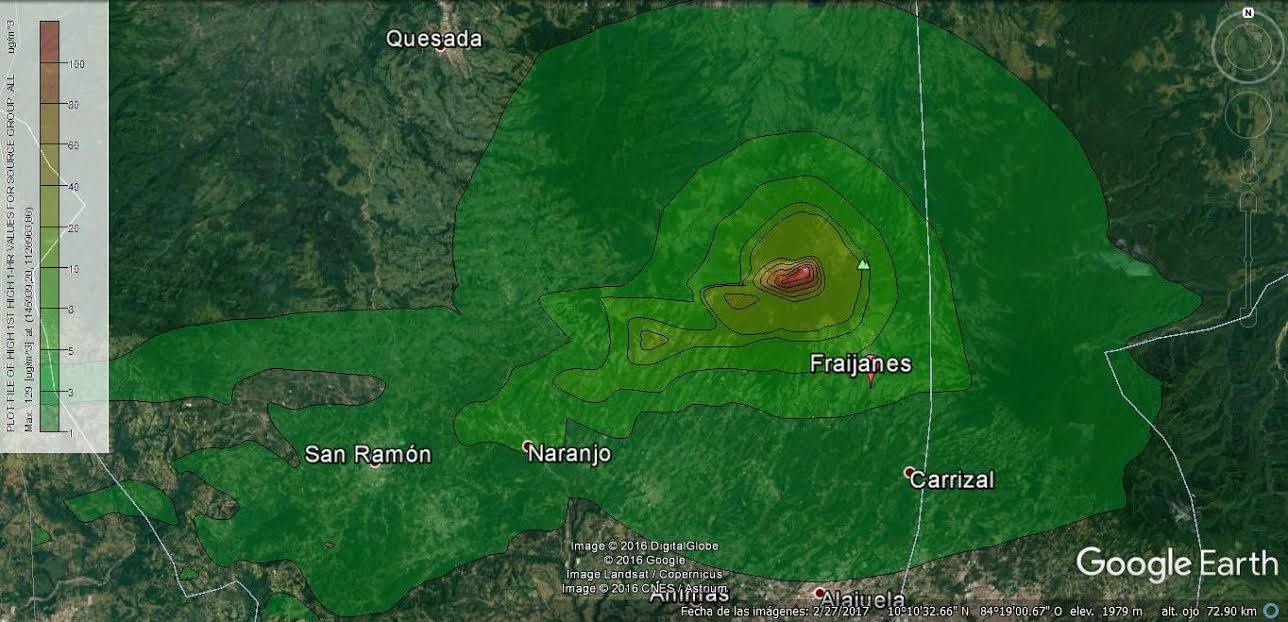 Poas - information on the affected areas - Los mapas son elaboradas a través del modelo computacional de dispersión Aermodos de la Attorney de la Atmósfera (LAQAT-UNA) de la Escuela de Química, junto con valores meteorológicos horarios promedio como temperatura, radiación, Velocidad y dirección del viento, humedad relativa, between otros.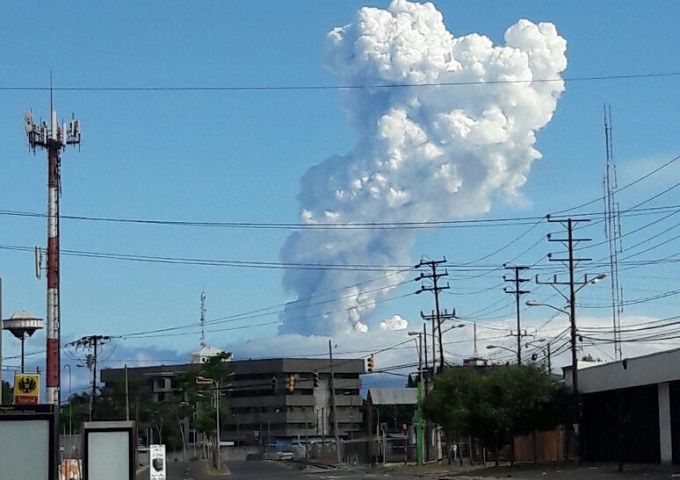 Poas - the panache of the eruption of 14.04.2017 / 7:58, seen from Barrio Cuba. - photo Eduardo Vega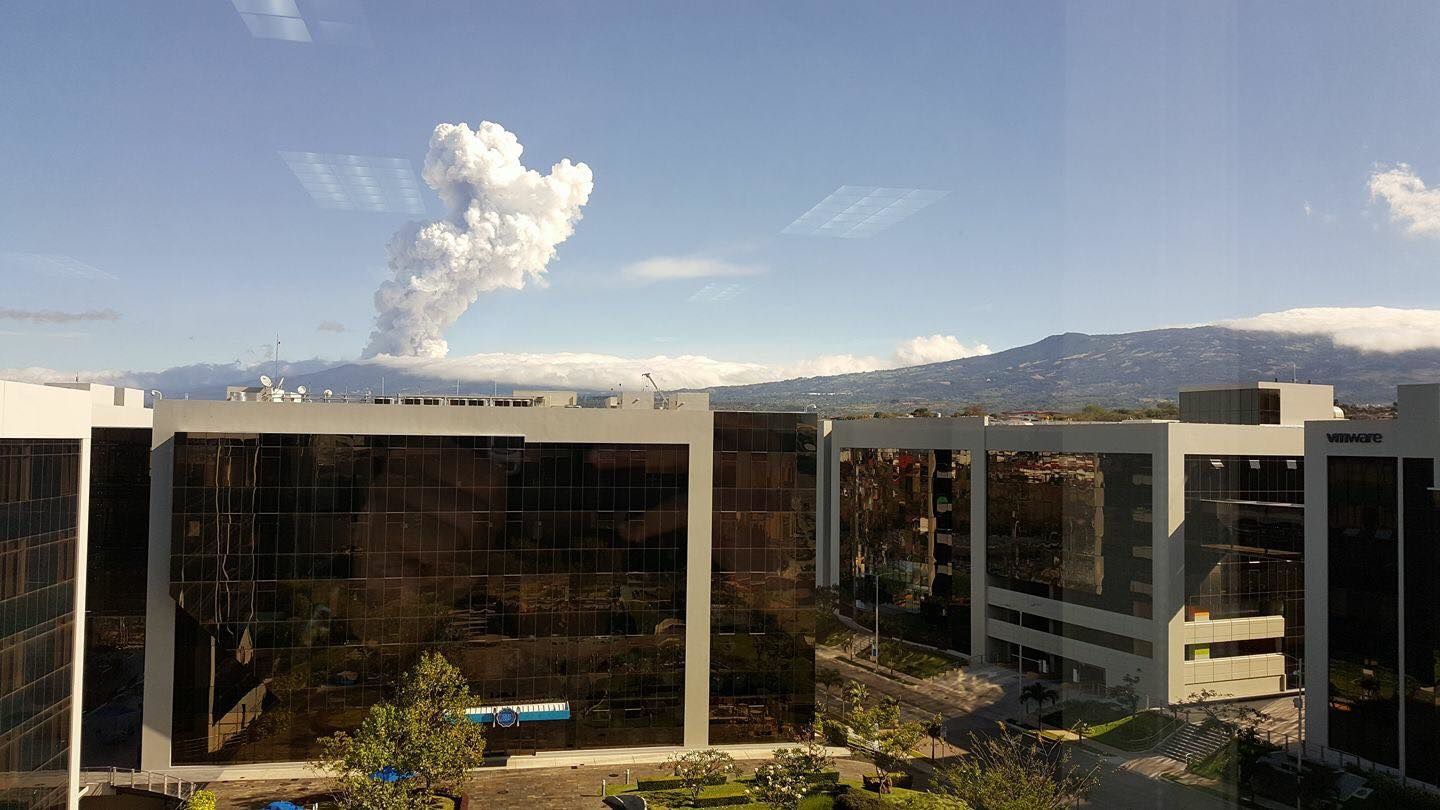 Poas - the plume of the eruption of 14.04.2017 / 7.58, seen from the Free Zone of Heredia. -photo Oscar Lola.
A quick visit of the Mirador of visitor observation area was made on the 14th by park rangers, who were able to observe the damage left by the previous day's episode: fragments of rocks reaching 30 cm, acidic water and muddy sediments reached the Mirador, and smashed the railing and the ground. Sediments and smaller rock particles were propelled to the National Park parking lot.
This illustrates the dangerousness of phreatic-type explosions, and the need to close access.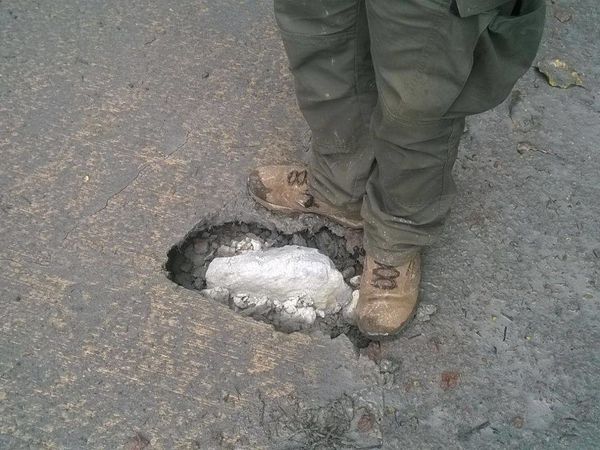 Poas - damage from the eruption of 13.04 in the Mirador area - communication from Dr Javier Pacheco / Ovsicori
During the day, the activity continued, with explosions at 9:39, 9:48, 10:55; The count at the end of the day gave an average of one eruption every 30-40 minutes.
Between the explosions, the tremor remained constant, and of varying amplitude, from moderate to low, as well as a passive degassing plume about 300 meters above the crater.
Access to the volcano is prohibited until April 16 and well monitored.
The activity of the Poas remains to be watched closely.

Sources:
Ovsicori, Red seismologica Nacional, Laboratorio de Química de la Atmósfera (LAQAT-UNA)