Publié le par Bernard Duyck
In 2015, the Ugandan Ministry said an epidemic of elephantiasis was emerging in the west of the country. An interdisciplinary team was sent to investigate 52 suspected victims ... local rumors incriminating elephant manure and the contamination of mosquitoes by worms causing lymphatic filariasis.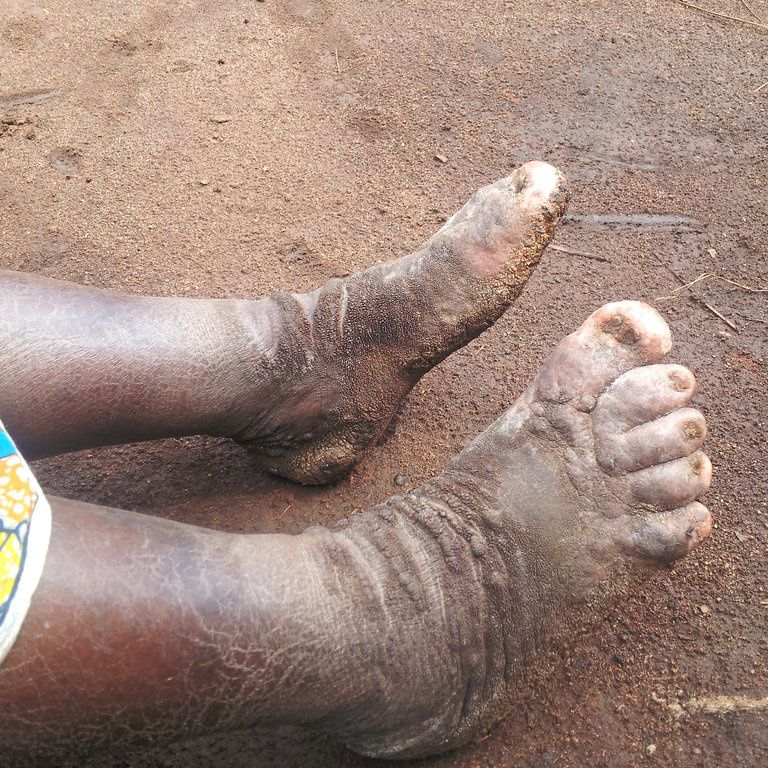 Podoconiosis, caused by walking barefoot on volcanic soils, causes swelling of limbs and nodules similar to warts - photo Christine Kihembo / via New York Times
A report in the American Journal of Tropical Medicine and Hygiene indicates that this track is false: blood tests for worm detection are negative, limb involvement is bilateral (filariasis tends to affect only one leg) and the rate of involvement at the scrotum is low. In addition, most of the affected people lived in altitude, where mosquitoes are less frequently encountered.
The person responsible for the disease, identified as podoconiosis, a disease that affects not only western Uganda but about four million people in Africa, Asia, and the Americas.
Podoconiosis is an inflammatory disease caused by prolonged contact with irritating minerals in the soil. It is related to soils of volcanic origin, which contain tiny, sharp, alkaline crystals, which move under the skin, cause strong itching and swelling of the lower limbs (lymphedema). Inflammation can develop over time in weeping sores and fibrous tissue.
The disease has important social and economic consequences, leading to stigmatization and loss of productivity.
One possibility of eradication of this condition exists according to the WHO. In addition to combating poverty and developing road infrastructure, the methods of combating podoconiosis prescribed by the organization include footwear, foot hygiene and floor coverings. Field work is needed to explain the causes of infection to the affected populations, in addition to wound care management, compression, exercises (raised legs) and treatment of acute infectious stages.
Sources:
- The New York Times - Health - Volcanic Minerals, Not Worms, Caused Disease Outbreak in Uganda - link
- Bulletin of the World Health Organization - Possible eradication of podoconiosis - link