Publié le par Bernard Duyck
First stage of the world tour of the active volcanoes of Thomas Delano, which begins with the Triangle Afar.
Story of a volcanic world tour - Episode 1 - Dallol, between salt & acid.
Located in the Danakil depression in the northern part of the Afar Triangle in Ethiopia, the site of Dallol is difficult to qualify in a few words.
Craters of explosion, according to the Global Volcanism Program, hydrothermal site for others, these appointments remain all somewhat reductive. The activity in Dallol has never emitted lava, even if its hydrothermal assignment is related to the magma. The name "proto-volcanic system" recalls the fact that it is impossible to exclude at a given moment an eruption of a part of the magma situated under Dallol.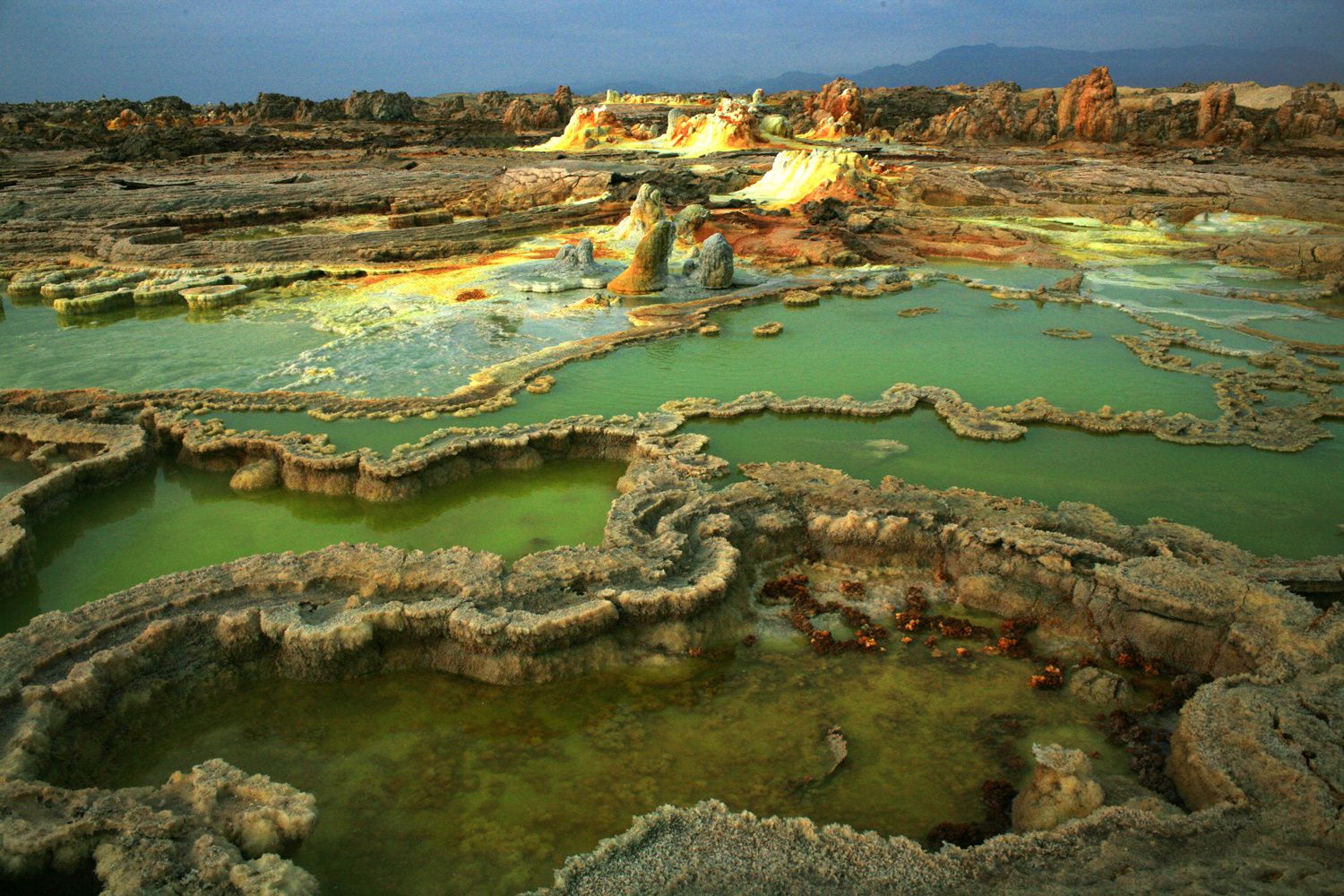 Dallol - acid pool hemmed in salt - photo © Bernard Duyck 2007 - a click on the photos to enlarge them.
According to Chernet (in GVP), an adjacent depression characterized by a salt crust lying 120 meters below sea level was linked, in the Pleistocene, to the Gulf of Zula, on the Red Sea by the narrow Alid extension graben. The Alid graben is floored by basaltic fissures and the active rhyolite volcanoes Alid and Jallua.
A succession of evaporite in the sedimentary basin is mainly composed of halite, with inter-beds of clay, gypsum, anhydrite and a thick bed of potash, a time exploited. Deposits of more than 1,000 meters have continued from 200,000 to 25,000 years, and bear witness to a number of marine entries in the depression, which have abandoned a number of brine lakes.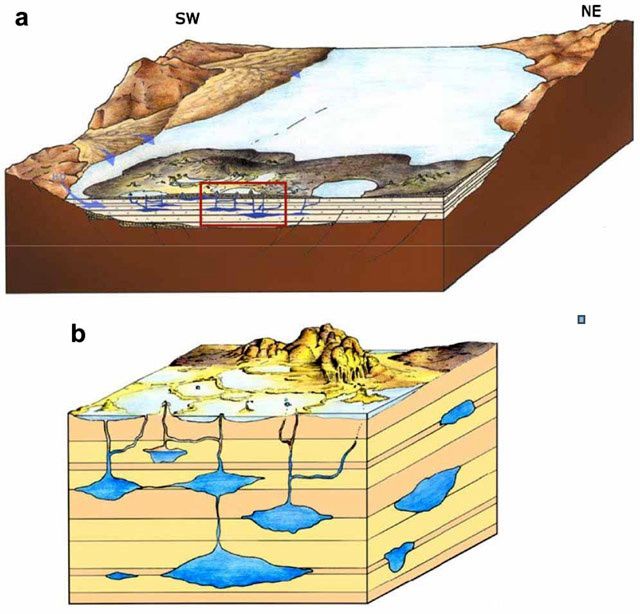 Two three-dimensional representations of the Dallol dome and subsurface sources that flow to the surface to feed the evaporites. Doc. Of the Research and Development Center, Ministry of Mines, PO Box 486, Addis Ababa, Ethiopia. Courtesy of Carniel et al. (2010), citing personal communications from Mr. Rivas (2006).
In Dallol, a salt dome is a topographical and geological feature; On this dome, springs of boiling, supersaturated and very acid waters are discharged on cones of salt.
The geothermal reservoirs, under the succession of evaporites, recharge with the precipitation of the northwest plateau ... suggesting a potential supply of renewable geothermal energy.
The cones of salt are as many mouths, tall and brightly colored, interspersed with pools of brine orange, yellow, or blue-green ... colors depending on the state of oxidation of iron salts.

The Dallol waters are characterized by a very high level of dissolved solids (up to 525gr / kg). The sample composition is concentrated seawater and contains high levels of chlorides, including bishofite / Hydrous magnesium chloride.
X-ray diffraction analysis shows that the major components of the samples are halite, sulfur, sodalite and hematite, with minor levels of silica. Metal oxides, and potassium and / or fluorinated impurities, give the site its colors ranging from brown to yellow and even blue-green.