Publié le par Bernard Duyck
Second stage around the world of the active volcanoes of Thomas Delano, still in Afar.
He gives us news of the massif of Erta Ale.
The story of TH.Delano, at the "gates of hell".
The volcanic chain of the Erta Ale has as main structure the volcano of the same name. This basaltic volcano-shield, 50 km. wide, culminates at 613 meters; It is capped with an elliptical caldera of 1,600 meters by 700, sheltering two pit craters, containing, for the south pit, a permanent lava lake, existing at least since 1906.
The activity of the lava lake, and its level in the well, have varied greatly since observations began in the 20th century.
Erta Ale - strong turbulence at the lava lake of the pit crater south - video Guy de Saint-Cyr January 2016 / Adventure and volcanoes
Overflows occurred in 2016 and 2017, when a major fissure flank eruption occurred that temporarily drained the lava lake in late January.
Since that date, the eruptive fissure is active about 6 km south of the summit of the Erta Ale and still leaks lava flows. A second lava lake, 175 m. on about 80 m, formed at the site of the fissural eruption, as well as a pahoehoe lava field to the northeast of it, 1,500 meters wide and whose lava front is about 3,500 Meters of distance.
Between this second lava lake and the active lava field, a "hole" in the thermal signals suggests feeding via lava tube(s).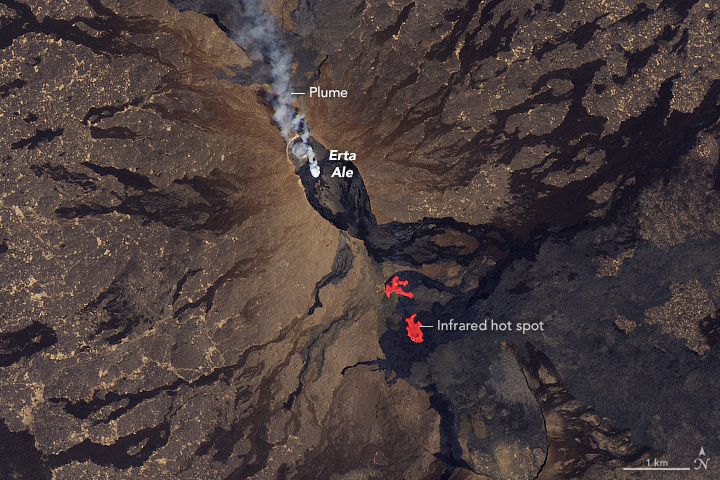 Erta Ale - 26.01.2017 - gas plume at the southern pit of the caldera and flank eruption - doc.NASA Earth Observatory image by Joshua Stevens, using Landsat data from the U.S. Geological Survey. Caption by Adam Voiland. - Landsat 8 OLI

Erta Ale - glow at the southern pit crater (caldeira), at the site of the fissural eruption and on the lava field on 10.03.2017 - image Sentinel-2 Hub
At the end of March 2017, the satellite images show an activity / thermal anomaly both at the lake of the south crater pit and at the site of the fissural eruption of the flank ... which is confirmed at the beginning of April by the images of Thomas, and the Mirova / MODIS data.
The surface covered by the lavas of the fissural eruption is nearly one million square meters.