Publié le par Bernard Duyck
Dr. Cohen of the University of Glasgow studied the recordings, done in the 1970s, of an Aboriginal ancestor of the Gugu Badhun people in Australia, recounting an event resembling a volcanic eruption.
The elder described "a time when a pit was made in the ground with lots of dust in the air, and that people got lost in the dust and died". He also described "an occurrence when the earth was on fire along the watercourses".
This story, transmitted according to oral tradition for about 230 generations, is a plausible description of a volcanic eruption.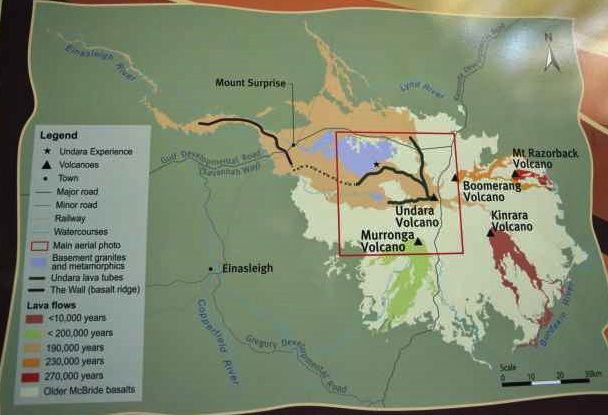 Map of the Undara volcanic zone - Kinrara - Doc. Savannah Way / everythingbuttortoises.wordpress.com
A team of members from various universities examined rock samples of lava flows from the Kinrara volcano in Queensland (18.3 ° S - 144.6 ° E) using the Argon-argon technique. Thanks to these analyzes, an eruption of this volcano could be dated 7,000 +/- 2,000 years.

The Kinrara volcano has a deep crater 60 meters wide and 300m wide, which produced lava fountains and ashes; The lava flows of the volcano was 55 km long. following the valleys and course of the Burdekin River, a phenomenon resembling "the burning earth", recounted in the traditional native narratives.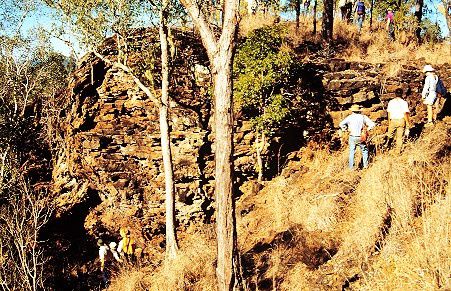 The deposits that make the Kinrara cone indicate fountaining eruptions and the gentle effusion of lava. This photo shows geologists looking at horizontal layers of lava that probably formed when a lava lake occupied or overflowed the crater. The youngest layer (on top) drapes over the rim of the crater and formed when lava drained to a deeper level. Photograph by Steve Mattox / Oregonstate
The Kinrara is part of the McBride volcanic province. It is only responsible for an eruption among more than 400 eruptions that have marked this part of Australia over the past 9 million years. The Kinrara is known as the youngest volcano in this region.
The study of the Kinrara eruption is an important step in understanding the most recent volcanic activity in Australia, as well as the history and traditions of Aboriginal peoples. Dr. Cohen, hopes to continue this work on volcanism.

Sources:
- University of Glasgow - Australian volcanic eruption may have lived on in Aboriginal stories - link
- Quaternary Geochronology. - Holocene-Neogene volcanism in northeastern Australia: Chronology and eruption history.
- Morphology and geochemistry of the Kinrara volcano and lava field: a review of a holocene volcanic feature in the McBride lava province, North Queensland - David Stanton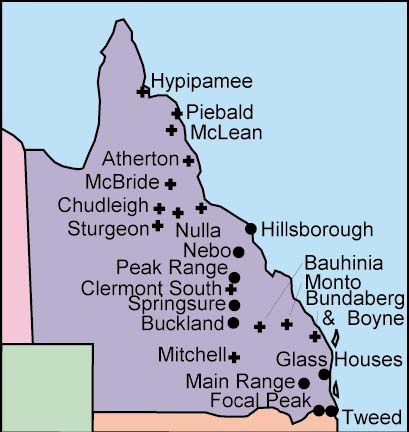 Volcanism of Queensland / Australia: the lava fields are located by the crosses, the central volcanoes by round points. - Doc. Oregonstate Univ.