Publié le par Bernard Duyck
After the 2011 submarine eruption, off La Restingua, El Hierro island, in the Canary Islands, and a huge gas outlet visible as a green task, the seabed was heavily Impacted.
In October 2014, two years after the end of the eruption, an ROV, from an Italo-Spanish expedition, studied the consequences ... and discovered filaments at 130 meters depth, covering a wide area of ​​about 2,000 M² around the volcanic cone, named Tagoro.
Scientists called these filaments "the hair of Venus," reminding the hair of the goddess on a painting of Botticelli. An analysis of these filaments revealed a new bacterium, the Thiolava Veneris and a new and amazing ecosystem.
The bacterium is very thin, 3 to 6 microns thick and reaches several centimeters in length. Several bacteria can grow together in a wider sheath, from 36 to 90 microns.
It is versatile and uses not only hydrogen sulphide, but also organic matter, nitrates and oxygen.
It is not known with certainty how this opportunistic bacterium appeared ... it appeared just after the rocks cooled below 100 ° C. As the cone is isolated, it is assumed that the bacteria would be present in the water, dormant, unless it has migrated from another area.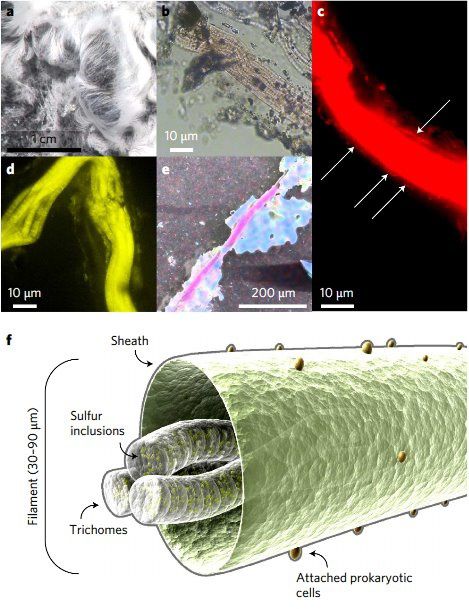 Thiolava Veneris - microscopic image in nat and fluorescent light - Explanatory diagram of the structure - doc. Vista al mar
The colonization of the area by the hair of Venus has created a three-dimensional habitat, conducive to the life of other organisms, such as crustaceans, worms and nematodes.
This new ecosystem can allow imagining a primordial ocean, in which volcanic activity was common. Research will help understand how life colonizes submarine volcanoes after their eruptions.

Sources:
- ABC ciencia - Descubren una nueva forma de vida aparecida tras the eruption of the volcán of El Hierro, in Canarias - link
- Republica - Hallan una nueva especie bacteriana tras la erupcion of the submarino volcano Tagoro, in El Hierro - link
- New Scientist - Weird, hairy microbes discovered on volcano soonafter eruption - link