Publié le par Bernard Duyck
An international expedition, gathering the United Kingdom, Spain and Brazil, studied last fall the seamount Tropic, the last one in the southwest of the Canary Islands.
She discovered that the plateau crowning this guyot (*) is covered with a rock crust about four centimeters thick, characterized by high concentrations of tellurium ... the estimated total of 2,670 tons of this chemical element, equivalent to one twelfth of overall consumption.
Tellurium is a metalloid of the group of chalcogens, with atomic number 52, of symbol Te, highly appreciated in the production of photovoltaic panels.
A layer of cadmium telluride placed between two layers of glass increases the efficiency of the new panels, while reducing the cost, thanks to a better absorption of light (in the case of low light) and a low thermal coefficient .

Crystalline structure of gray Te. The chains of Te form helices of symmetry 31 parallel to the axis c. The continuous red lines represent the covalent links of the chain, of average length 284 picometers. The dashed green lines represent secondary stabilizing interactions of 349 μm between the chains. A yellow octahedron underlines the deformed octahedral coordination sphere of an atom (2 + 4 near neighbors). A chain is unveiled in blue with three atoms colored ː dark blue at c = 1/3, blue at c = 2/3 and light blue at c = 0.
& Internal structure of a Tellurian ball / W.Oelen 2006 .
The Tropic seamount - 23 ° 53.09 'N / 20 ° 42.64' W - is a pseudo-circular base guyot with a cross-shaped top, its south and east tips forming an angle of 90 ° and 60 ° respectively . Its area is 1.529 km². Its slopes are steep, with a max. of 62.5 °, and show significant avalanche scars. Its roots dive at 4,300 meters and its top plateau lies at 1,100 meters below the surface of the Atlantic (average data).
Formed 119 million years ago, it is considered to be part of the "Grandmothers of the Canaries", a group of submarine volcanoes that stretches over 1,000 km to the southwest of the archipelago.
In 2014, the Spanish Government presented an official request to extend westward the continental shelf of the Canary Islands on an oceanic strip of which the Tropic seamount belongs. Various oceanographic surveys have been carried out in this area in the past to document the demand for sovereignty, but also to identify the geological features of the seamounts and their ecosystems.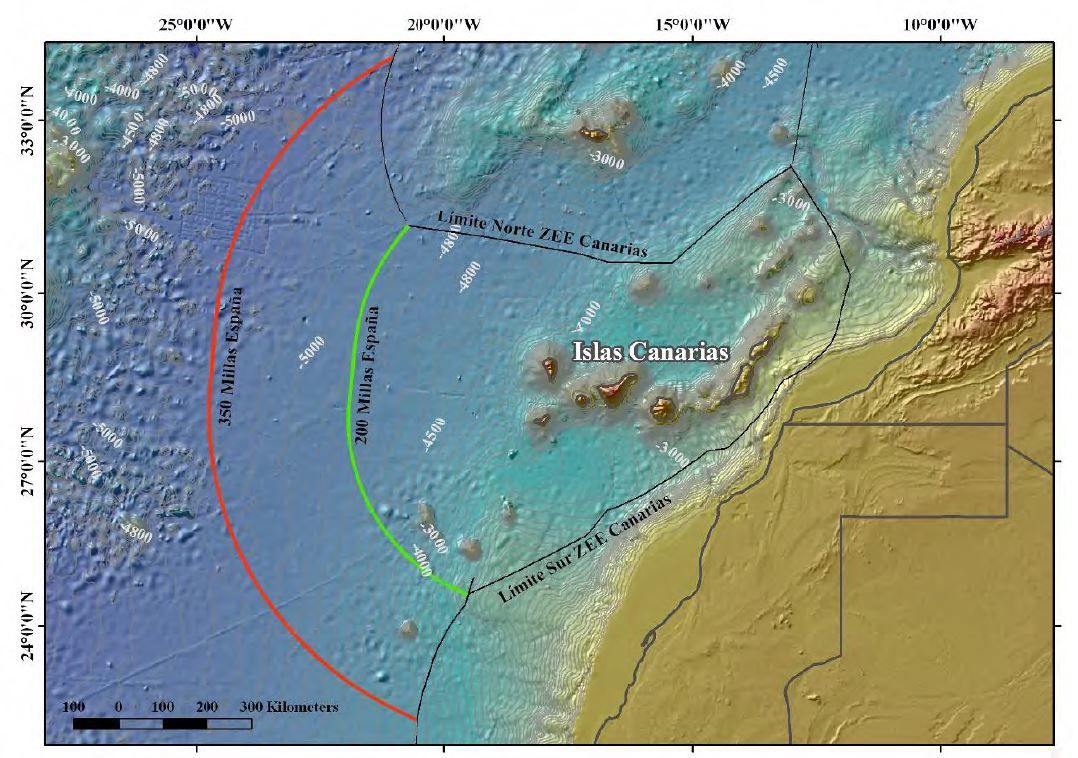 Potential extension of Spain to the west of the Canary Islands between 200 and 350 nautical miles, according to Article 76 of the Convention. - Doc. Avcan Exarcan Campaign