Publié le par Bernard Duyck
Since March 2017, Manam's activity in Papua New Guinea has been characterized by a fluctuating thermal anomaly.
On 12 May, the southern crater emitted a plume of black ash, followed the next day by emissions of vapors. On 14 May, explosions were heard at the Bogia station, and incandescent fragments ejected around 18-19. On 16 May, ash falls are reported on the village of Dugulava, on the northeast coast of the island.
NBC News 16.05 - "a lava river" is generated by the eruption in the direction of the sea ... lava flow or pyroclastic flow?
On 18 May, the MIROVA site reported a major thermal anomaly (VRP = 5516 MW), also identified by the MODIS system on a NASA satellite, and by VAAC Darwin. This signal may suggest the presence of active lava flows, or the presence of a dome, or hot pyroclastic deposits produced by an eruption.
Continuous ash emissions generate a double plume of ash visible at more than 50 km. on satellite images.
These events caused panic among the residents of the island, still more than 3,000 people awaiting an evacuation to the main island.

Sources: Pacific Islands report, BOM Australia, Nasa, GVP, VAAC Darwin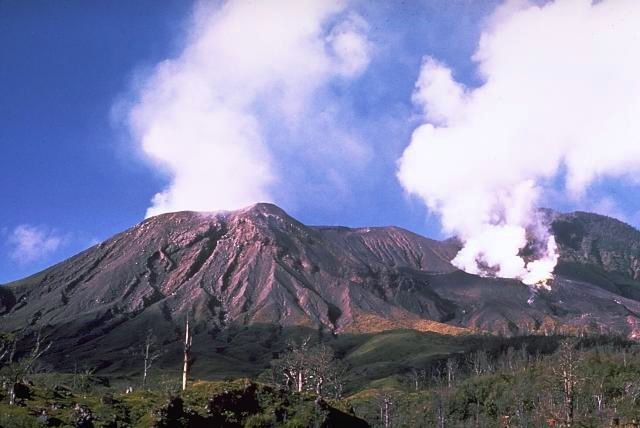 Langila - volcano craters 2 & 3 - photo Wally Johnson 1970 / Austr. Office of mineral resources / in GVP
Several notices of volcanic ash have been issued in recent days for the Langila by the VAAC Darwin on 9, 10, 11, 13 and 19 May, based on information from the Himawari-8 satellite.
The Global Volcanism Program reports ash plumes drifting between 10 and 14 May north, northwest and south at altitudes between 1800 and 2400 meters asl.
The aviation code is orange.

The Langila consists of a group of four small basalt-andesitic cones that overlap on the eastern low-flank of the extinct Talawe volcano located on the northwest of New Britain / Papua New Guinea. Ongoing eruptive activity started in April 2016.

Sources: VAAC Darwin & GVP
VAAC Darwin issues a notice of ash dispersal to the northwest and west this 19th of May for the Dukono, on the island of Halmahera / Moluques, with an orange aviation code.
The Dukono is on volcanic alert Level II / Waspada since 15.06.2008.

Sources: VAAC Darwin & GVP
In La Réunion, the situation of the Piton de La Fournaise remains unpredictable, which can evolve towards an end of the intrusion as towards the propagation and opening of fissures more or less distant, according to the OVPF.
The Observatory reports a high seismicity, with, since 18 May at 01h local time, 51 superficial VT earthquakes (0-2 km deep) and 26 deep VT earthquakes (> 2 km deep), located under the summit zone and the sector NE of the Enclos, notably at the foot of the Piton de Crac.
Deformations slowed down, and carbon dioxide concentrations stopped rising at high levels. On 18 May, the appearance of H2S, SO2 and CO2 in the fumaroles of the summit zone testifies to the continuation of an injection from the summit zone.

Source: OVPF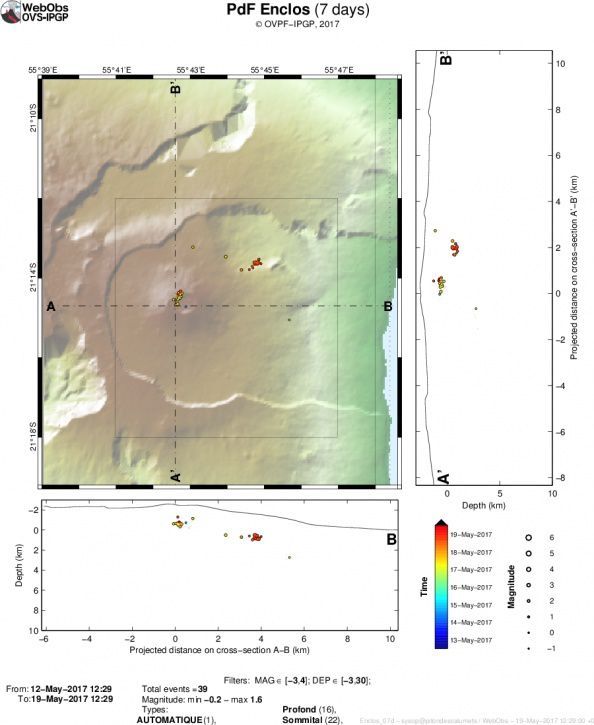 Enclos Fouqué / Piton de La Fournaise - Localization of seismicity over a week from 13 to 19.05.2017 Only "localizable" events are represented on this map. (© OVPF / IPGP)